Guide to the best spring break destinations in Wisconsin for families, couples and adventurous nature lovers
Whether you're taking a break from school, heading out on vacation with the family, or just looking to relax and have fun, Wisconsin has something for everyone.
But deciding where to spend spring break in Wisconsin can be a challenge.
You only get one week, and Wisconsin is bigger than most European countries. You can fit my native Luxembourg inside it more than 65 times!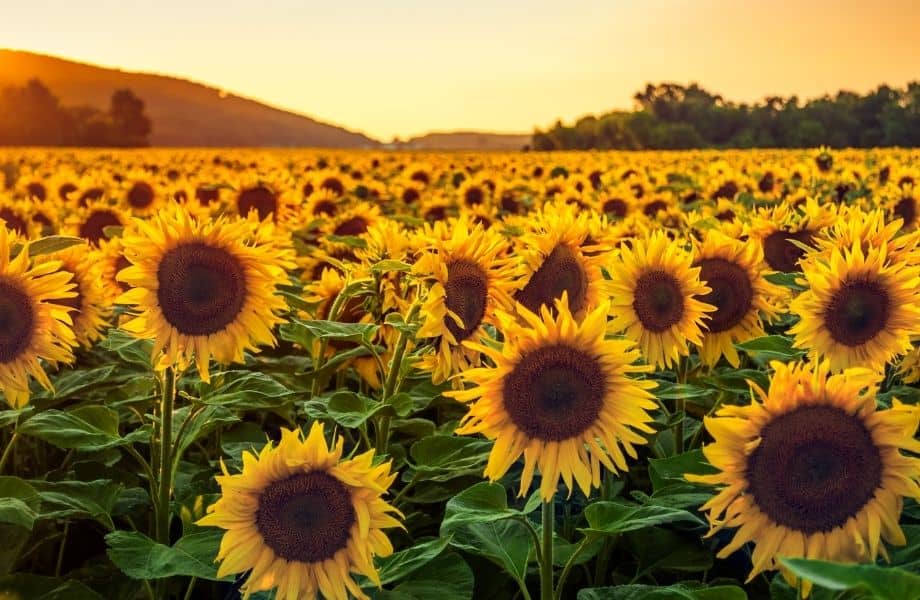 In this post, I'll show you just some of the many exciting, interesting and unusual Wisconsin spring break ideas.
Some of them may surprise you, but all of them will bring you happy memories.
There are so many possibilities for spring break destinations in Wisconsin that you might not know where to start.
So let me be your guide as I show you some of the places I think are perfect for spending your spring break. Wisconsin here we come!
Thanks to affiliate links, I pay my bills. If you make a purchase through them, I may receive a small commission (for which I'm deeply grateful) at no cost to you. All opinions are always mine. Merci!
Useful Travel Information for Wisconsin
✎ Plan the ultimate Wisconsin road trip (no backtracking!) with the Perfect Wisconsin Road Trip itinerary – Get it here

✈ Book cheap flights to Wisconsin with Skyscanner

✔ Book tours in Wisconsin with Viator

➳ Book holiday and vacation rentals in Wisconsin with VRBO

❖ Rent a car at the best rates with DiscoverCars

☘ Get the best discounted outdoor gear (outlet) at REI.com

$ Get Wisconsin hiking guides and maps at REI.com

✎ Never leave without travel insurance. I get mine at SafetyWing. It is easy to set up, cheap, and reliable.
1. Madison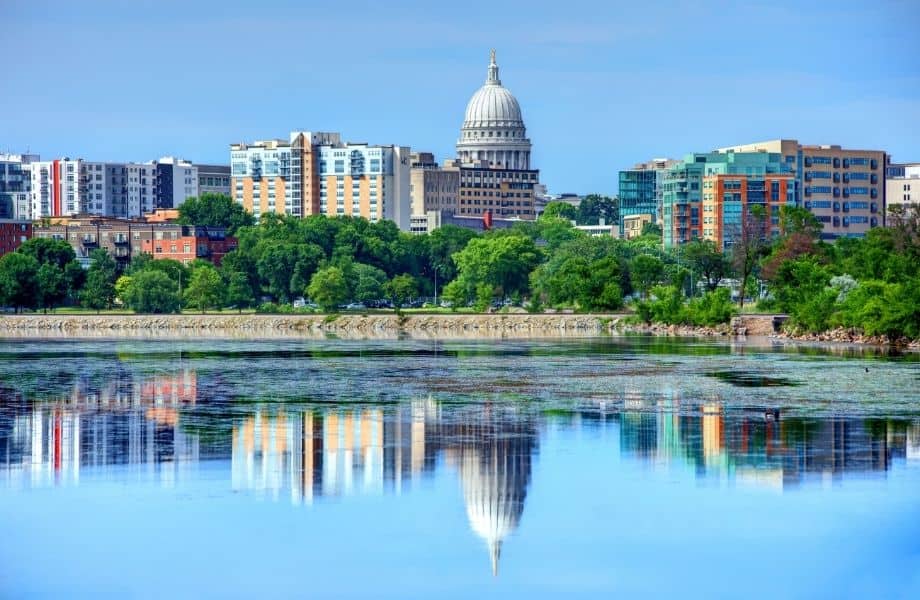 The state capital is a great choice when spending spring in Wisconsin. It has plenty of outdoor activities, as well as indoor cultural and learning experiences for all ages.
It's a great place to bring the family on spring break!
There are five lakes in and around Madison, with Lake Mendota and Lake Monona covering the most area between them.
If being on or near the water is where you want to be, there are many opportunities for sailing, boating, fishing, and swimming.
A great destination to bring children is to the Henry Vilas Zoo. Here you can see and learn about all manner of animals, including lions, penguins, camels, and many more.
Admission is also free, though donations are welcome!
Speaking of free, the Chazen Museum of Art also has free admission. This institution houses over 23,000 works of art, including more than 40 separate collections.
Madison is popular with hikers as well, with over 200 miles of Southern Wisconsin hiking trails for you to enjoy.
Book here the best tours of Madison, WI
2. Wisconsin Dells
There's no shortage of fun things to do in Wisconsin Dells!
Whether it's being amazed at the Rick Wilcox Magic Theater, relaxing in a spa resort, or visiting Noah's Ark (the largest waterpark in the United States), anyone looking for a fun Wisconsin Dells spring break will enjoy themselves.
Hiking in Wisconsin Dells is one of the most popular activities.
The trails here will take you through forests and gorges, along winding riverbanks, up rocky climbs, and past sandstone cliffs.
Since spring is a great time for camping, you might want to try out some of the best campsites in Wisconsin Dells while you're out enjoying nature.
Why not take a boat tour of the Wisconsin Dells?
The northern end of the Wisconsin River offers spectacular landscapes sprinkled with pine trees, and caverns such as Witches Gulch.
Wisconsin is famous for its beer – a staple for many people on spring break.
During spring break Wisconsin Dells is the perfect time to check out the famous Wisconsin Dells Brewing Company at Moosejaw Pizza.
I recommend you try out some of their craft beers – and have some pizza, of course!
Book here the best tours in Wisconsin Dells
3. Green Bay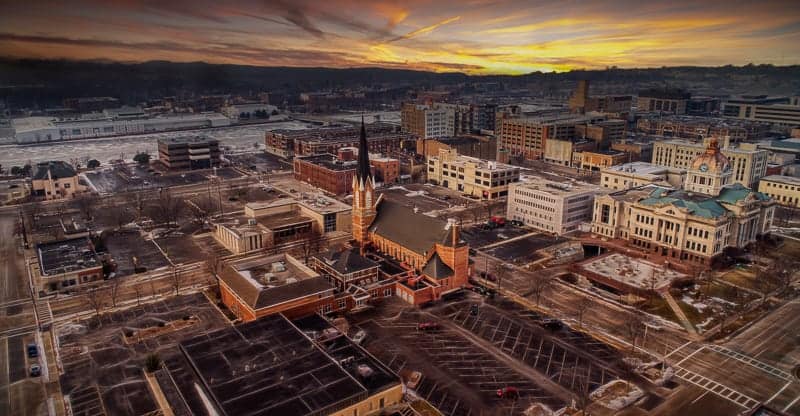 Sitting on the waterfront of the bay that gives it its name, Green Bay is just 40 miles from Lake Michigan and one of the best Wisconsin spring getaways.
American football is a big deal here, as this is the home of the Green Bay Packers – a Superbowl-winning NFL team.
Any sports fan can learn a lot from the Packers Hall of Fame & Museum, with its high-tech exhibits and display cabinets full of memorabilia.
The city is also home to the National Railroad Museum, featuring more than 60 rare and unique railway vehicles that tell the history of the United States through the story of its westward expansion.
Also not to be missed are Green Bay's outdoor attractions.
Head to the west part of town and take a stroll through the Green Bay Botanical Garden and its 47 acres of plant life, complete with an extensive magnolia collection.
Book here the best tours in Green Bay, WI
4. Sheboygan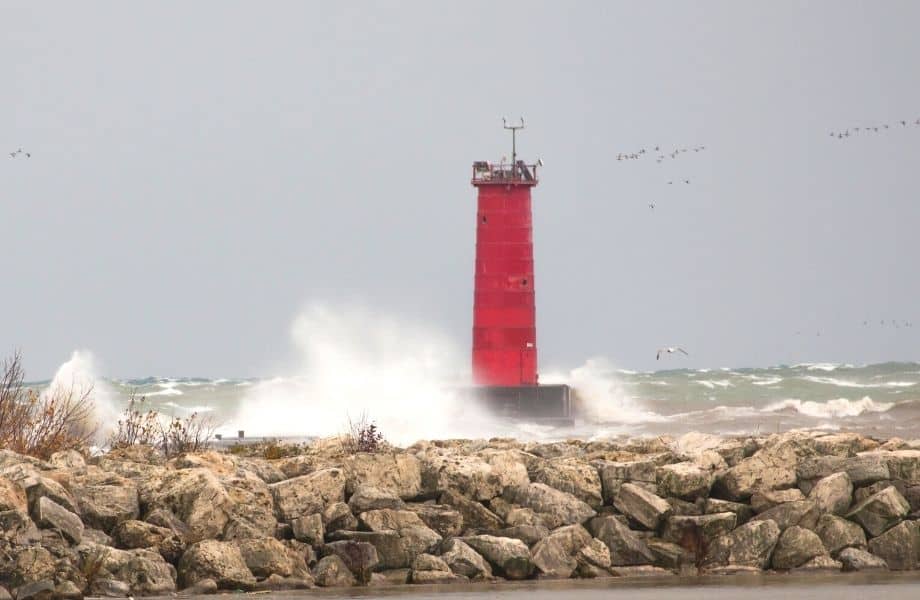 With its lakefront setting, Sheboygan is a great spring break destination for families, but it's also perfect for couples.
Walking along the boardwalk by the lake is one of the most romantic things to do on spring break in Wisconsin.
Visiting Bookworm Gardens is one of the best things to do in Wisconsin for spring break for kids.
This is a collection of over 70 different gardens, and each one is themed around a different children's book.
Once they've had some literary fun, taking the family to Breaker Bay Waterpark will let everyone cool off.
It's one of the best spring break resorts and has water slides, climbing areas, pools, hot tubs, a surf simulator, and more.
Just to the south of the city is Kohler-Andrae State Park, one of the best state parks in Wisconsin, which has hiking trails, beaches, and sand dunes all on the shores of Lake Michigan.
You'll also find some amazing outdoor activities in Wisconsin for all the family.
Book here the best vacation rentals in Sheboygan, WI
5. Milwaukee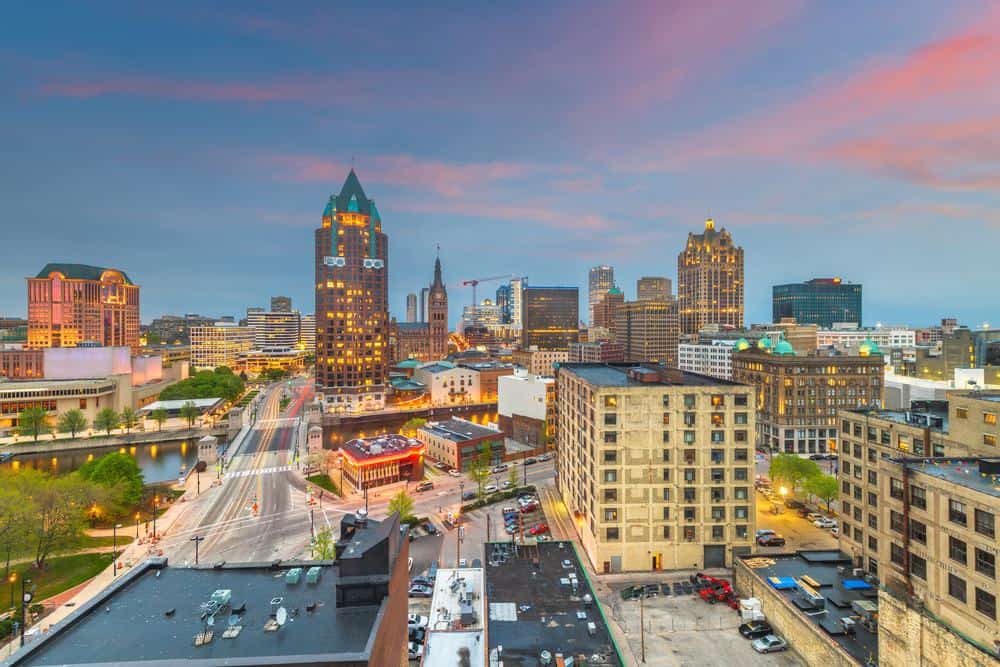 Spring break in Milwaukee, WI will always give you good memories as there are many fun and unique things to do in Milwaukee.
From the diverse eateries like Kopp's Frozen Custard and Glorioso's Italian Market to the fascinating museums like the Historic Third Ward and the Milwaukee Public Museum, there's plenty to see, do, learn and eat!
At the Milwaukee Public Museum, you can walk the Streets of Old Milwaukee exhibit.
Feel what it was like to live in the city at the turn of the 20th century as you peruse fully furnished shops and houses of the period.
For those looking to the future, the Discovery World Museum has activities that will make your Milwaukee spring break both educational and fun.
If spring in Milwaukee is too cold for you, visiting couples can get warm by trying a night or two in one of the many romantic hotels in Milwaukee.
My top recommendation is the Pfister Hotel due to its gorgeous views over Lake Michigan.
Just outside of the city you'll also find some of the best hiking trails in Wisconsin such as the Seven Bridges Trail and the Hank Aaron State Trail. 
Book here the best tours in Milwaukee, WI
6. Eau Claire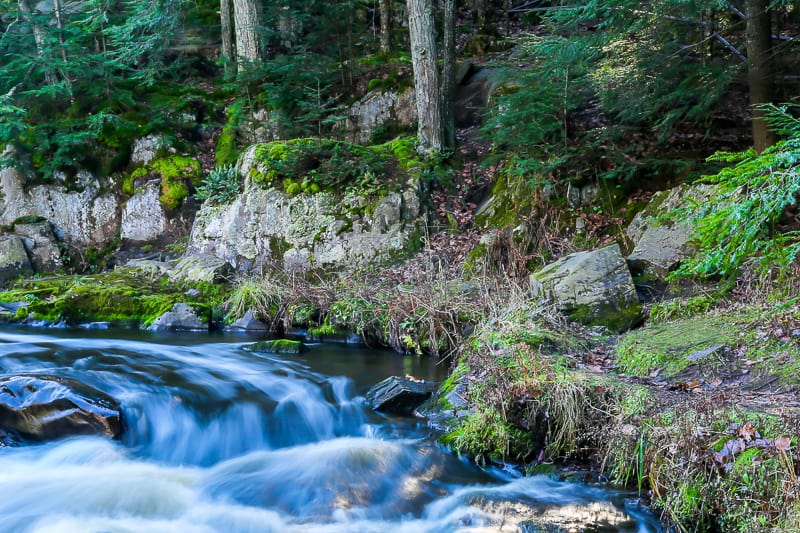 There are enough parks and lakes in Eau Claire to keep any nature lover happy for their entire spring break in Wisconsin.
Sunbathers should head to Lake Altoona Park, with its large beach areas, barbecue grills, and party clubhouse for evening entertainment.
Carson Park has a historic baseball stadium and a picnic area, and Phoenix Park boasts a year-round farmer's market as well as a labyrinth.
The labyrinth is definitely one of the more unique things to do in Central Wisconsin!
Phoenix Park is also the starting point of the Chippewa River State Trail.
This 30-mile hiking and biking trail runs along the length of the Chippewa River from downtown Eau Claire southwest to Durand.
Taking on this trek would definitely be one of the more adventurous Wisconsin spring break ideas.
Over at Big Falls County Park, just to the east of the city, visitors can also experience over 135 acres of woodland, beaches, and waterfalls.
Book here the best cabin rentals in Eau Claire, WI
7. Lake Geneva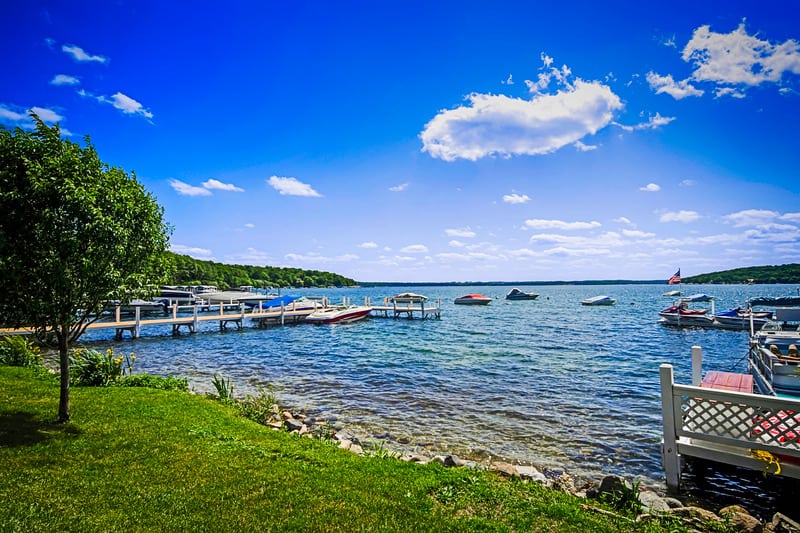 If you want a romantic spring break, Lake Geneva has some of the best spa resorts in Wisconsin.
Many romantic getaways in Lake Geneva begin at the Avani Spa at the Abbey Resort, or the Well Spa + Salon at Grand Geneva Resort and Spa.
Head to the Grand Geneva Resort and you'll also find 1,300 acres of rolling hills and woodland, complete with luxurious villas, indoor pools, over 8 miles of trails for biking and walking, and plenty of golf as well.
It's a great place to spend spring in Wisconsin.
There are even more things to do in Lake Geneva itself. Water activities such as kayaking, swimming, and boating can be found on both Lake Geneva and Lake Como.
If, like me, you like to test your puzzle-solving skills, why not try out the Lake Geneva Clue Room on West Main Street?
There are three rooms themed around the CNW Railroad, the Cold War, and Al Capone. It's one of the best escape rooms in Wisconsin.
Book here the best tours of Lake Geneva, WI
8. Door County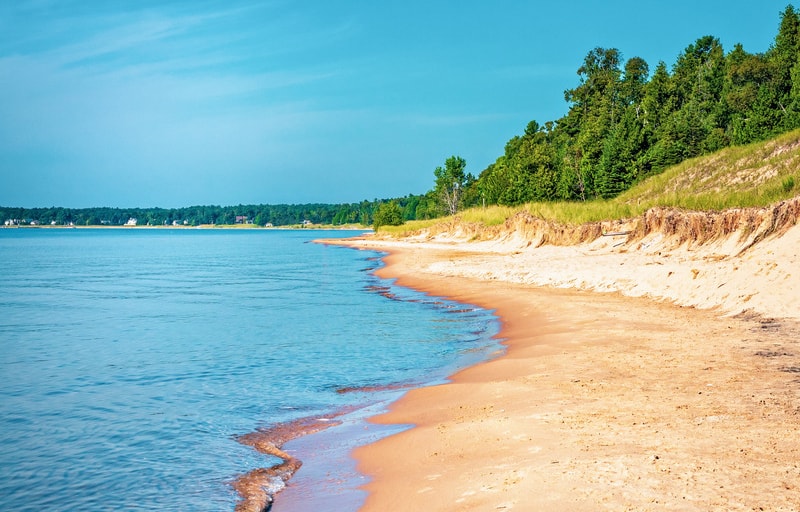 Anyone who loves the outdoors that's looking for spring break ideas in Wisconsin will have a great time in Door County.
Out on its eastern peninsula, this area has a huge number of parks and coastline, with plenty of trails, paths, and beaches to discover.
Cave Point County Park is especially worth visiting, with its amazing landscapes and sea caves that are perfect for exploring both above and below the water.
Try scuba diving here for an immersive and unique experience. It might be one of your new favorite things to do in Door County!
It wouldn't be spring break in Wisconsin without some local delicacies, and Door County has a wide range of options, both high-end and on a budget.
See the dough tossed high at Wild Tomato Wood-Fired Pizza and Grille in Fish Creek.
Mix history with breakfast at the Old Post Office Restaurant in Ephraim, or try out a Fish Boil for dinner – a Door County specialty!
Spring is also a great time to see some of the amazing lighthouses of Wisconsin in Door County. The best one is Eagle Bluff Lighthouse in Peninsula State Park.
Book here the best tours in Door County, WI
9. Apostle Islands
These picturesque islands are the perfect way to experience Wisconsin in spring.
Each of the 22 islands has something unique and interesting about it, and the spring weather really makes them shine.
Those who love getting out on the water should rent a sea kayak and head out from the mainland to explore the coastline and nearer islands.
As well as sea caves on the mainland in Mawikwe Bay and at Swallow Point on Sand Island, you'll get to see herring gulls and even blue herons at Eagle Island.
Island camping is also one of the most unforgettable outdoor things to do in Apostle Islands, Wisconsin.
19 of the islands have campsites, though the National Lakeshore on Stockton Island can be difficult to reach.
Sand Island, Oak Island, and York Island are my personal picks for the best Apostle Islands camping experience.
If you want to relax instead of paddling, the Grand Tour boat cruise will take you on a scenic route around the islands.
The 55-mile route takes about 3 hours, and you'll get to see historic lighthouses, island wildlife, and bluffs covered in greenery, all on the clean, clear waters of Lake Superior.
Book here the best vacation rentals near the Apostle Islands
10. Muskego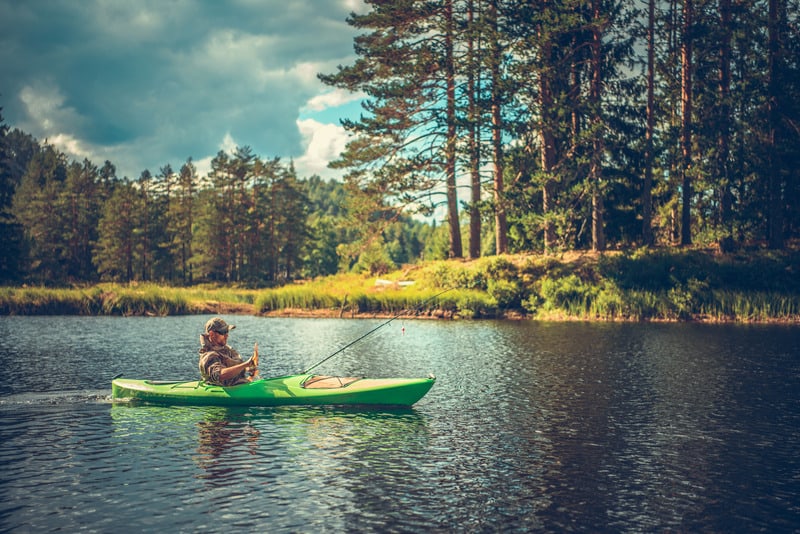 Accommodation Options: The area near Muskego Lake and the neighboring Wind Lake is ideal for a scenic cabin getaway! I absolutely love this romantic B&B Cottage, and if you're into something fancier, this lakeside home has a gorgeous interior design and a private dock!
If you're looking for a low-key spring break in Wisconsin, making the trip to Muskego will show you just what the hospitality of Wisconsin is all about.
Hiking, fishing, and taking it easy are the order of the day. Both Muskego Lake and its smaller friend Little Muskego Lake are excellent for bass and northern pike fishing.
Little Muskego Lake has a boat launch at Idle Isle on the northern shore so visitors can spend some time on the water while soaking up the sun.
To the west, Muskego Park has 193 acres of nature to take a leisurely stroll around.
With a hardwood forest, a swimming beach, and plenty of picnic and camping spaces, this is a great choice for your Wisconsin spring getaways.
Once it's time for food, make sure to grab a burger and a drink with friends at Mug'z Pub & Grille.
The friendly service and comfy surroundings will make you feel like you've come home.
Another great eatery not to be missed is the Vintage Grounds Coffeehouse, whether you're after breakfast and coffee to go or a filling grilled sandwich at lunchtime.
They also have live music events that showcase local talents for an authentic Wisconsin spring break experience.
Buy here your perfect itinerary for Wisconsin
11. Baraboo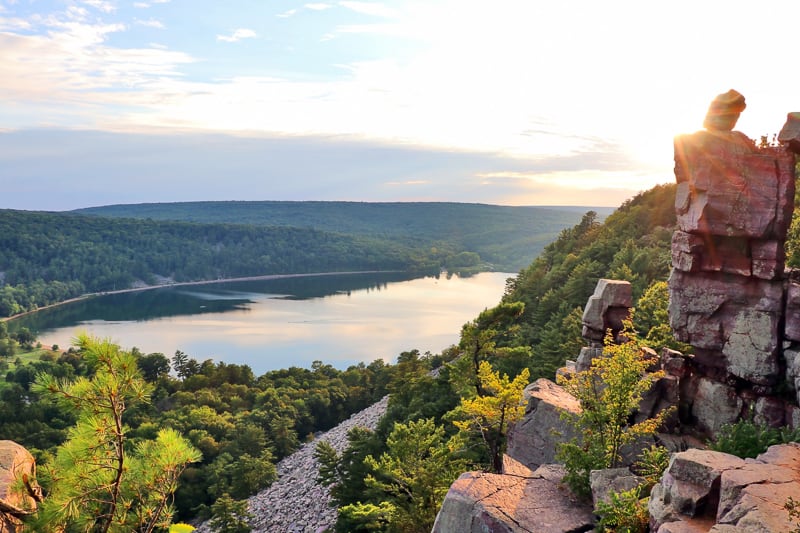 Just to the south of Wisconsin Dells, Baraboo offers some fun and unique Wisconsin spring break ideas.
The city is home to the exciting Circus World Museum.
This colorful and energetic complex was the site of the original Ringling Bros Circus in the late 1800s and features the largest and oldest group of Victorian-era circus structures in the United States.
There's also a big top circus tent with regular live shows and acts.
As a companion destination – and for a truly memorable spring break in Wisconsin experience – the International Clown Hall of Fame & Research Center is on 4th Avenue and is truly something best experienced up close.
For some beautiful spring scenery, Devil's Lake State Park is the largest state park in Wisconsin.
It features rock climbing for all levels of expertise, more than 400 campsites for outdoor enjoyment, and a spring-fed lake surrounded by 500-foot-high bluffs.
It's also one of the best state parks in Wisconsin for hiking, with almost 30 miles of hiking trails to explore, such as the Balanced Rock Trail and the National Ice Age Trail.
Buy here the best Wisconsin hiking guides
12. Kenosha
There are a lot of wonderful things to do in Kenosha if you want to make the most of spring break in Wisconsin.
Although the city is most popular during summer and winter, the spring months are still a fantastic time to visit.
Plus there are a lot fewer tourists, so you might even get some sites to yourself.
Of course, you can't spend spring in Kenosha without visiting the city's famous Petrifying Springs Park, called "pets" for short.
In the springtime, the park is particularly beautiful as everything begins to bloom.
The park is great for families as there is a large play area for kids, as well as fun outdoor activities like hiking and volleyball. For the adults, be sure to enjoy a beer in their Biergarten!
Unfortunately, springtime is the rainy season in Kenosha. But if you get a few rainy days during your trip, take advantage of the city's great museums.
A few of my favorites are the Dinosaur Discovery Museum (perfect for kids and kids-at-heart alike), the Southport Light Station Museum, and the Kenosha Public Museum.
Book here the best vacation rentals in Kenosha, WI
13. Appleton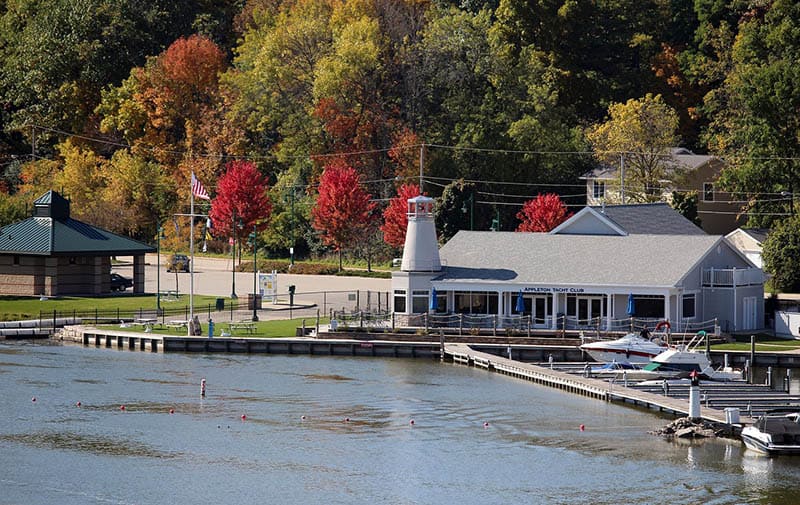 Appleton is one of the best places to spend spring break in Wisconsin for families.
The city and surrounding areas come alive this time of year with fun activities and things to do both indoors and outdoors.
Be sure to keep an eye on the museums as some host special events for kids during spring.
Some of the best things to do in Appleton during the spring are visiting the museums, hiking, and kayaking along Fox River. The views along the river are truly stunning this time of year.
If you don't like kayaking, another great option is a walk along the Fox Trot Trail, a self-guided tour that takes you along the riverfront and through downtown Appleton. Just follow the blue fox pawprints!
Make the most of the beautiful spring blossoms and go walking through Gordon Bubolz Nature Preserve. Or, head to the nearby High Cliff State Park for some hiking or mountain biking.
Of course, spring in Appleton isn't just for the kids; the city has one of the most romantic hotels in Wisconsin where you can get couples' spa treatments.
Book here the best vacation rentals in Appleton, WI
14. La Crosse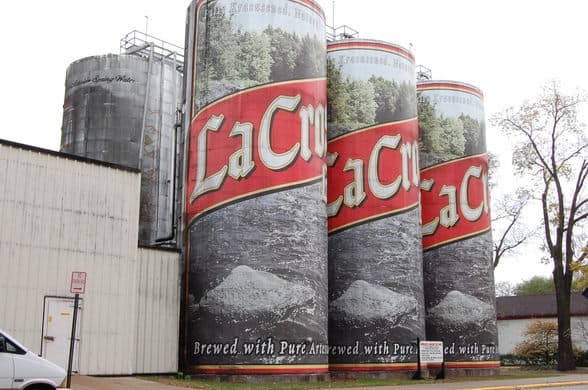 Spring is the perfect time to visit La Crosse, WI, as many of the city's best attractions are outdoors, and so extra appealing this time of year.
You absolutely cannot miss the stunning Shrine of Our Lady of Guadalupe. The garden in spring is worth the visit alone.
This beautiful Catholic church was designed by the New Classical architect Duncan G. Stroik to be in Italian Renaissance style. And it is captivating.
Another one of the best things to do in La Crosse during the springtime is to drive up to Grandad Bluff.
Here you can enjoy breathtaking views over the city and the Mississippi River before taking a hike around the area.
To take full advantage of the flowers in bloom, visit the Riverside International Friendship Gardens!
This garden celebrates La Crosse's relationship with its sister cities around the world in Cameroon, China, France, Germany, Ireland, Norway, and Russia with a dedicated garden for each city.
Of course, for the college kids on spring break, you can't miss doing a tour of the breweries in La Crosse!
Unfortunately, spring break might be a bit early to catch a Loggers coming at the famous Copeland stadium. However, you might still be able to catch a concert or get a tour.
Book here the best cabins in La Crosse, WI
15. Minocqua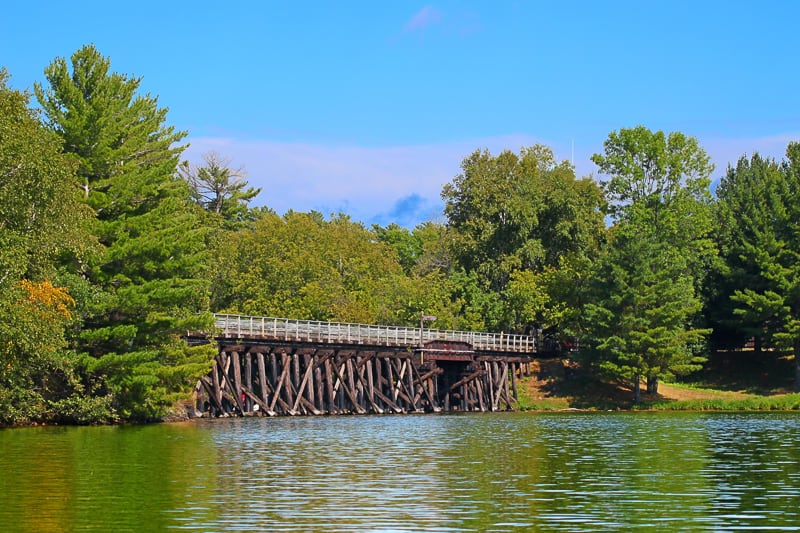 This Wisconsin town sits on a peninsula and is enclosed by the cool waters of Minocqua Lake.
With that much water, there are plenty of aquatic activities for you to enjoy.
Lake Tomahawk to the southeast has miles of open water available for fishing, boating, and waterskiing.
In fact, one of the best things to do in Minocqua is to watch the Min-Aqua Bats Water Ski show. It's the longest-running water ski show in the United States.
There's also the Waters of Minocqua waterpark, which comes with two 3-story body slides, an indoor-outdoor pool, a hot tub, and a children's play area.
It's one of the most fun spring things to do in Northern Wisconsin for families.
Anyone searching for good hiking in Northern Wisconsin should look for the Bearskin State Trail.
The Bearskin Trailhead Park is where this trail begins, as you step out onto the wooden boards of the bridge across Minocqua Lake.
Buy here your perfect itinerary for Wisconsin
---
Hopefully, some of these destinations will inspire you to spend your next spring break in Wisconsin!
With so much variety, from sprawling forested trails and crystal clear lakes to home-cooked dishes, exciting live events, and luxurious spas, spring in Wisconsin has a lot to offer.
Whether you love the outdoors, want to learn something new, or be pampered in five-star resorts, you're sure to find some spring break destinations in Wisconsin to suit your mood.
---
Short FAQs About Spring Break in Wisconsin
When is spring break in Wisconsin?
This varies from year to year and school to school. However, spring break typically starts around the last week of March and goes until the first week of April.
What are the best things to do on spring break in Wisconsin?
Spring break in Wisconsin is ideal for enjoying the outdoors by going hiking or kayaking.
What are some fun spring break ideas in Wisconsin for kids?
Take them to the park or a museum! During this time of year many of the local parks, museums, and other recreational spots host fun activities for kids. Alternatively, it's the perfect time for fun, outdoor activities like hiking or baseball.
---
Before You Go: Top Tips for your Trip 
---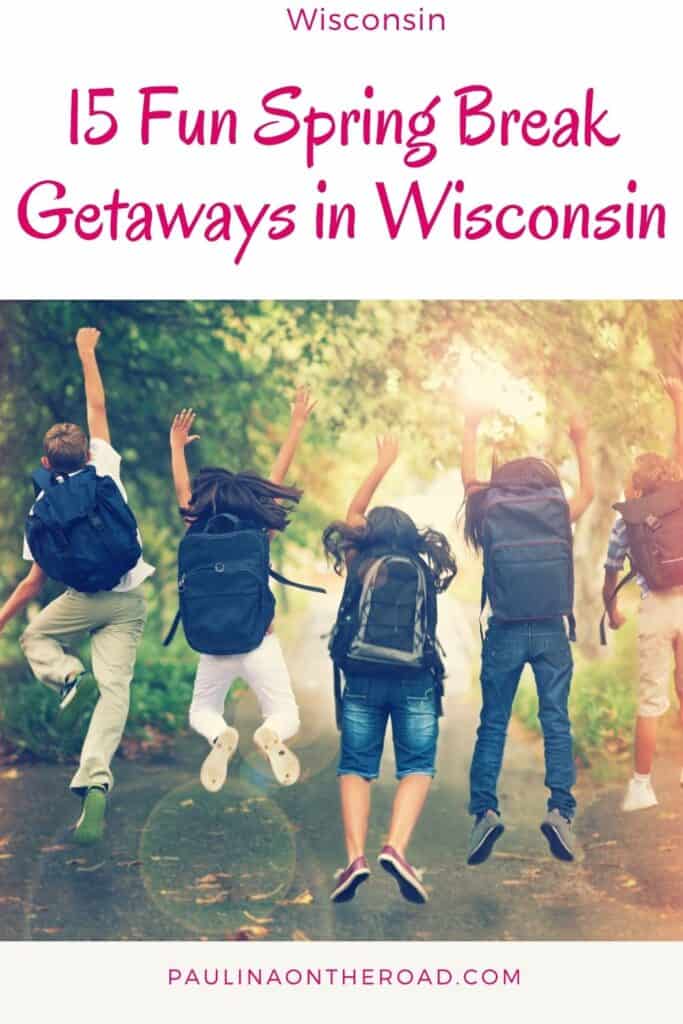 ---