A safari is a fantastic way to see a wide range of wildlife in its natural habitat. It's also an opportunity to take lovely photos of that wildlife! However, there are some unique challenges to taking photos on safari. In this post, I'm going to share some safari photography tips to help ensure you get the best photos when you go on safari.
As a professional travel photographer, I've been lucky enough to take photos in a wide range of scenarios, including on a number of safaris in both Africa and Asia. Based on my experiences, I'm going to share with you everything you need to know to get great photos on safari.
Most of my examples used in the post are from taking photos while on safari in Africa; however, these tips will work for most safari destinations. as well as for wildlife photography in general. Many of these tips can help anyone looking to improve their wildlife photography and also for anyone wanting to take photos from a vehicle.
I'll cover a few things in this post. I'm going to talk about some general tips and things to think about when going on safari from a photography perspective. I'll also include ideas on suggested cameras and camera accessories for safari so you know what is important to bring along.
A safari is a big investment for many of us, and is often a once in a lifetime trip. So getting great photos to remember our experiences is important. Let's get started with the tips!
Tips for Taking Better Photos on Safari
Plan Where you Want to Go
The first thing you are going to have to do is decide where you want to go on safari. It's likely that you already have an idea as to what you want to see and photograph on your safari, be it specific animals or birds, or maybe you are interested in certain landscapes.
The main thing is that you pick a destination that will give you a good chance of seeing the things you really want to see and photograph. This is particularly the case with animals or birds that are rarer, like rhinos.
On a recent trip across East Africa, we knew that we wanted to see and photograph things like gorillas, chimpanzees, rhinos, and spoonbill storks. We picked the countries we visited as well as the time of year we travelled to ensure that we would have a good chance of seeing these particular animals.
We also wanted to see the Great Wildebeest Migration on that trip. This is always taking place, so it was just a question of researching where it would be at the time of year we would be visiting to ensure we would have the best chance to see and photograph it.
Planning your destination properly is definitely the first step to getting the photos you want to get on your safari.
Research Your Chosen Safari Location
Once you have chosen your safari destination, do some research to better understand your trip itinerary and the wildlife, landscape, and climate of the destination.
All of these things can affect how you will want to prepare for your safari and the type of camera equipment you might need.
For instance, if your main photography goal of the trip is take photos of lions, you will want to try to make sure that you spend a sufficient amount of time in places with healthy populations of lions to increase your chances of seeing and photographing them. Lions are often best seen in savanna areas.
However, if you are interested in malachite kingfishers, you'll want to make sure that you spend enough time in wetland areas for a good chance to see these birds. These little birds are best spotted and photographed either from a boat or on foot.
This research will also help you decide on the equipment you will need to take with you. For photography of smaller birds for example, you're likely going to need a longer lens. If you are more interested in landscapes, then a wide-angle lens will be an essential item.
Finally, check out the climate for the country you are visiting and the time of year you plan to visit. Having an idea of what to expect will ensure you bring the right clothing as well as any protective equipment like camera rain covers on your trip.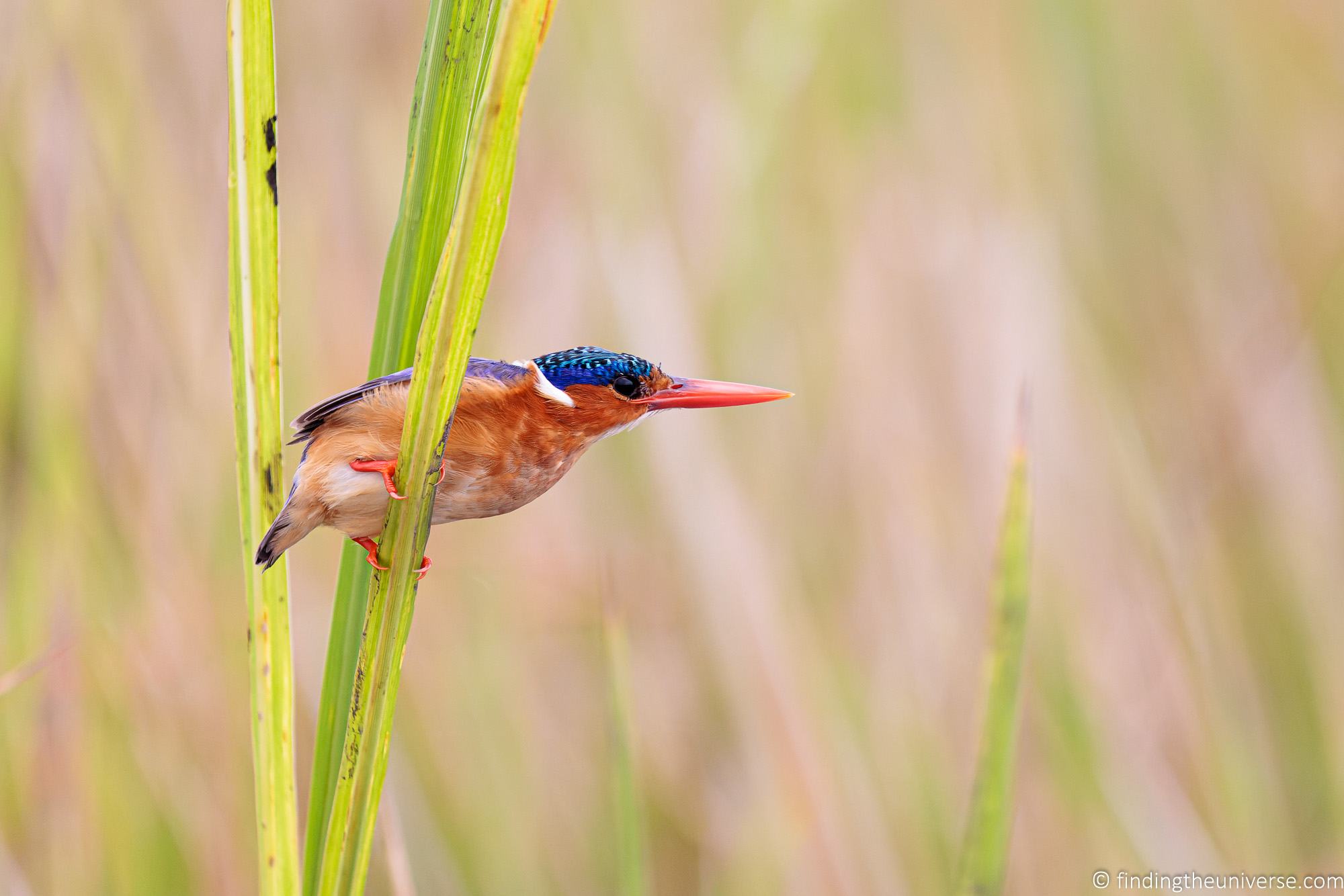 Choose the Right Camera for Safari
One of the main decisions you'll have to make when planning your safari trip is what camera to take with you on your trip. This decision will have you weighing various factors, from your budget through to the size and weight of the camera.
When you are deciding how much to spend and how much you are willing to carry with you, consider what sort of images you want to get. If you are looking for amazing wildlife shots of fast action or in low light, then you will want to invest more money in a high-end set-up.
As an example, compare these two shots of a leopard taken in low light at the end of the day. Both are uncropped.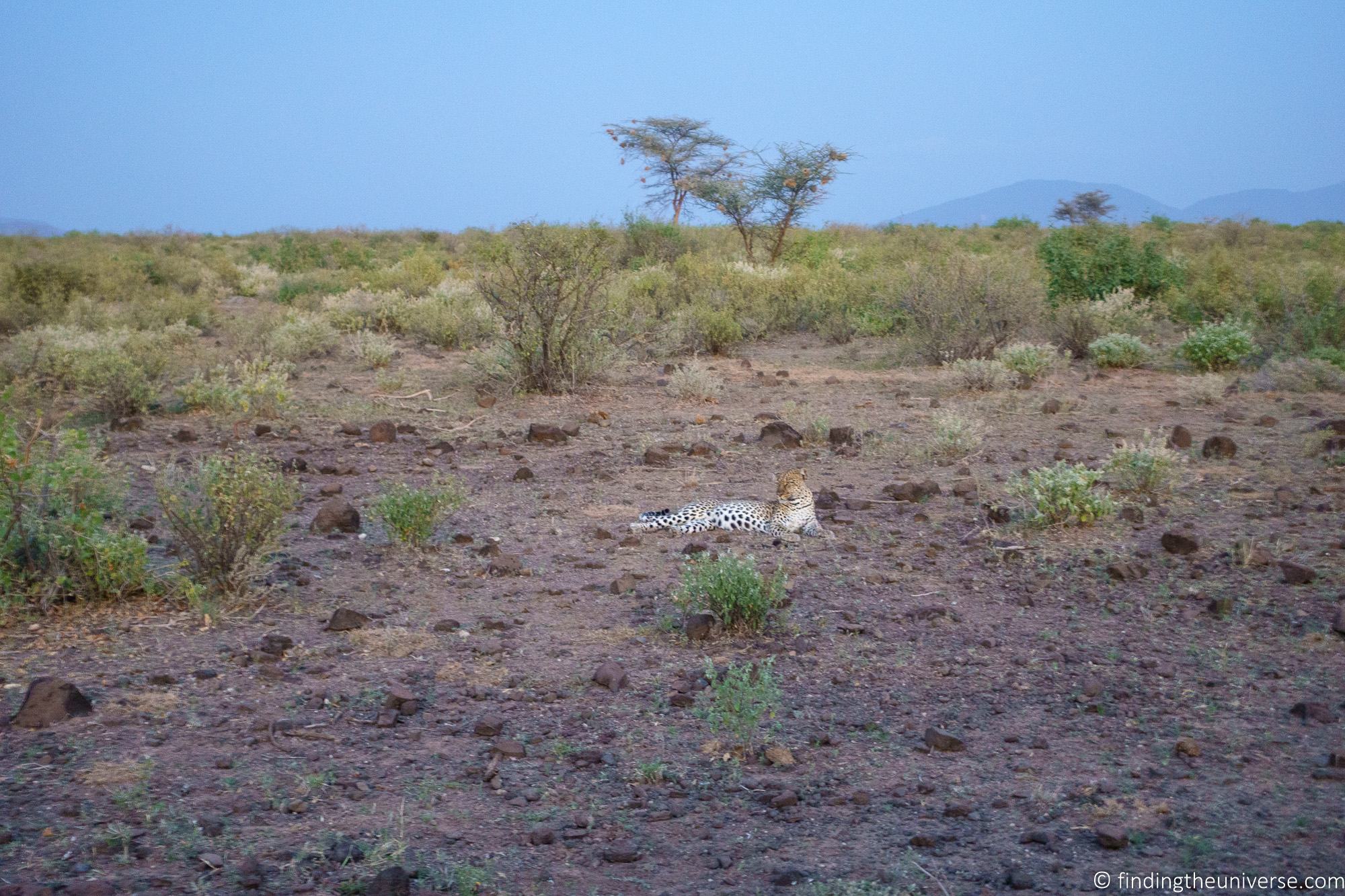 Both images are obviously of a leopard. However, the compact camera struggles to get a close up shot due to the maximum 70mm focal length, and even at ISO 800 the image ends up being quite noisy. The slow shutter speed, even with image stabilization, also means the shot is not too sharp.
The larger and more professional Canon EOS R5 mirrorless camera paired with a 100-400mm lens is still able to get a very usable image, even at 10,000 ISO.
If you are just happy to capture memories of your trip, then a compact camera or smartphone will likely do the job.
A good compromise for many users is a bridge camera, which offers a good balance between a long zoom, affordability, and image quality.
However, if you want the most flexibility and opportunity to get the best shots from your trip, then a higher end mirrorless camera would be my recommendation.
If money and size are no object, my recommended camera for safari would be a high-end mirrorless system. The latest mirrorless models feature excellent auto-tracking autofocus which can recognise and lock onto a subject very quickly, which can really help with fast moving subjects.
In this situation, I'd probably pick a Canon EOS R5, Sony Alpha a7r IV or a Nikon Z9. I'd pair it with a telephoto zoom in the range of 100-500 with stabilization and as wide an aperture as I could afford.
If you want something that offers a good balance between affordability, image quality, and zoom, then my suggestion would be a bridge camera.
I have a whole post on the best camera for safari which I would suggest reading if you don't already have a camera you want to bring with you. It's definitely important to choose the right camera for you.
In summary though, here are some recommended cameras that I suggest you take a look at, depending on the type of camera you would like to take on safari:
For more on choosing a camera in general, we also have guides to the best travel camera, best compact camera, best bridge camera, best mirrorless camera and best DSLR cameras.
If you have, or plan to buy, a mirrorless camera or DSLR camera, you may be wondering what kind of lens would be best for safari. It depends of course on your photography goals and what you want to photograph, but I would generally recommend a lens with a focal range of 100-400mm. See my safari camera post for lens recommendations.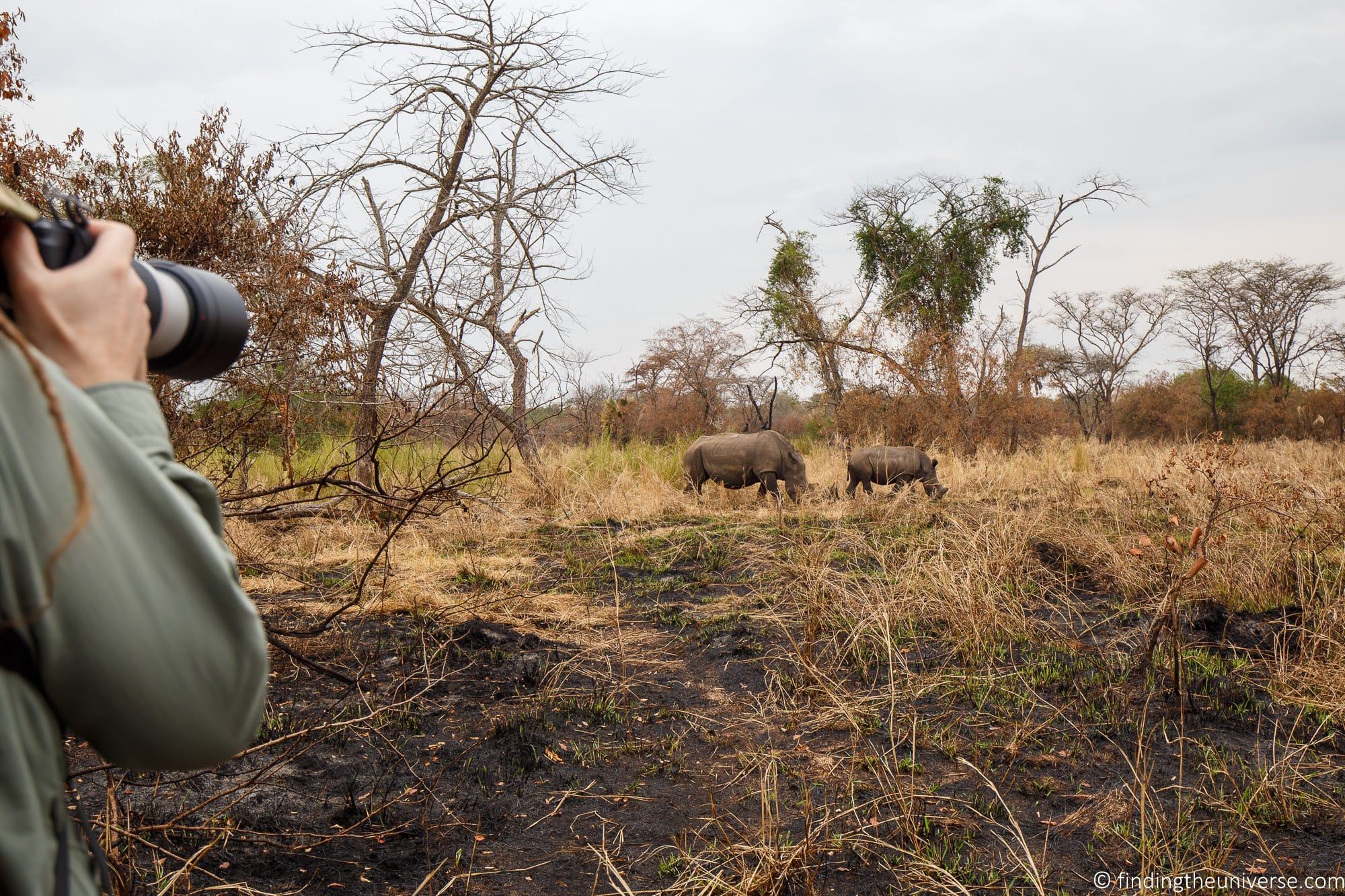 Learn How to Use Your Camera
Once you have decided on which camera to take with you, it's important that you learn how to use it properly. This applies to whatever kind of camera you are using, be it a smartphone camera or a high-end DSLR or mirrorless camera.
A camera is ultimately just a tool to help you take great photos, and like any tool, it will only do what you ask of it. Understanding the various features of your camera and how to access and adjust key settings is vital to ensure you don't miss a shot.
When you are on safari, great photography opportunities can arise very quickly and be gone just as quickly. For example, for the shot of the leopard at the start of this post I had just a couple of seconds to frame the shot and ensure all the settings were correct before he decided to sit up and slink away out of sight.
Had I not been able to nail the focus or adjust ISO, aperture, and shutter speed appropriately in time, I would have missed the shot. I would recommend checking out my guide to the exposure triangle, as well as how to use a mirrorless camera for detailed advice.
Understanding how to adjust the settings and set up your camera properly means you'll have more control over the final look of your shots. For example, you could learn how to manually change the shutter speed so as to capture movement in different ways.
Here are a couple of examples of different shutter speeds to show the difference.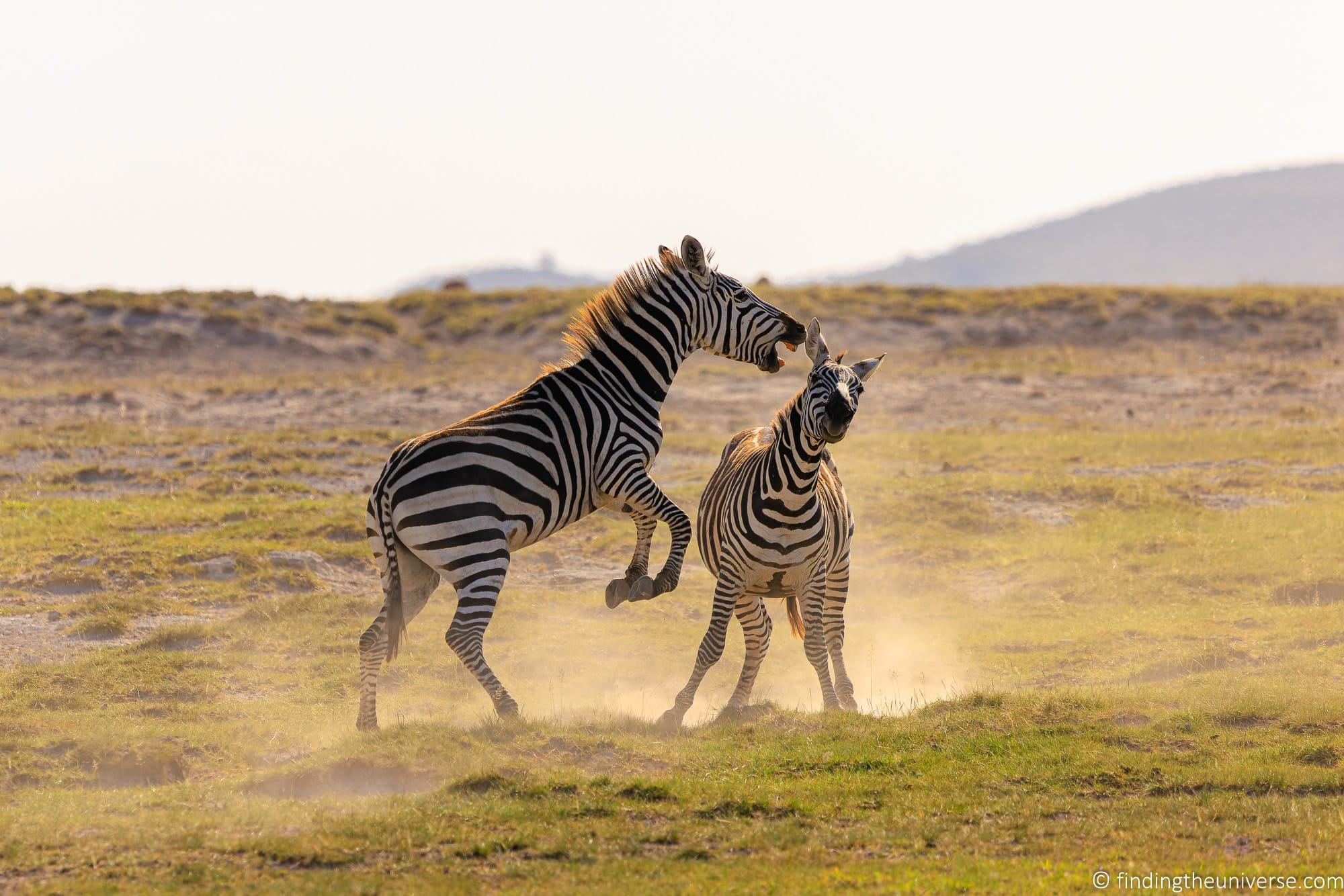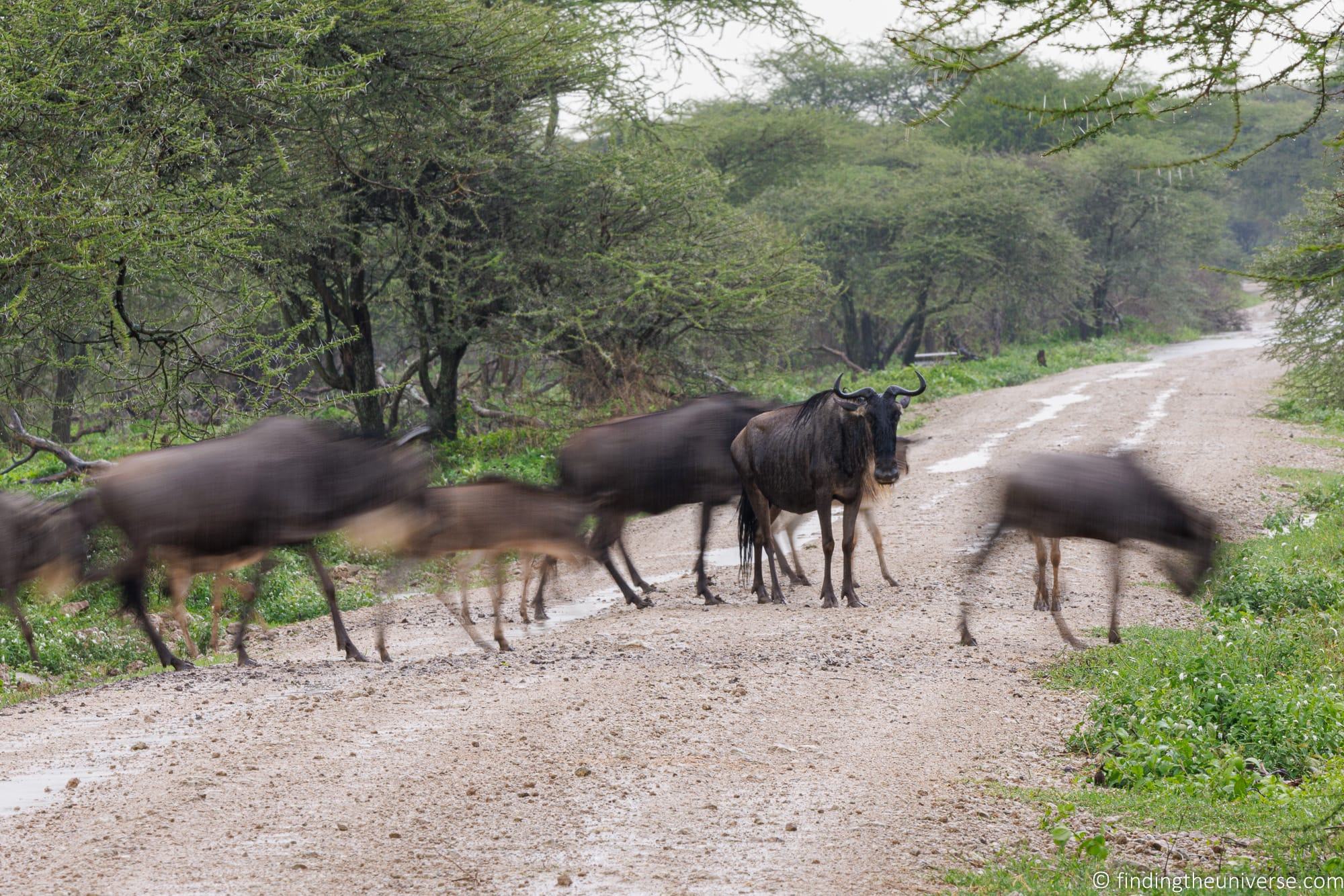 In the first shot, even though the fighting zebra are moving quickly, the fast shutter speed freezes the action. In the second shot of the wildebeest crossing, they are just walking over the road. But in 1/5th of a second, they cover a small amount of ground, and so they become blurry. The single stationary wildebeest remains sharp as it isn't moving.
There are many features of a camera which can be used to adjust how the final shot looks, and understanding how to control them will help ensure you get the shots you want.
If you feel you need help with using your camera and would like to improve your photography, there are a lot of photography courses, books, and workshops out there. I run an online photography course that teaches all the basics as well as more advanced skills, and have proudly helped thousands of people improve their photography skills.
Understand the Limitations of Your Camera
Every camera has limitations as to what it can do. These limitations will vary, and even high-end cameras will have some sort of limitation.
Examples of limitations are:
The zoom isn't very big, meaning you can't capture animals which are far away and will have limitations capturing smaller animals like birds
The camera sensor is small, and so will produce noisier images when there is less light
The lens is big and heavy, so you need to use a fast shutter speed to avoid getting blurry images due to your hand motion when hand holding it
Big and heavy equipment is more difficult to pack and travel with
The important thing is to understand the limitations of your camera so you can work around them, or at least, know what to expect before you go on safari.
The most common issue is probably not being able to take photos of animals that are further away. We saw a number of travelers frustrated by this on our recent trip in East Africa. All cameras will have their distance limitations, just be sure to have a good idea of yours so you can have realistic expectations of what kinds of photos you will be able to take. You can simply go outside and take photos of local animals or birds to get a good sense of this.
Another common issue I see from safari photos and wildlife photos in general are images that are not as sharp as they could be.
This is usually because the shutter speed is too low, and the user is hand holding a larger lens. A slow shutter speed means that any movement in your hand is translated into motion blur as you take the picture. You can fix this by increasing the shutter speed and/or resting the lens on a steady surface.
Some limitations can't be overcome though, and are usually down to the actual hardware inside the camera. For example, the maximum zoom, the sensor size and maximum aperture size will be fixed.
However, if you know what the limitations of your equipment are, then you will be able to either accept them and work around them, or decide on upgrading to a different camera for your trip.
I'd also add at this point that you shouldn't compare your photos to those you've seen on TV, online, and in wildlife magazines. You have no doubt seen some amazing wildlife photos and videos on sites like National Geographic or the BBC, and might wonder why you aren't able to get the same sorts of shots.
Whilst it is of course possible to get images like those photographers do, they often have a lot of advantages over the average tourist. Not only do they typically travel as a crew with tons of high-end equipment, but they often take photos in locations that are hard to get to with limited public access.
They also often have paid for special press / filming permits to get off-road access or shoot in private areas outside of national parks. They also often spend weeks planning and trying to get the right shots, and only share the best shots with the public.
So don't be too hard on your gear or yourself. Just be aware of the limitations of your photography equipment and know how to get the most out of it.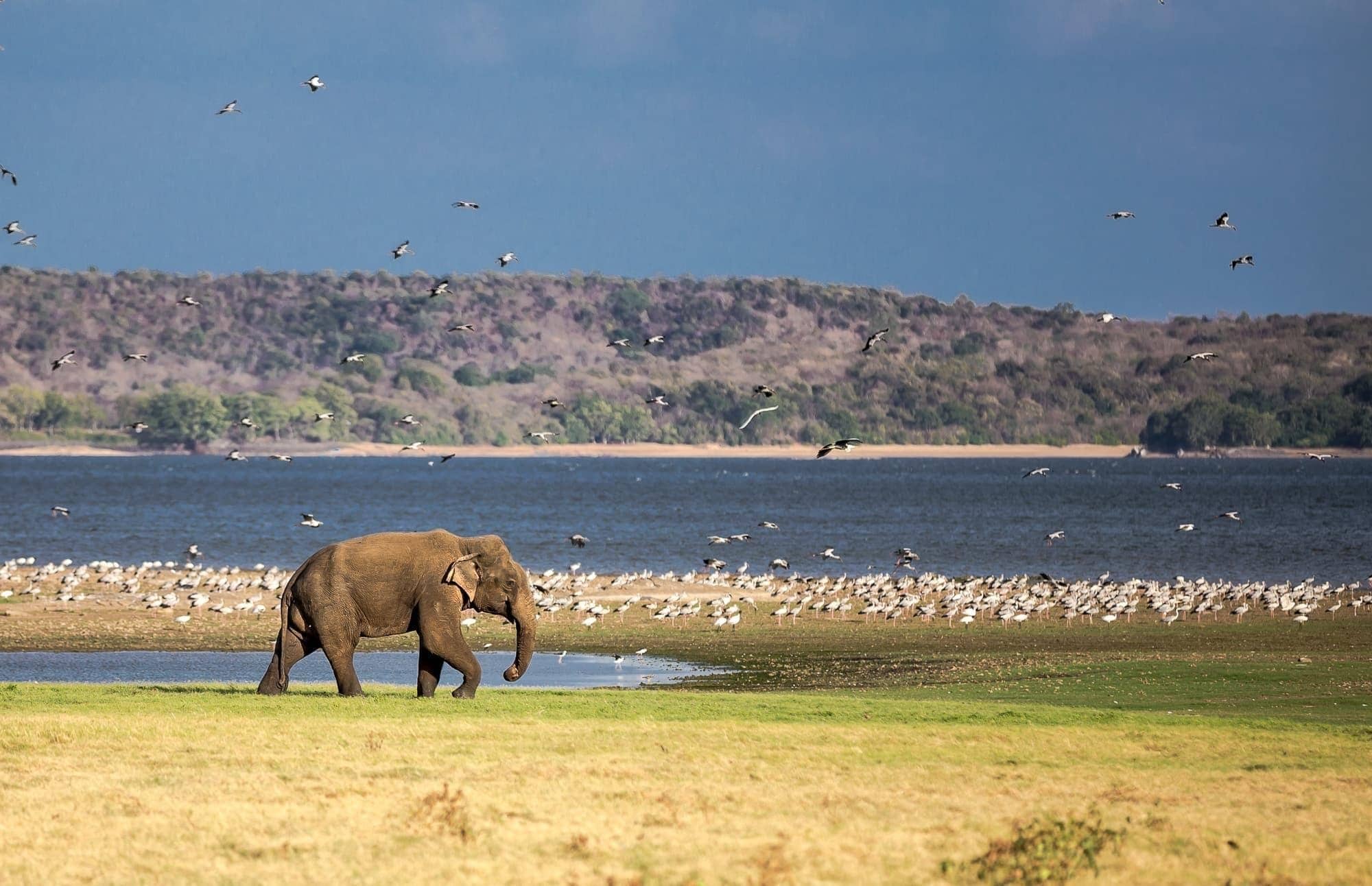 Understand What Causes Blurry Wildlife Images
It's important that your images are sharp. Two things can cause an image not to be sharp.  The first is using too slow of a shutter speed for the situation you are shooting. The second is not focusing correctly. 
A slow shutter speed can result in blurry images for a number of reasons. If you are hand holding your camera, then any movements in your hands can translate to blurry images. Movement of the subject can also translate to blur, as can movement due to you taking photos from a moving vehicle or boat.
You can resolve the slow shutter speed blur problem by using a faster shutter speed, and ensuring you are as still as possible when shooting. Ideally, you'll want to rest your camera on something totally stable when shooting. Then all you have to think about is the motion blur that might result from the animal moving.
For focus, the main issue is likely to come about as a result of the camera's autofocus system picking the wrong part of the scene to focus on, leaving your subject out of focus. I'll cover that in my next tip.
Master Your Camera's Focus System
An important aspect of wildlife photography is knowing how to use your camera's focus system.
It is important to be able to focus on the animal or thing that you want the viewers' eyes to go to in the image. This means that you will want to be able to use your camera's manual focus system (if it has one) and/or learn how to change the focus if your cameras autofocus gets it wrong.
A shot can technically be in focus and sharp, but if you have focused on the wrong part of the scene your actual subject will be out of focus and so you won't end up with the image you want.
Nearly every camera on the market today has an automatic focus, or autofocus system. As the name suggests this system automatically focuses for you when you point the camera at a scene.
There is however quite a difference in the capabilities of these systems. At the more basic end, an autofocus system will allow you to select an area of the scene to focus on, and then focus appropriately.
More advanced autofocus system will be able to identify specific types of subject like animals or people, and track them as they move so you can keep focus.
Many cameras and lenses also feature manual override, so you can manually adjust the focus if you need.
For the main camera I use for wildlife photography, the Canon EOS R5, this has a very sophisticated autofocus system which is able to recognised and lock onto a wide range of subjects. If it can find an eye, it will lock focus on that. Otherwise it will try to track a torso or head. Additionally, it can continue to track the subject as it moves, switch between subjects, and I can override the focus selection if necessary.
It took me quite a while to get to grips with this system, and also to get used to its quirks and limitations. For example, on some occasions it would prefer to focus on the grass in front of the subject rather than the subject. Other times it might focus on a marking on an animal's hide, rather than the eye.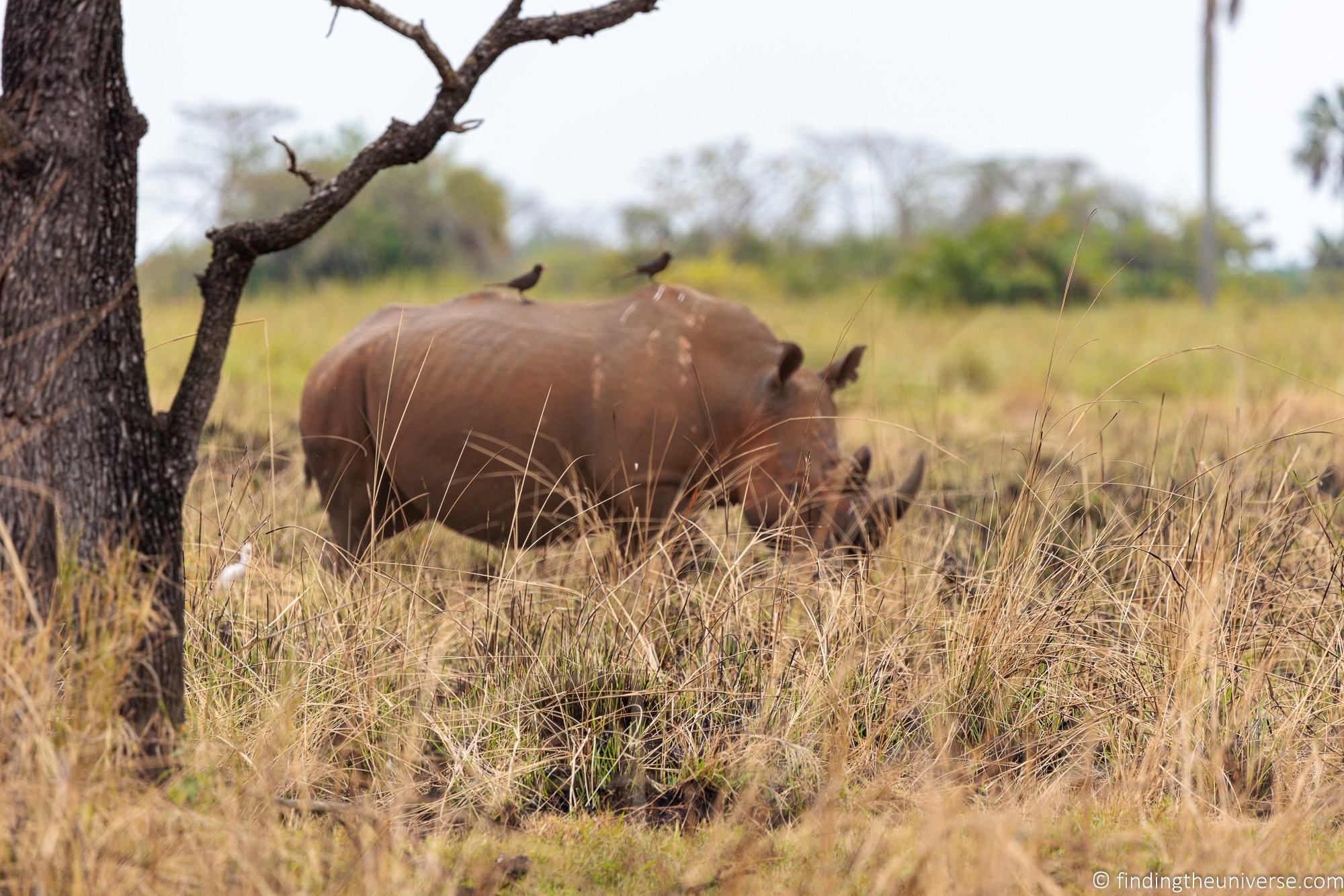 Results like this are why it is so important to both understand the various focus modes of your camera, but also understand how to override them.
For example, on my Canon EOS R5 I have a separate button set up for centre spot focus. This allows me to point the centre of the frame at the area I want to focus on, and know I'll get sharp focus in that area when I press the focus button. I can also entirely override the focus with the manual focus ring on the lens.
Whilst I can rely on the autofocus subject tracking 90% of the time, it also means I don't miss focus in those edge cases where the camera doesn't get it right. Technology can be smart, but it can't read minds quite yet, so it's usually working off a best guess as to what you want to take a photo of.
Whatever your camera is, my recommendation is to spend some time learning the various focus modes, what they are, and how to quickly override the focus if necessary, either manually or by selecting a different focus area.
Ideally you'll want the camera to be in a continuous focus mode so it keeps tracking a moving subject. Try to find some subjects like wildlife in your garden or a moving pet that you can practice on before you go on safari to master your camera's focus features.
Try Shooting in Burst Mode
Most cameras have a range of shooting modes, which may also be called drive modes. The choices normally vary, and will include single shot and burst shot modes. The drive mode menu on your camera is also where you'll often find the camera's self-timer mode.
For wildlife photography, a lot can happen in a short sequence of time. For this reason, shooting in burst mode is usually the way to go when you have a moving subject. This means that as you hold down the shutter button the camera will keep taking images.
Alternatively, in single shot mode, you have to keep pressing and depressing the shutter button. This loses you time and you may miss the shot.
Shooting in burst mode will let you take a sequence of images and then pick the best one. For example, here's a sequence to show a yellow-billed stork landing.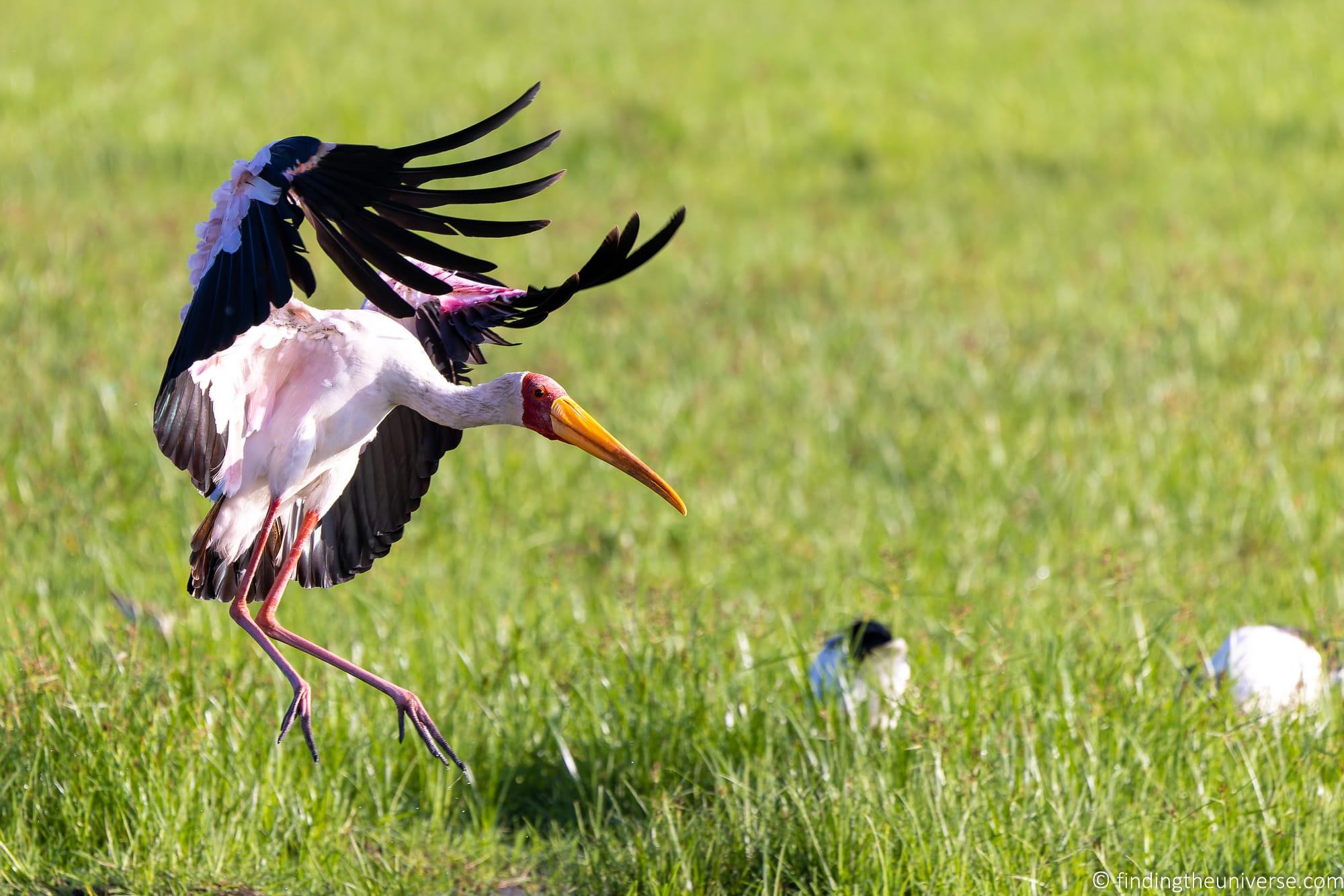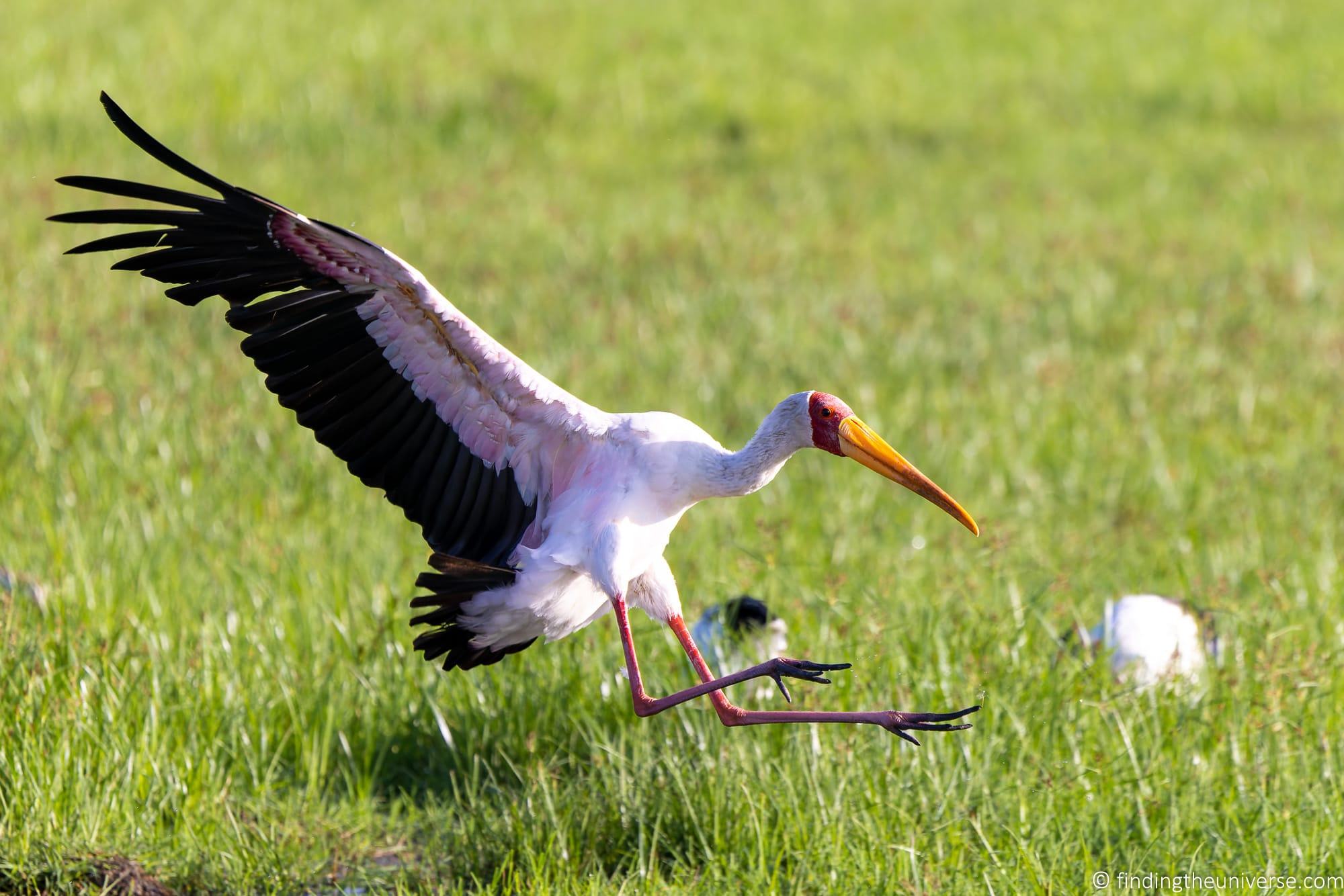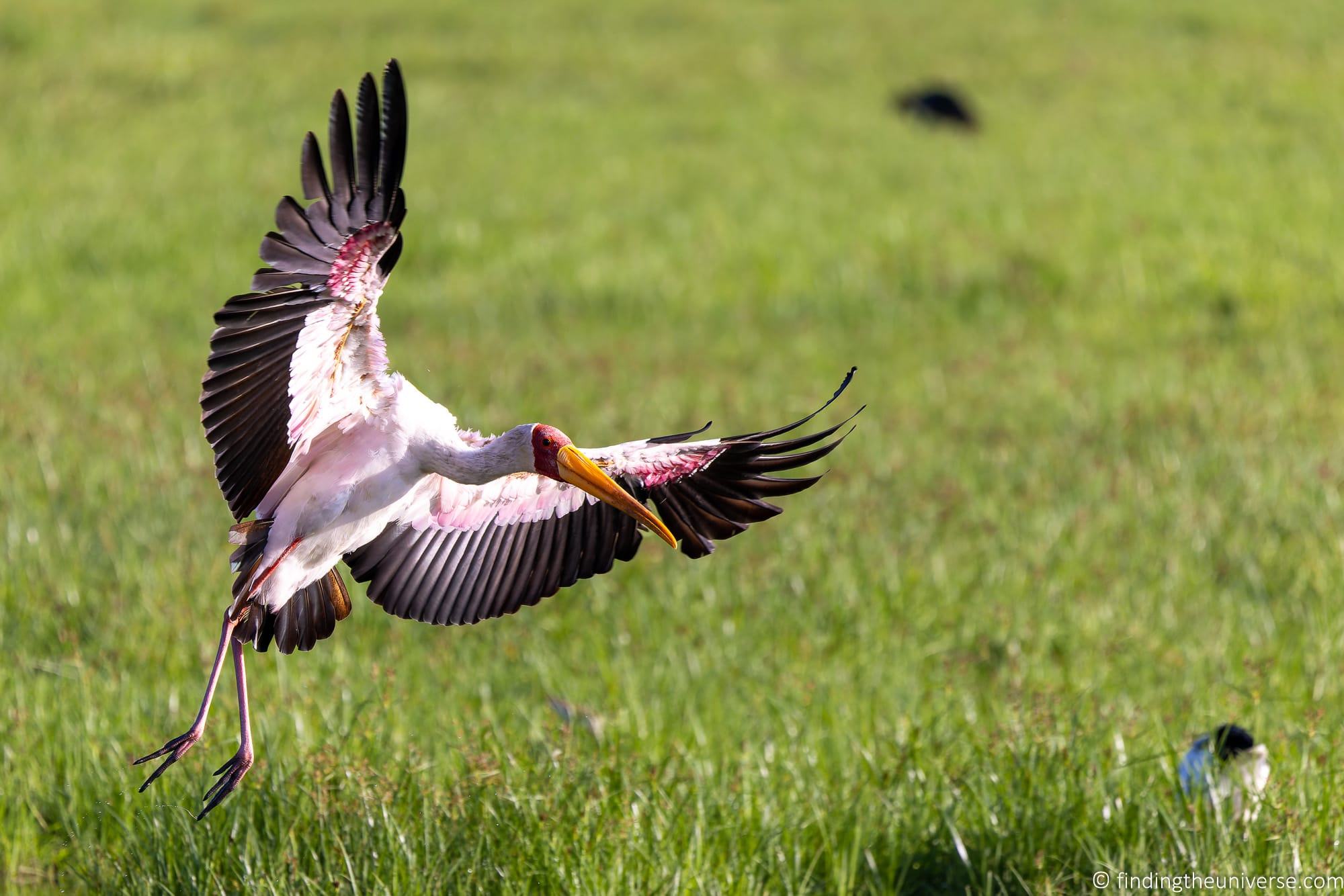 The number of images the burst mode will take will depend on two main factors.
First, the camera's burst speed, which is the number of images per second your camera can take. For instance, a camera with a burst speed of 10fps (frames per second) can take up to 10 photos per second.
Second, the speed that your camera can write to the memory card inside the camera as it takes pictures.
Most cameras will be able to take a certain number of images at the maximum burst speed for a few seconds, and then as the memory buffer fills up, this rate will slow down or even stop until the images have been written to your memory card. These details should be made clear on the specification sheet for your camera.
When you shoot in burst mode you will definitely also want to have continuous autofocus enabled. This will mean that if your subject moves as you are shooting it will hopefully stay in focus.
The main disadvantage of shooting in burst mode is that you will end up taking a lot more photos and using more memory card space. However, memory cards and memory in general are relatively inexpensive these days, so this shouldn't be too much of an issue. Just be sure to always have an extra memory card with you.
Try to Shoot at the Best Times of Day
If you've ever read a photography guide, it will normally advise you that shooting in the earlier morning and later afternoon will give you better results. This is because the light at the start of the day and in the evening is softer and has that nice warm yellow glow.
In addition, the lower angle of the sun in the morning and evening produces shadows, resulting in images that have better contrast and depth compared to images shot in the overhead midday sun which can produce more flat images.
When it comes to safari, this advice is also true, but there are additional reasons to shoot earlier in the morning and later in the evening.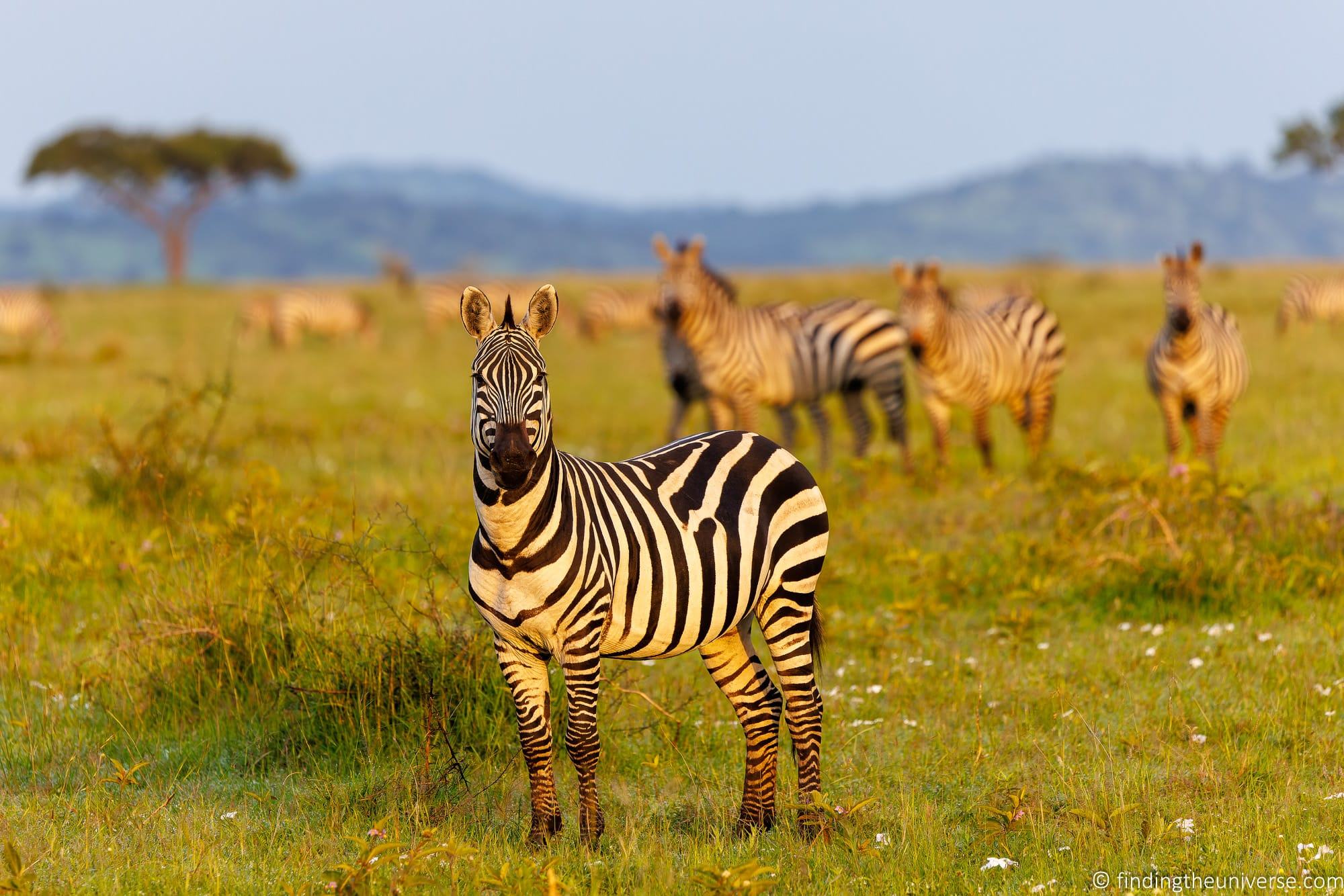 To start with, the majority of animals are going to be more active earlier in the morning and then towards the evening. The middle of the day tends to be hotter, and is a time when many animals are likely to be resting in a nice shady spot.
You will tend to see fewer animals in the hottest part of the day and those you see will tend to be less active during this time.
If you are looking for nocturnal species like genets, bushbabies, or aardvarks, your best chances to see them are on night drives or night walks, or to try to go as early in the morning as you can for a chance to spot them before they have gone off to sleep.
Just note nocturnal animals can be pretty tricky to see in most national parks given the hours that you are allowed to do a game drive. Getting good photos of them can be very difficult given they are often spotted at night.
We recommend trying to start your game drives as early as the park will allow. This will give you a better chance of seeing more wildlife, and also getting better images of that wildlife.
Another reason to avoid the middle of the day is that as the air heats up it gets more hazy. Think of the heat shimmer you see on a hot day—this is a real issue when shooting during hotter days and can negatively impact your images.
The haze will result in less sharp images, especially of further away subjects. In addition, as the day progresses, there will often be more dust in the air from vehicles driving around, which also reduces the clarity in the air.
Of course, I appreciate that I am talking about ideals. It isn't always possible to pick the ideal time. Sometimes you will be out in the middle of the day. In these situations. Try to get as close as possible to your subject, which will let you avoid more of the heat haze. Where possible, shoot your subject so the sun is behind you rather than behind your subject.
The below two images are of the same black rhino mother and calf in Kenya. Both were shot in the middle of the day. In the first shot, the pair were quite far away and there was quite a lot of heat haze, meaning the shot ended up not being as sharp as I would have liked.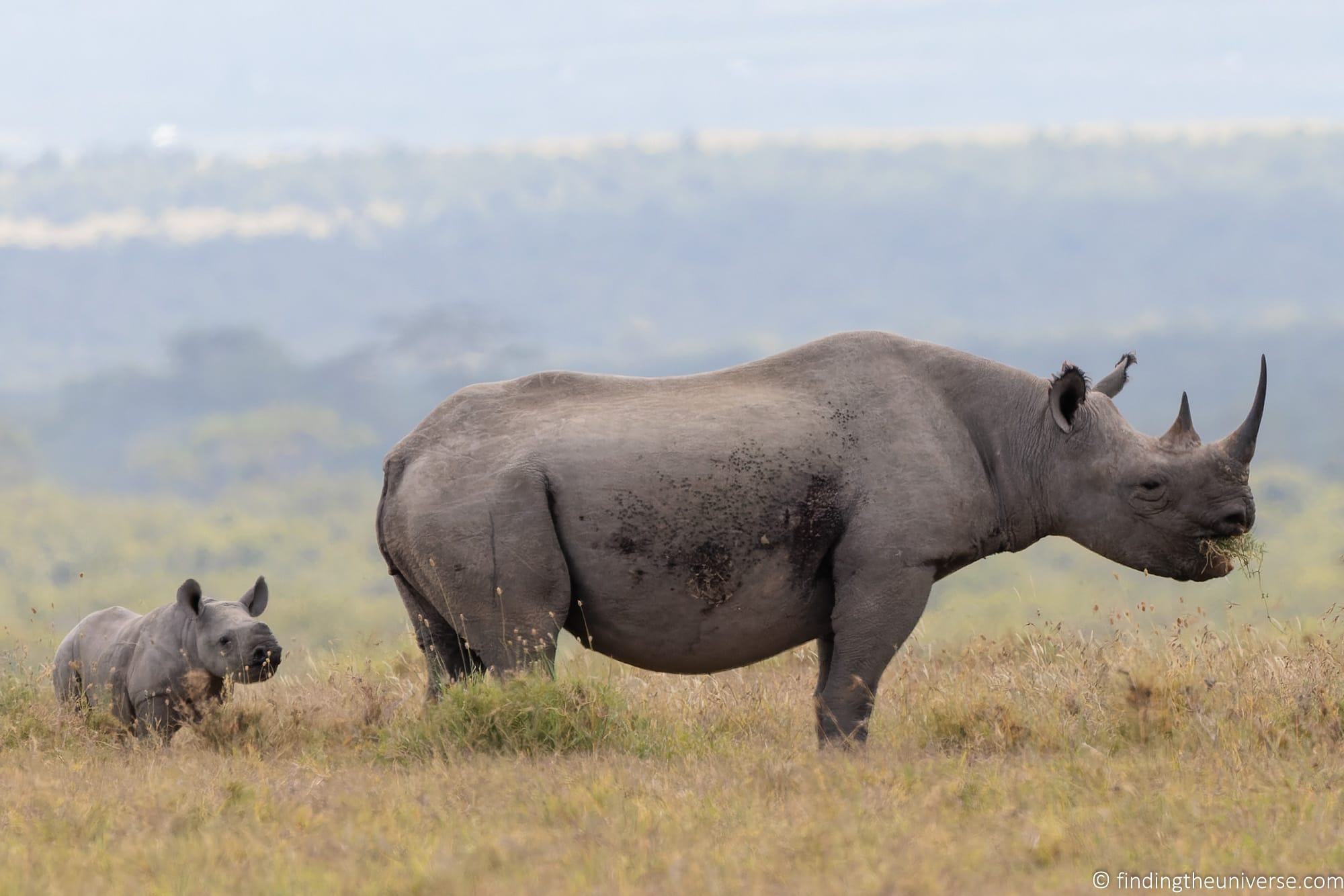 In the second shot, the pair moved much closer to us and the light was slightly improved, so there is some depth from the light and dark. It's still not the ideal setup, but it's definitely improved compared to the flat and slightly hazy look of the first shot.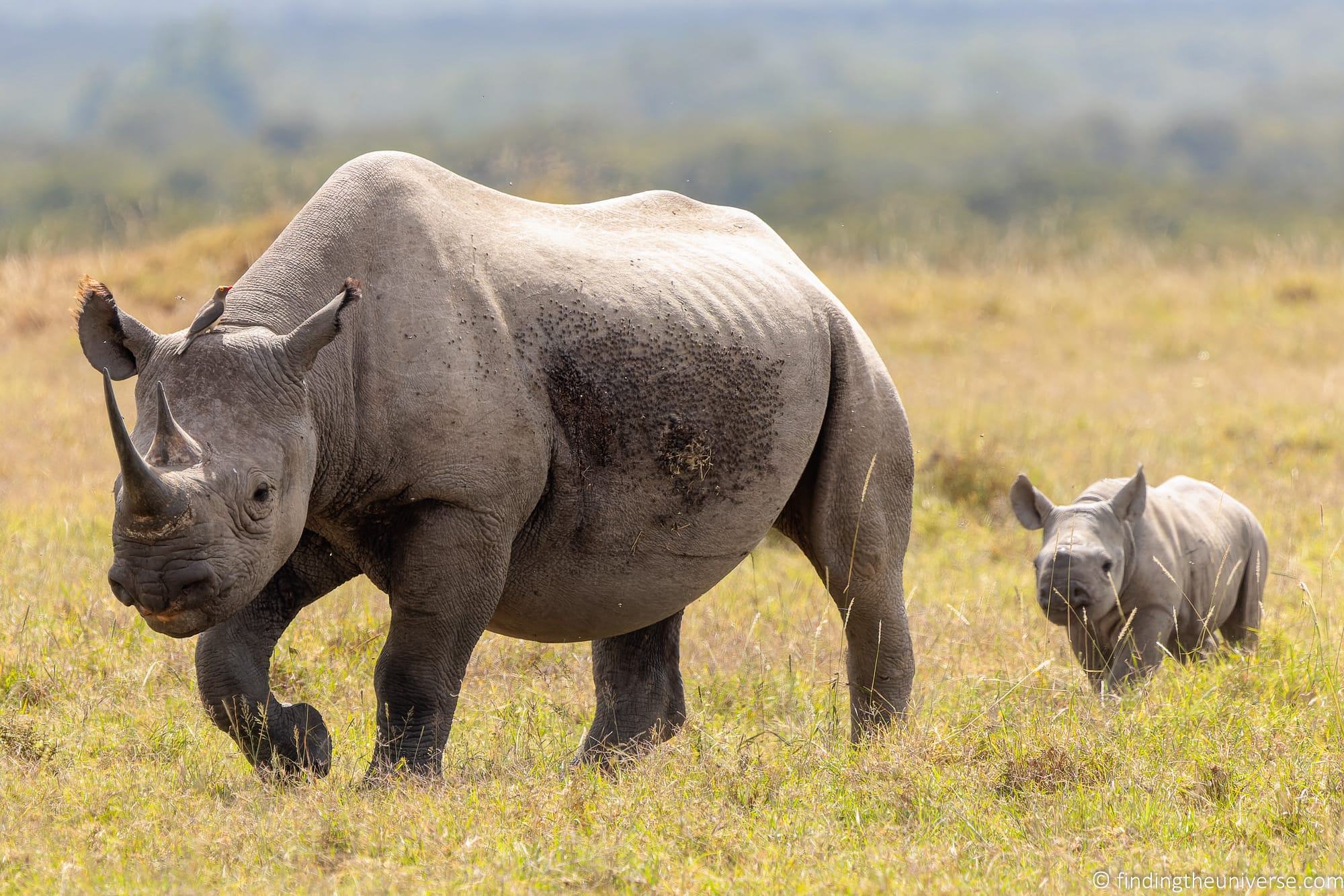 This brings me on to my next tip for getting great photos on safari.
Be Patient
Any wildlife photographer will likely tell you that their most useful skill is patience. When doing landscape photography, I am certainly used to waiting for the right light, but wildlife photography definitely takes the need for patience to a new level.
Wild animals tend not to move to our schedules. They go where they want when they want. Being patient and quiet can reap huge rewards when it comes to photographing them in their natural habitat.
An example is of this leopard in a tree. When we arrived, it was asleep in the tree by its kill. However, we waited for around an hour and it decided to get up, eat more of its kill, descend from the tree and wander off. All these moments provided better photography opportunities than the initial one, and just required patience.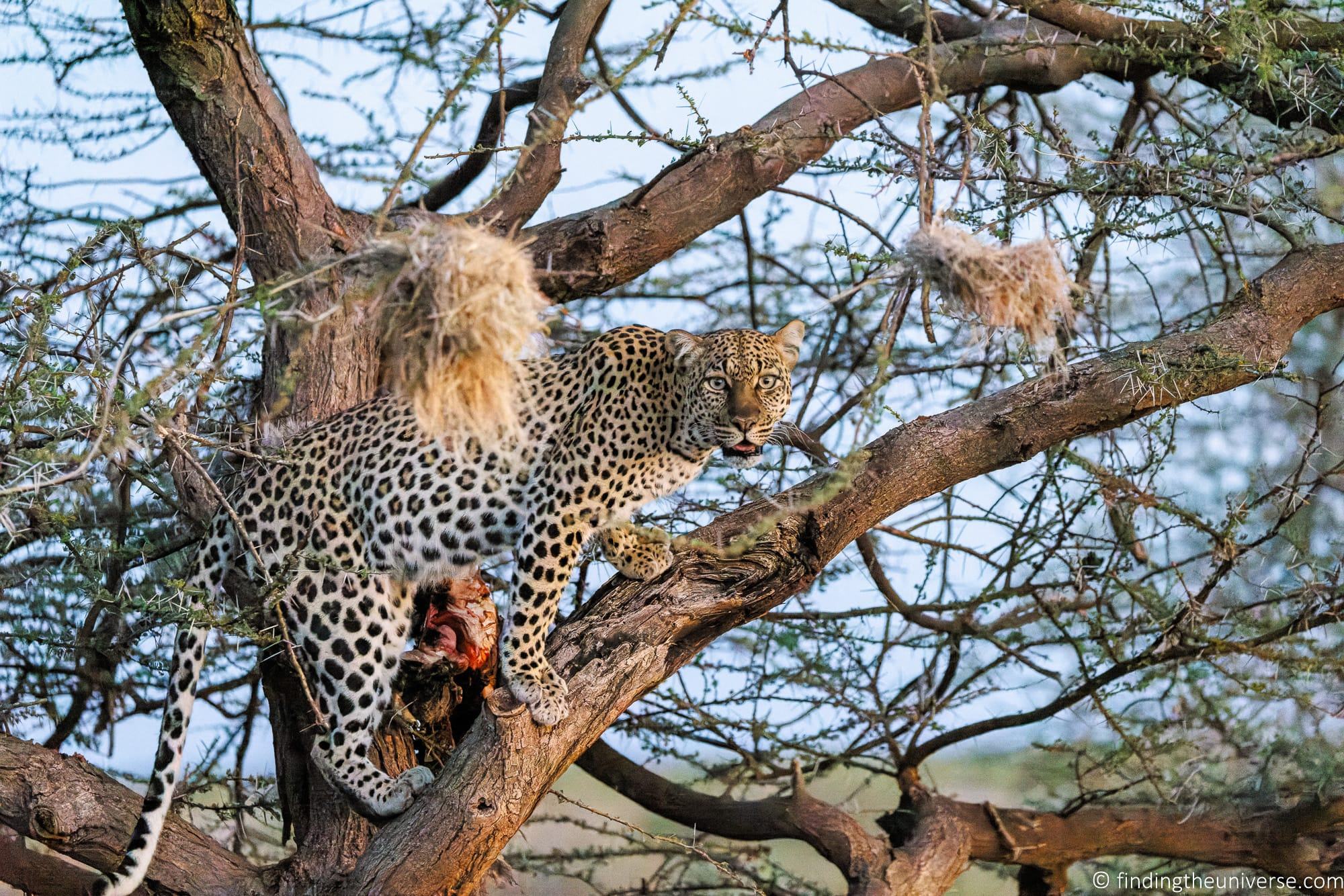 Another example would be a group of lion cubs we encountered in Tanzania. There were eight of them playing near the road, and as we watched two of them climbed up a tree. Shortly afterwards, one of their mothers returned, and we were rewarded by the sight of baby lions bounding across the grass to be reunited.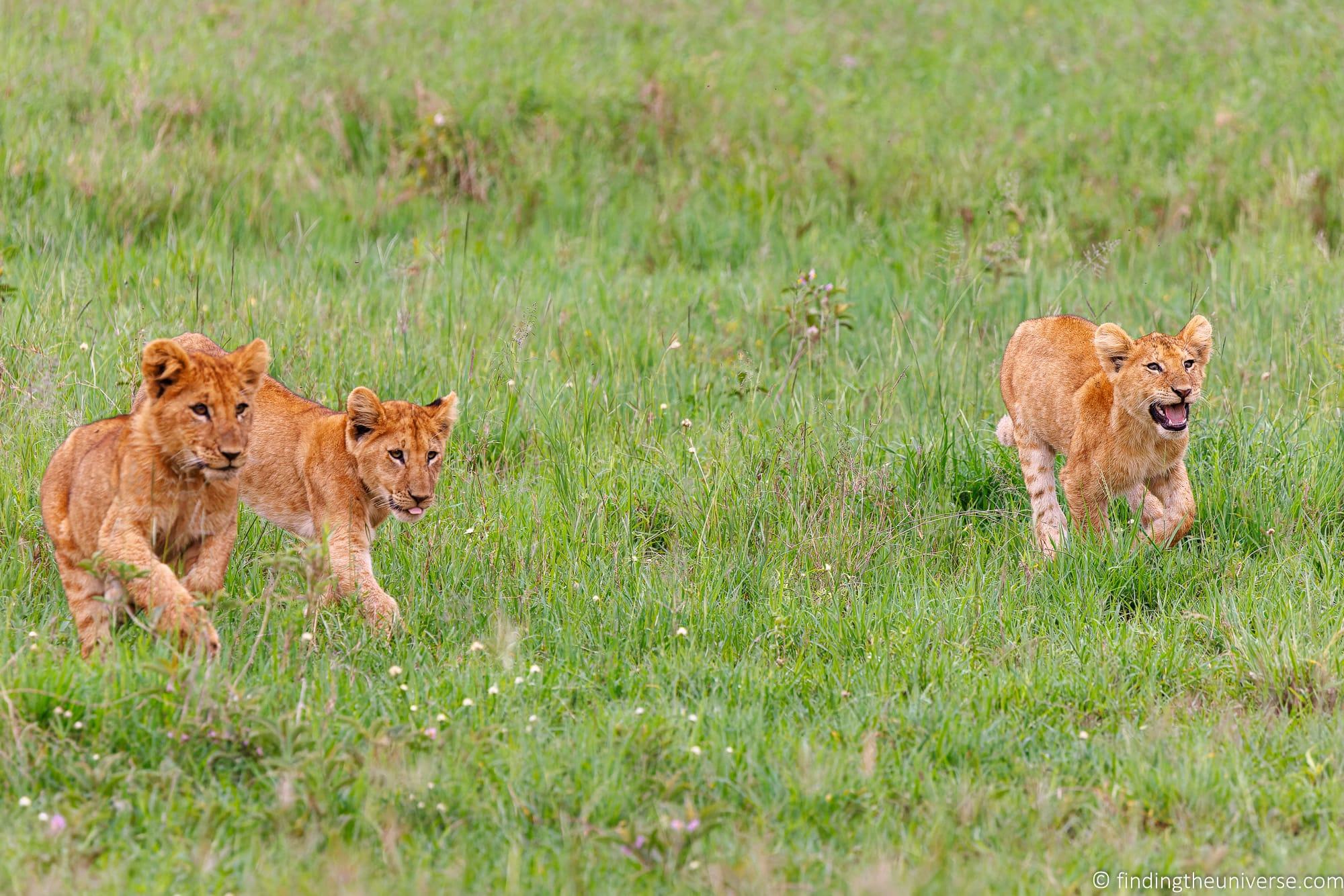 This is a story I could repeat multiple times across many wildlife encounters, but the overall message should be clear. Try to remember that a safari game drive is not an exercise in getting somewhere. When you find an animal or bird you want to see, you will probably be rewarded if you spend some time just sitting and watching it rather than rushing on to try to find something else.
Prepare Your Equipment
If you already have a camera that you plan to take with you on safari, you want to make sure it's in great working order before heading on safari. This is especially the case if you have older gear or gear that gets a lot of use.
Before you go, I recommend testing and cleaning the camera yourself to make sure it's working. You'll also want to make sure all the gear from your lenses to your camera straps are in good shape before your trip. Your trip is not a good time to learn about a preexisting scratch in your lens, a corrupted memory card, a fraying strap or a battery that doesn't hold its charge!
You might also consider taking your camera to have a professional clean and check before your safari. Often you can do this at a local authorised dealer or repair shop for your camera brand, as they will have servicing options. Alternatively, your manufacturer might offer mail-in servicing options.
I try to get my cameras serviced every year or two, especially if I know I've been hard on them. As well as cleaning the sensor professionally, they check the camera over and make sure things like seals and screws are all in good working order. In my opinion this is well worth the investment, especially on high-end equipment.
Protect your Equipment on Safari
Safaris can be really hard on camera equipment. From dusty conditions to bumpy roads, there are all sorts of hazards that can either damage your equipment or cause it to function less effectively. In this section, I'm going to talk about common issues you can expect to encounter and how to overcome them.
Dust or Sand
When it's hot and dry, the roads will be dusty. As your vehicle and other vehicles travel on the roads they kick the dust up, and it gets everywhere. If you have the top down or windows open, expect dust to get on your camera equipment.
If you are traveling to a place where sand is a concern, such as a desert or beach, be careful as blowing sand can get into your gear and can also leave scratches on your lens if you accidentally wipe them. Never put your camera down in the sand as it can easily work its way inside.
Cameras contain a lot of sensitive electronics as well as some moving parts, neither of which appreciate dust or sand. In addition, if dust gets onto your camera's sensor it can cause unsightly spots to appear in your images.
There are a few things you can do to minimize the impact of dust or sand. First, a good camera bag that you can put your camera in between uses will help to prevent general dust getting in. So when you are not using your camera, I'd recommend securing it in a case or bag.
Also be careful about where you set your camera. Don't place it on the ground or other dirty surfaces, and don't leave it outside for any longer than it needs to be outside.
Next, remember to use a lens cap if your camera lens supports them as this will help to keep the front element dust free. Just keep the lens cap in your pocket and place it on the camera whenever you are not using it. If your lens supports it, then a lens hood and a UV filter can also provide much needed protection.
If you are using a camera where you can change lenses, try to change the lens in a dust-free location if possible, such as in your hotel or when stopped in a sheltered place. Try not to change your lenses more than you need to when in dusty situations.
In addition, I'd recommend packing a small camera cleaning kit so you can get accumulated dust off your gear as you travel. I'd particularly recommend having a lens cloth, a brush, and a blower with you.
Once you are done with your safari and you have gotten all the amazing photos you wanted, you might consider getting your camera professionally serviced and cleaned to get rid of any errant dust and to ensure it's back to full working order for your next adventure.
Rain
Not all safaris take place whilst in a closed vehicle. Sometimes you might be on foot or trekking, or in an open top vehicle. In these situations, even when visiting a country in the dry season, there's always a possibility of rain.
Whilst some cameras do offer a level of weather-proofing or rain resistance, the majority are not fully waterproof. So having a camera rain cover to keep your gear dry like this is a good option.
I'd also recommend having a good camera bag or backpack with a rain cover where you can put your camera in between shots.
If you have a smaller camera like a compact camera or smartphone, something like a resealable freezer bag or clear dry bag can also work well to keep it dry.
Bumpy Roads
As well as dust and rain, another issue you will have to contend with will be bumpy roads. Most roads in safari parks are unpaved, and some of them can be very bumpy.
You definitely don't want your camera equipment flying around the inside of a vehicle as this can damage it, and could even cause injury to the other occupants. I have a few suggestions to help avoid this scenario.
First, I recommend bringing along a good camera bag or case. Camera bags are specially designed to provide padding and protection for your gear, and many of them also come with rain covers. This means that you have somewhere safe, protected, and padded to put your gear in between shoots.
Personally I use Vanguard photography bags and I've been an ambassador for Vanguard for many years now. If you see something on their store that works for your equipment, you can save money using our exclusive Vanguard discount code. This will give you 20% off everything in the Vanguard store.
Just use the code FindingTheUniverse for your discount! This code works in the Vanguard USA, UK, Australia, Spain, and Germany stores.
When you are actually using your equipment, I recommend having a strong and comfortable strap to keep it secure around your neck or shoulders. I use the Peak Design strap system which has reliably kept my camera gear comfortably slung at my hip for many years now. You'll want to find one that is comfortable for you.
I left my DSLR camera on the seat of our Land Cruiser on a trip and it fell on the floor after hitting an unexpected bumpy patch in the road. I was lucky that nothing was damaged but it sure made me more careful about either putting gear away in my bag or keeping it around my neck.
I also recommend that if you are someone like me who enjoys standing up in a safari vehicle, that you sit down or at least put your camera in a camera bag when the roads gets really bumpy. If your guide tells you to hold on or you see that you are going to be crossing a river, it is probably best for both you and your gear to sit down. This way you'll have a better grip on your gear and avoid banging your gear on something or falling.
Dress Appropriately
Packing appropriate clothing is going to ensure you are comfortable and ready for the weather during your trip. Whilst it might not directly help you get better photos, comfort is a really important factor. When you are comfortable you will be able to focus on getting great photos rather than the temperature or the insects.
When choosing clothes for your trip, consider the climate, weather, and insects of where you are going as well as the activities you plan to do. You are going to pack very differently for a cool weather destination than a tropical one. You also need to pack differently if visiting a country during its rainy season versus its dry season.
In terms of photography specific clothing, you might want to consider having lots of pockets so that you have plenty of places to store things when standing in a vehicle and when hiking. This will give you quick access to things like extra batteries, lens wipes, and your lens caps.
There are a range of different vests you can get, including specialised photography vests. I personally prefer something a bit more versatile that I can use in a variety in situations, and I like the Scottevest products which have a lot of pockets and are great for travel in general. I find them particularly useful for airport travel as they have so many handy pockets.
Generally though, on safari I wear the NosiLife long-sleeve shirts from Craghoppers. These have lots of pockets and also come with built in insect protection and sun protection. They also dry very quickly.
Jess and I mainly wore Craghoppers tops and bottoms throughout the days where we were either in the vehicles on safari or were doing treks. This is the most common brand we've seen people wearing for proper safari clothing throughout our travels. You can shop for them from REI in the US here, as well as on their official site here.
Depending on where you are going, you will probably also want to consider packing a hat, sunglasses, insect repellent, sunscreen, good practical shoes (we generally wear Scarpa or Merrell), layers for warmth, and a rain jacket or poncho.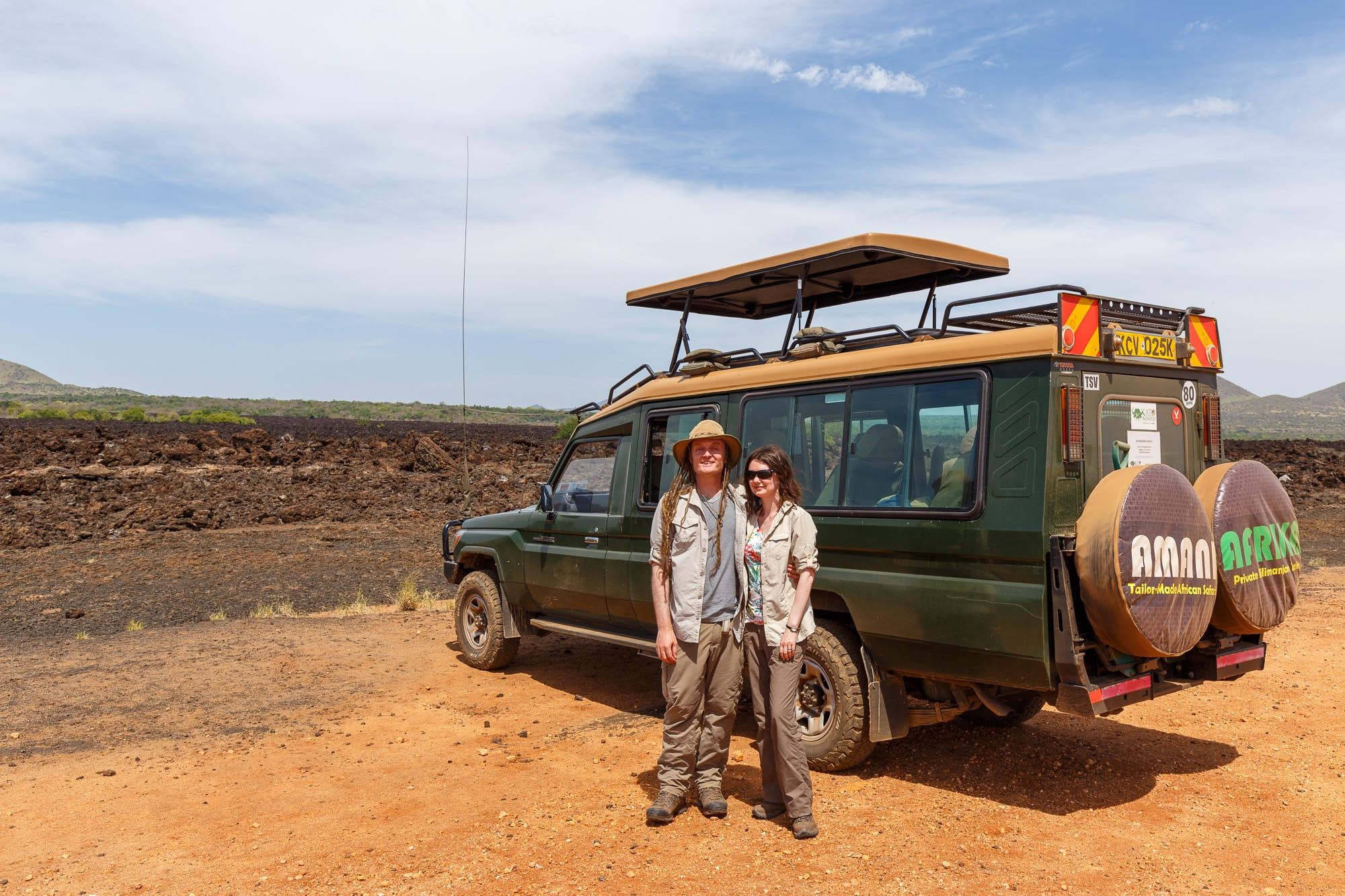 Pack a Photography Bean Bag
If you are traveling with a longer lens, I'd consider getting a photography bean bag or two for your safari trip.
For wildlife photography on safari, I find that a photography bean bag like this is one of the most useful photography accessories I have packed. Generally, I find I get a lot more use out of a bean bag on safari compared to a tripod or monopod.
This is because on safari you are often shooting from a vehicle, either from the window or via the pop-up top. And in both cases, setting up a tripod or even a monopod isn't always going to be possible.
On the other hand, a bean bag can rest on the top of the vehicle or over a window, where you can then rest your lens or camera on it. If you are shooting with a larger camera and lens setup, you will definitely be thankful of having somewhere to steady it, as it's unlikely to be practical to hold it up for prolonged periods of time. It also keeps you from putting your camera or lens directly on the metal edges of windows and roofs which could lead to damage.
Using a bean bag means you'll be able to use slower shutter speeds for more stationary animals as well, so you don't have to worry about camera shake so much. This is especially helpful when shooting with very big telephoto lenses from around 400mm and up.
Jess also found the bean bags useful for just using as armrests and for placing her elbows when using binoculars.
Bean bags are very light to travel with, and you can usually find inexpensive materials like dried beans to fill them with at your destination. My only tip is not to fill them with anything obviously edible, as some animals in some parks might sniff out the tasty treats within and decide to give them a nibble! Dried (obviously uncooked!) beans are a good option for this reason.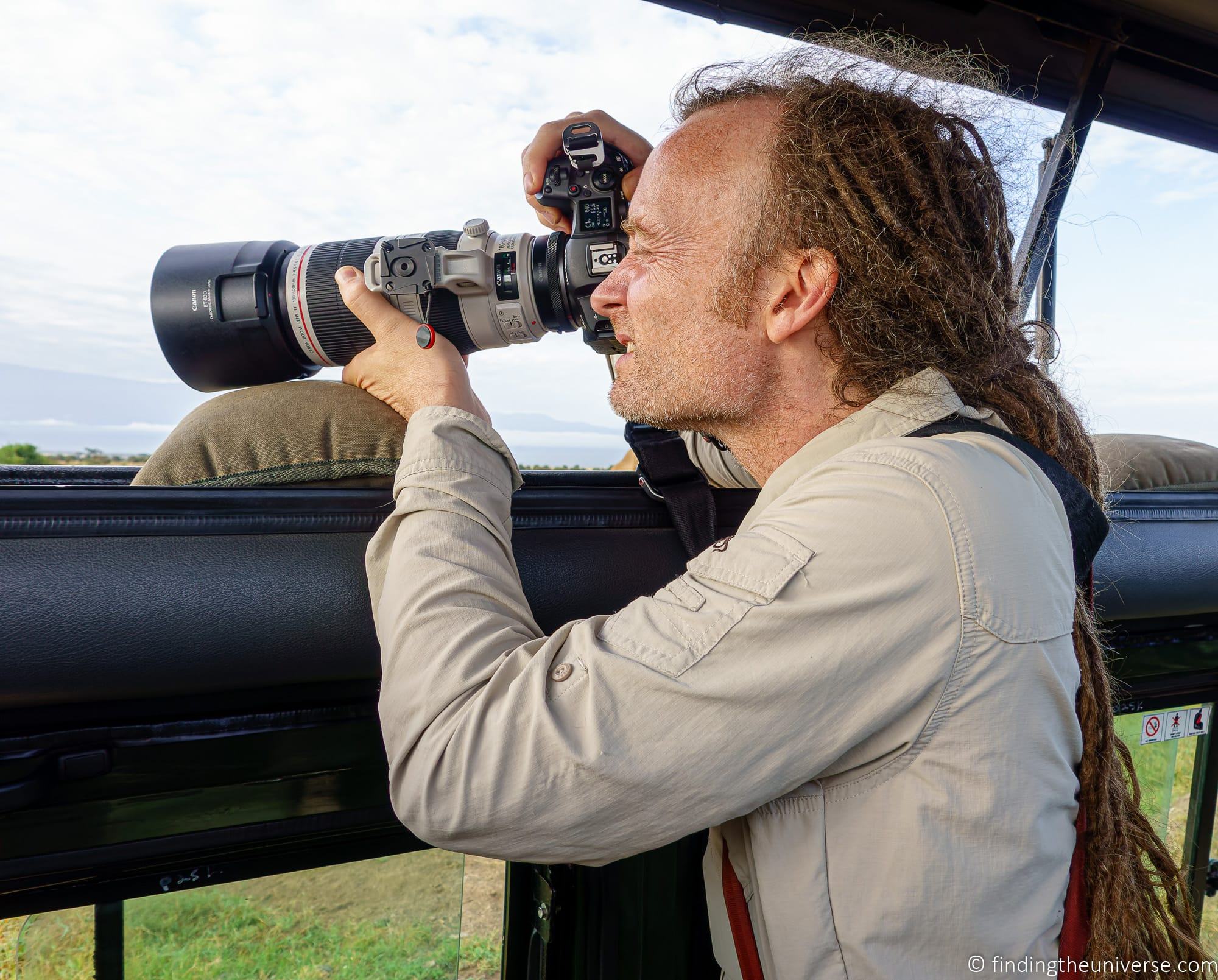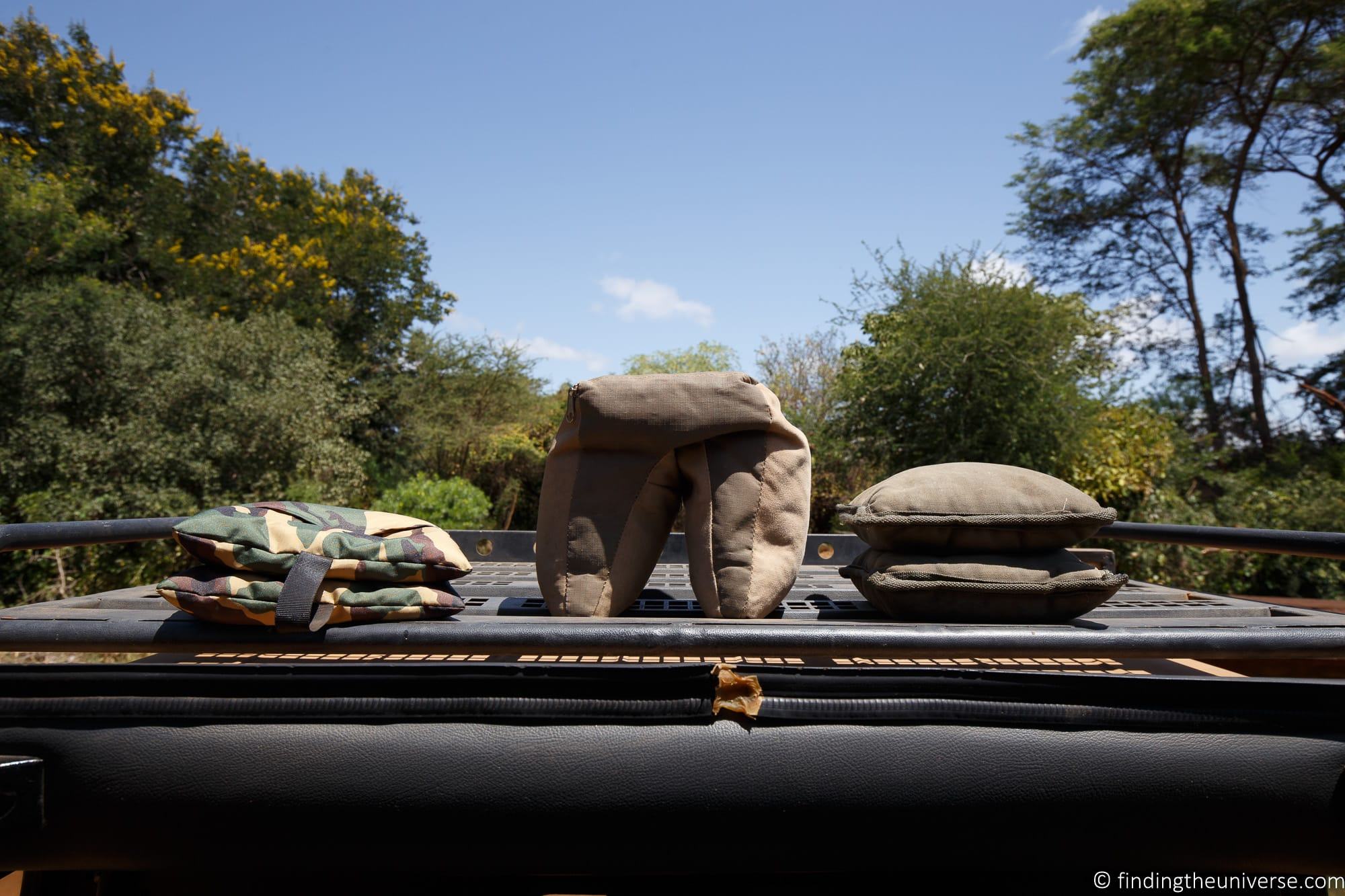 Be Specific About What You Want with your Guide
If you are doing a safari with a driver and/or guide, then being able to communicate about your goals and what you want to see is really important. It is also important for you to listen to your driver/guide for feedback and understand what is realistic based on their expertise. Doing this as early in the trip as possible is best.
If there's a certain shot or composition that you want, it's a good idea to let your guide know so you have a better chance of seeing it. Whilst there's never a guarantee of seeing any wildlife on safari, if you specify that you want a shot of an elephant bathing for example, then your guide should have an idea of where the best places to get that shot might be on your trip.
If you aren't clear on your interests, then you'll be on more of a general safari and taken on the common safari drive circuits within the parks. Guides will almost always drive you to see things like lions or cheetahs if spotted, even without asking you. However, if you'd rather photograph elephants, eagles, or zebras, then you need to speak up so that you guide know what your wildlife sightseeing priorities are for the trip.
Whilst you will still likely get great photo opportunities (your guide is there to take you to see wildlife after all!), it might not be exactly the shot you want. So being specific will definitely help improve your chances of getting the shots you want if you have something specific in mind.
Another thing we discussed with our guide from the beginning was to have signals about stopping and when to leave after stopping for a wildlife sighting. So we asked our guide to just ask to make sure we wanted to leave an animal or we'd tell him, or he'd give us a head's up if we needed to leave.
This not only helped make sure we felt we had enough time to get the photos we wanted, but it also made sure we were prepared for any sudden jerks from stopping and starting the vehicle.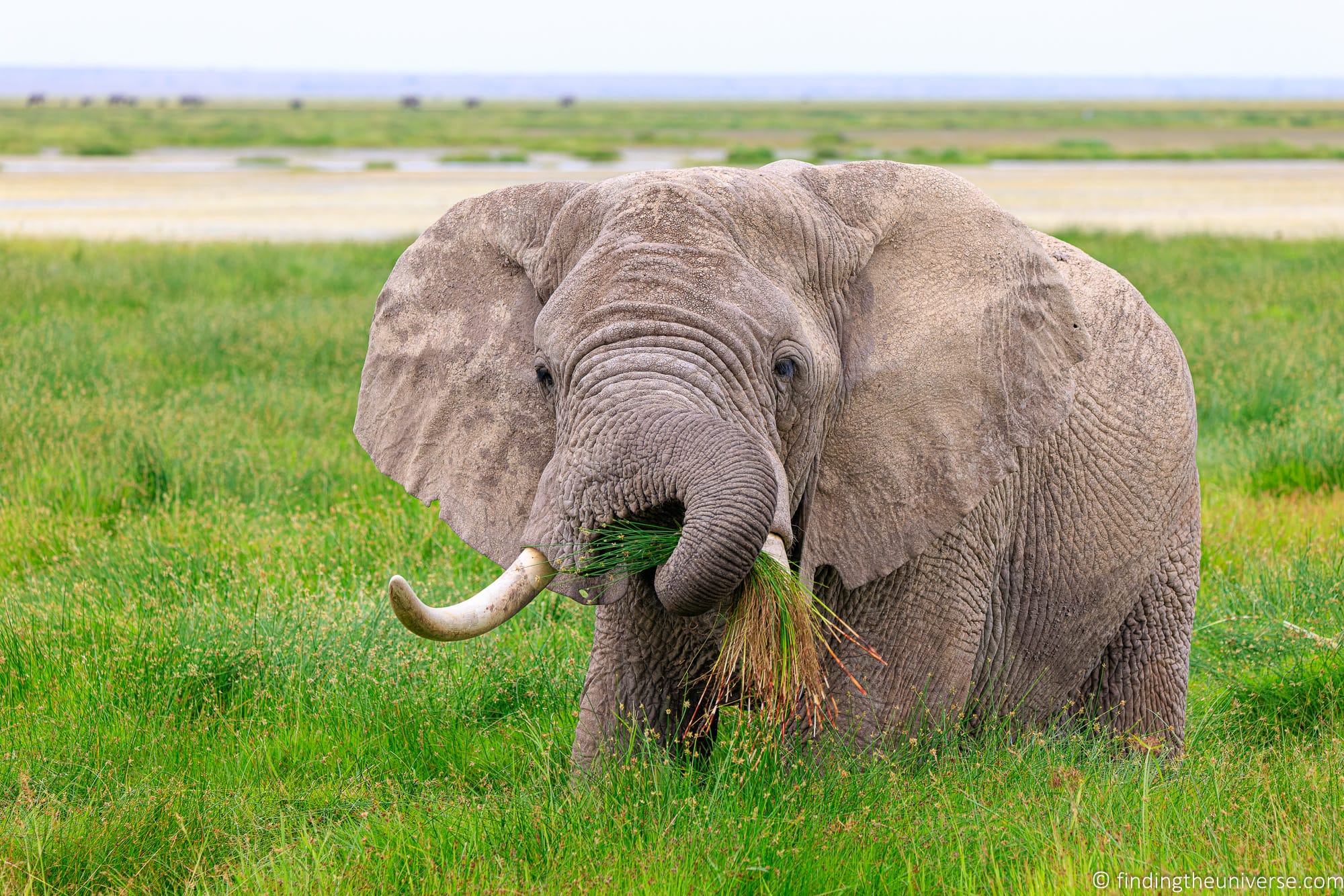 Communicate with your Fellow Travelers
If you are traveling solo, then you will of course have a lot of autonomy in where you go and what you see on your trip. If you have a driver/guide then the two of you can set times and itineraries each day and be in sync about your wildlife spotting goals.
But, if like most safari goers, you are traveling with a partner, your family, friends, or as part of a group safari with other travelers, then you will likely have to be willing to compromise at times.
Common things you will likely need to decide on together will be what time to leave, how long to spend on game drives, whether to eat a hot lunch or a picnic lunch, and how long to spend watching each animal.
This can also affect your ability to get the photos you may want in terms of timing and views from the vehicle. With just one or two people in a vehicle, it is generally easy to find a good view, but once you have 4 or more people, it often becomes difficult for everyone to have a great view all at the same time, especially if an animal is not in an open area.
Generally, in these circumstances everyone will politely take turns and give everyone a bit of time and space to view the animal and take photos. But this does mean you will need to compromise and will sometimes miss the "best" view.
However, group safaris by far offer better value in terms of money compared to a private safari. But just note that they do come with some compromises.
I definitely recommend traveling with family or friends if that is an option, as sharing these experiences is probably worth more than taking a good photo. But it is worth talking about everyone's goals and travel style before booking your trip to make sure everyone is likely to have a good trip.
Consider the Composition
As with any kind of photography, composition is key. Composition refers to how you place the various elements in your shot to create the final image.
It can be easy to get caught up in the moment when you see something exciting, and just to start shooting in an effort to get something shot. This excitement is very understandable!
However, if you are able to calm yourself down a bit and spend a fraction of time properly composing your shot, you will likely get better results.
There are a range of general composition rules in this post that you can read about, so I won't rehash that. The main things I'd suggest just keeping in mind are the following.
What's in shot. When framing your shot, glance around the whole frame to see what is and what isn't in the shot. For example, it can be very easy to frame an animal's head, but accidentally crop out parts of their body or a tail. Whilst this might be the composition you are after, it might also end up looking a bit odd. Sometimes, zooming out a fraction and ensuring the whole animal is in the frame might be a better composition
Eye contact. There are many different wildlife poses you can capture, but one of my favourites is when the animal is looking directly into the camera. In this pose, it will appear to be directly staring at the viewer. This is not always easy as animals tend to look all over the place. In these scenarios, burst mode and patience can be your friends.
Animal Placement. When shooting from a vehicle, especially from the pop-up roof area, we can often end up above the animal. However, often animals look better when shot from eye level. So repositioning yourself to shoot from an open window lower down in the vehicle might give you a better shot, depending on the distance to the subject.
Background and skyline. When putting your shot together, don't forget to consider the background. For example, a deer against a brown rock face or tree will not stand out as well as one against a skyline. It's not always possible to reposition yourself, but if there is the opportunity to wait for a better composition, or move the vehicle to a different location, take it.
Here are a couple of shots to illustrate my points above.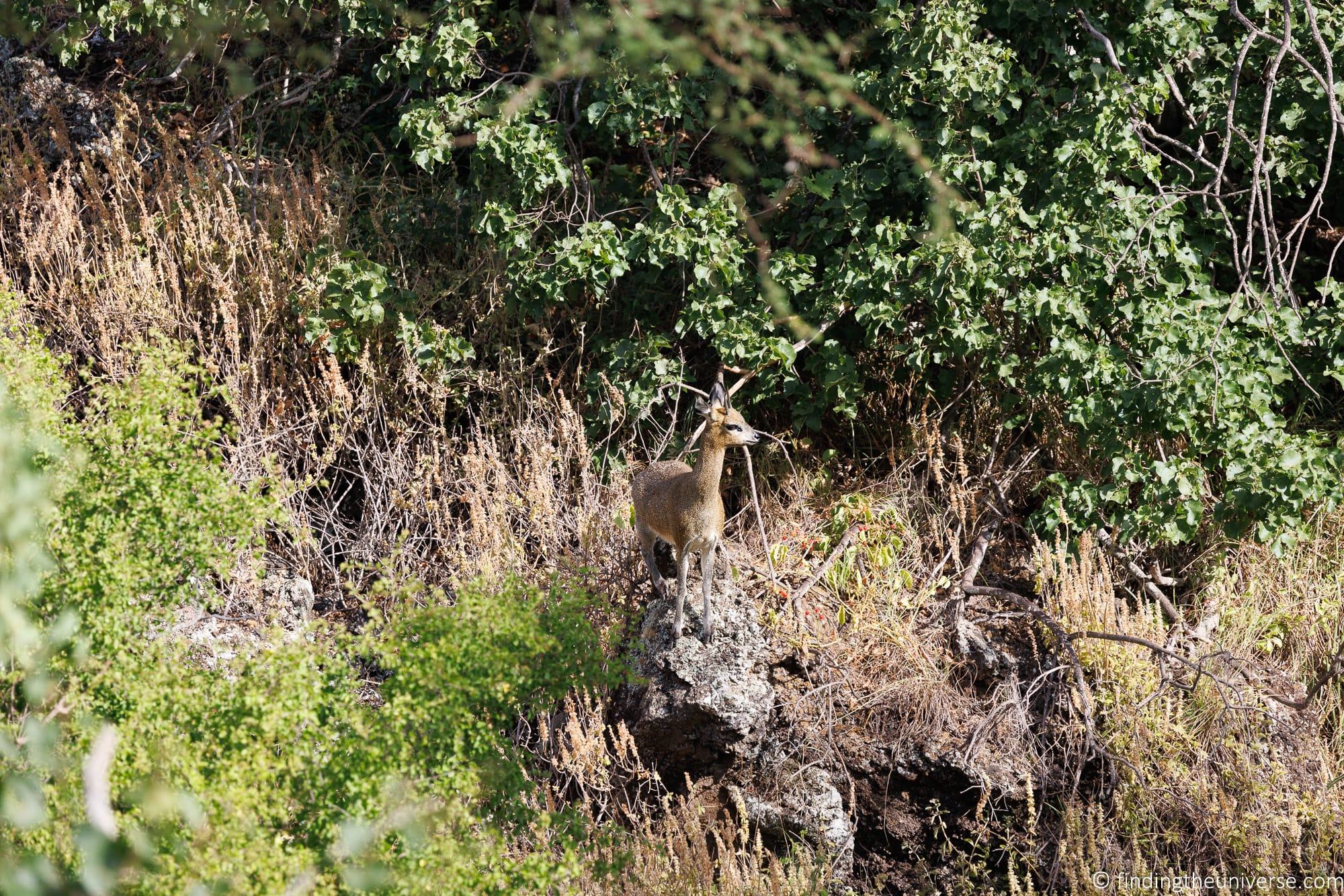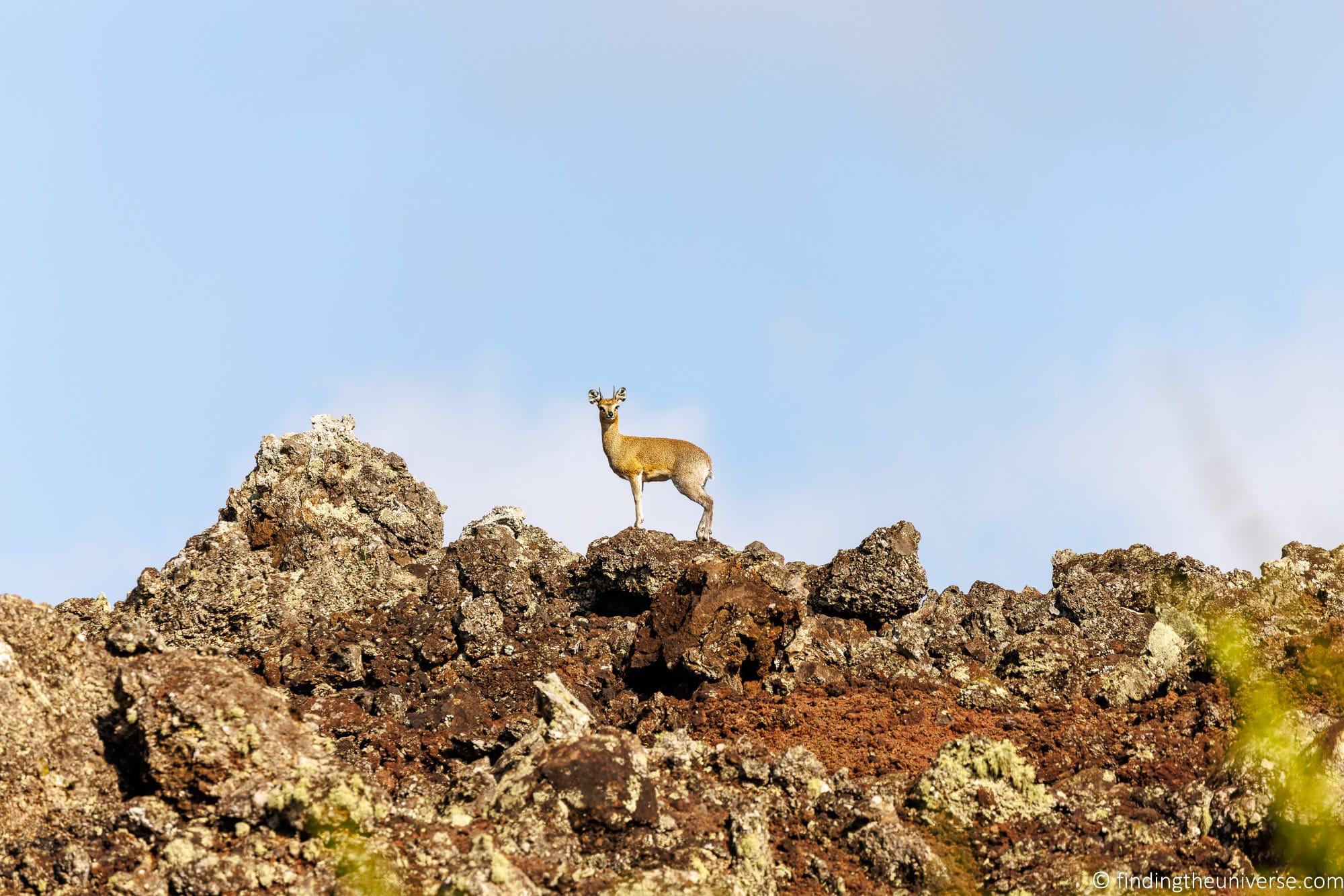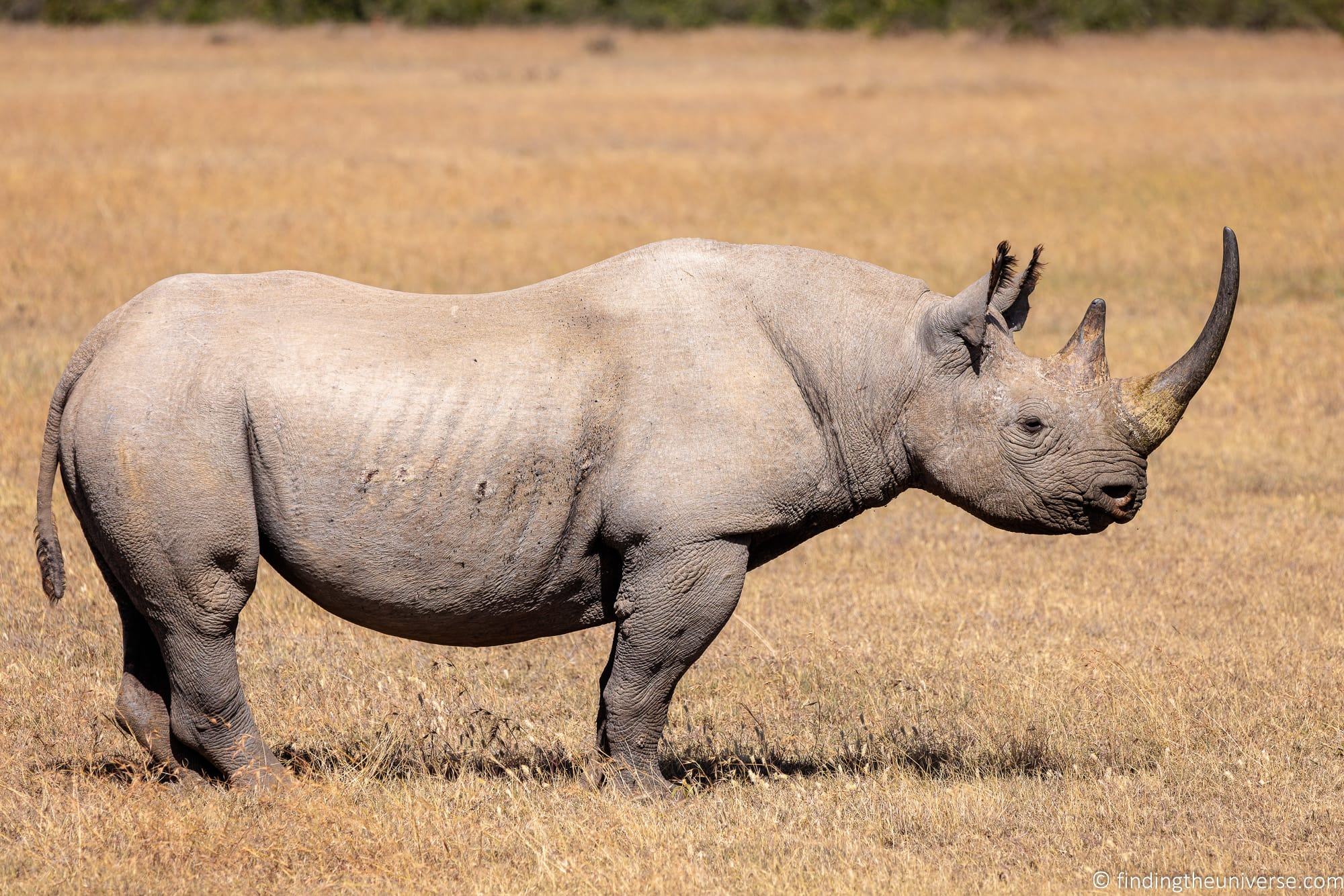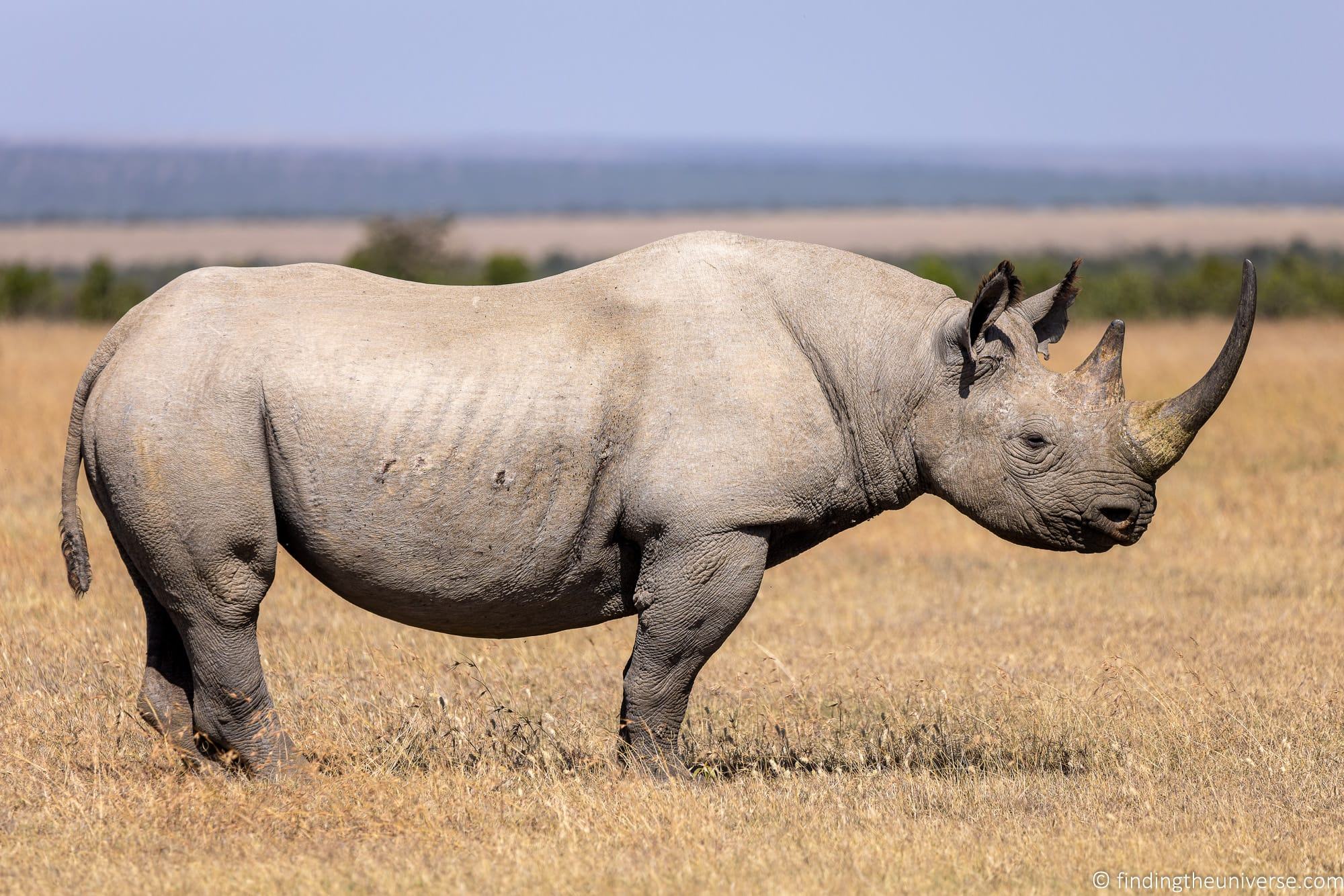 Don't Forget the Landscapes
One of the main reasons people go on safari is to see the incredible wildlife of an area. However, it's also very likely that you are going to be passing through some amazing natural landscapes.
Whilst it can be easy to get a bit single-minded about what we're photographing, it's important to step back and capture the landscapes as well as the wildlife.
If nothing else, this will serve as a reminder for you in the future as to where you were when you got the shots, and also the lovely scenery you witnessed. Capturing the wildlife with the landscape is also a good option, as it will give some depth and scale to your compositions.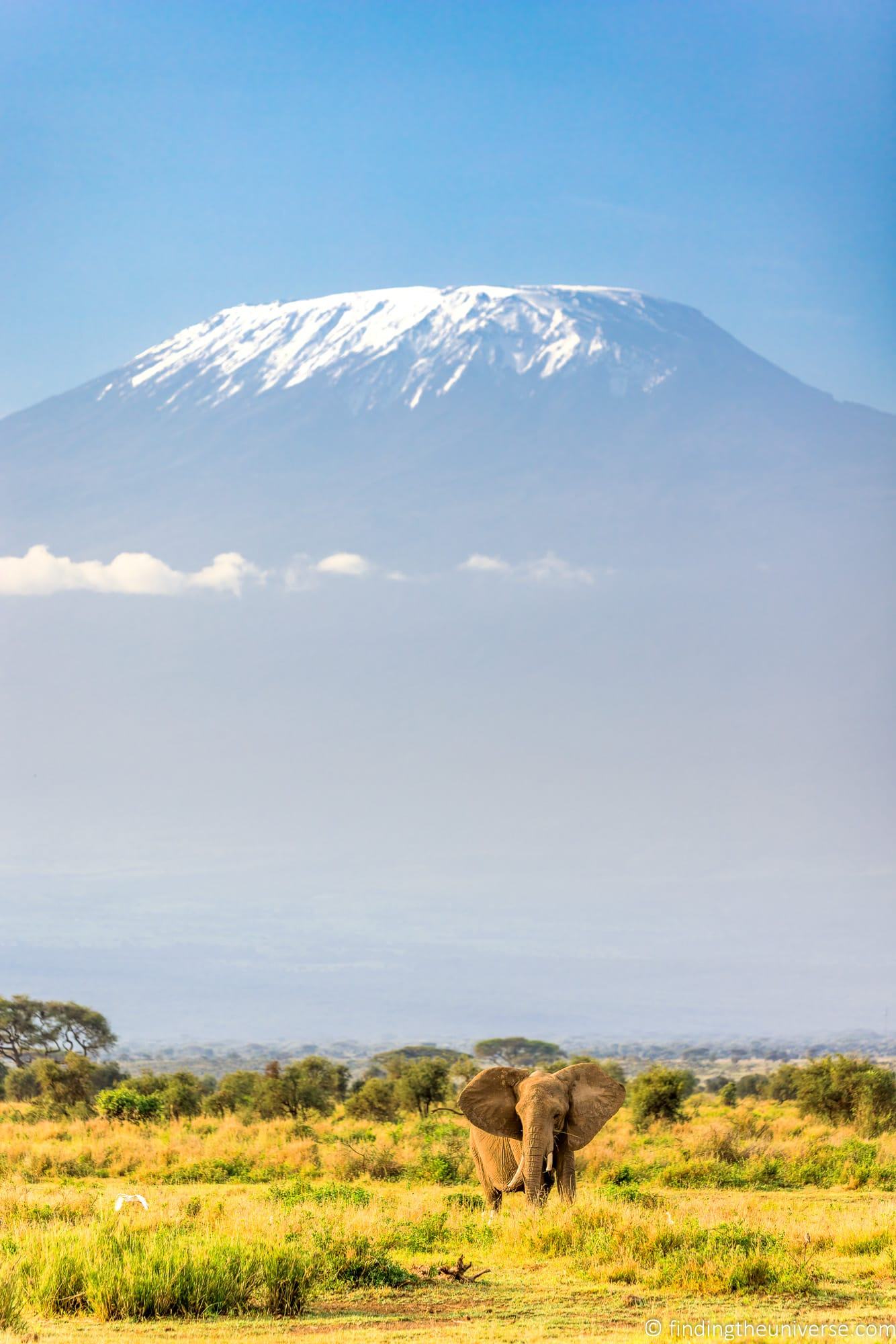 Pack Spare Memory Cards and Batteries
The chances are that you are going to be taking a lot of photos when on safari. If you are shooting with anything other than a smartphone, your camera will likely have a battery you can change and a memory card slot.
It is definitely worth bringing at least one spare battery for your camera, and ideally two. In addition, bringing plenty of memory is also a good idea.
You don't want to be half way through a busy day and run out of battery or memory card space, and then potentially miss some great shots. Modern mirrorless cameras in particular can eat through batteries, so a spare or two is definitely a must in my opinion.
Consider bringing a USB Powered Battery Charger and Power Pack
Accommodation options on safari can vary greatly, from simple campsites to high end luxury safari lodges. One thing we have found is that not every accommodation, especially the more remote and basic ones, will have AC power outlets. Or at least not one in your room (there is usually at least one public shared power outlet somewhere in a lodge or campsite).
If they have wall outlets, they will likely be 220V-240V, so you will want to check that all your equipment supports this if you are coming from a country like the USA, Japan, or Canada which has 110V-120V power. Many people will also need a travel adaptor to adapt your plugs, depending on where you are coming from and your travel destination.
However, rather than full power outlets, many locations offer USB outlets. These don't use so much electricity, and are often powered by solar panels.
What this means is that if your camera only has a standard wall outlet charger for its batteries, you might not be able to charge them. Note that some cameras do charge via USB, so do check if that is the case.
So we recommend making sure that you are able to charge your batteries using both the local AC power outlets and via USB so you can take advantage of either charging option. We also recommend considering packing a power pack.
We personally travel with a USB battery charger for our Canon camera batteries. This is better than our standard charger in some respects, as it can charge two batteries at once, and charges over standard USB. There are a number of different models available, the main thing is to find the one that matches your camera battery.
As well as the USB battery charger, we also travel with a USB power pack. We can use this to charge all our USB powered devices, including our phones and the USB camera battery charger. This is helpful when we have periods of time without power.
Ask About Your Safari Vehicle
Before you go on safari, it's a good idea to check with your safari company about the type of vehicle you will be in. There are a number of different models that companies use in different locations around the world, with Toyota Land Cruisers being the 4X4 vehicle of choice for many companies. However, there are many different models of Land Cruisers used for safaris so knowing the specific model can be very helpful.
The same vehicle model's features can also be different across companies depending on the specific conversion. Probably the most important thing for most people is the number of seats, luggage space, and the configuration of the top.
We highly recommend a vehicle with a pop top. This means the top of the vehicle will pop up, allowing you to stand up inside the vehicle and get a better view, as well as better photos.
For the majority of these vehicles, the top pops up and remains over your head, providing much needed shade. However, in some vehicles, the tops actually come off completely, so you won't have any shade.
We highly recommend a vehicle where the top doesn't come off completely, as otherwise you are going to be in the sun a lot.
It's also a good idea to check on the height. In some of the vehicles we have found that even when standing up, the lip is a little high for Jess to get a good view. So if you are shorter (or very tall) you should definitely check about this if you really want to be able to stand up for game viewing.
Another thing to check is whether or not the vehicle has charging points (some have standard wall outlets whilst others might have USB outlets). Some of our vehicles have had this, some didn't, but it is becoming more common.
If you are planning a very photography focused safari, you can also ask if the vehicle has any photography specific features. Some of the vehicles we've travelled in came with photography bean bags for our use for example, which was very helpful.
Other special features might include special camera mounts, tripod mounts, the ability to fully open or remove windows, and even the ability to remove a door or two. I wouldn't expect most of these features unless you are paying extra for a special photography trip.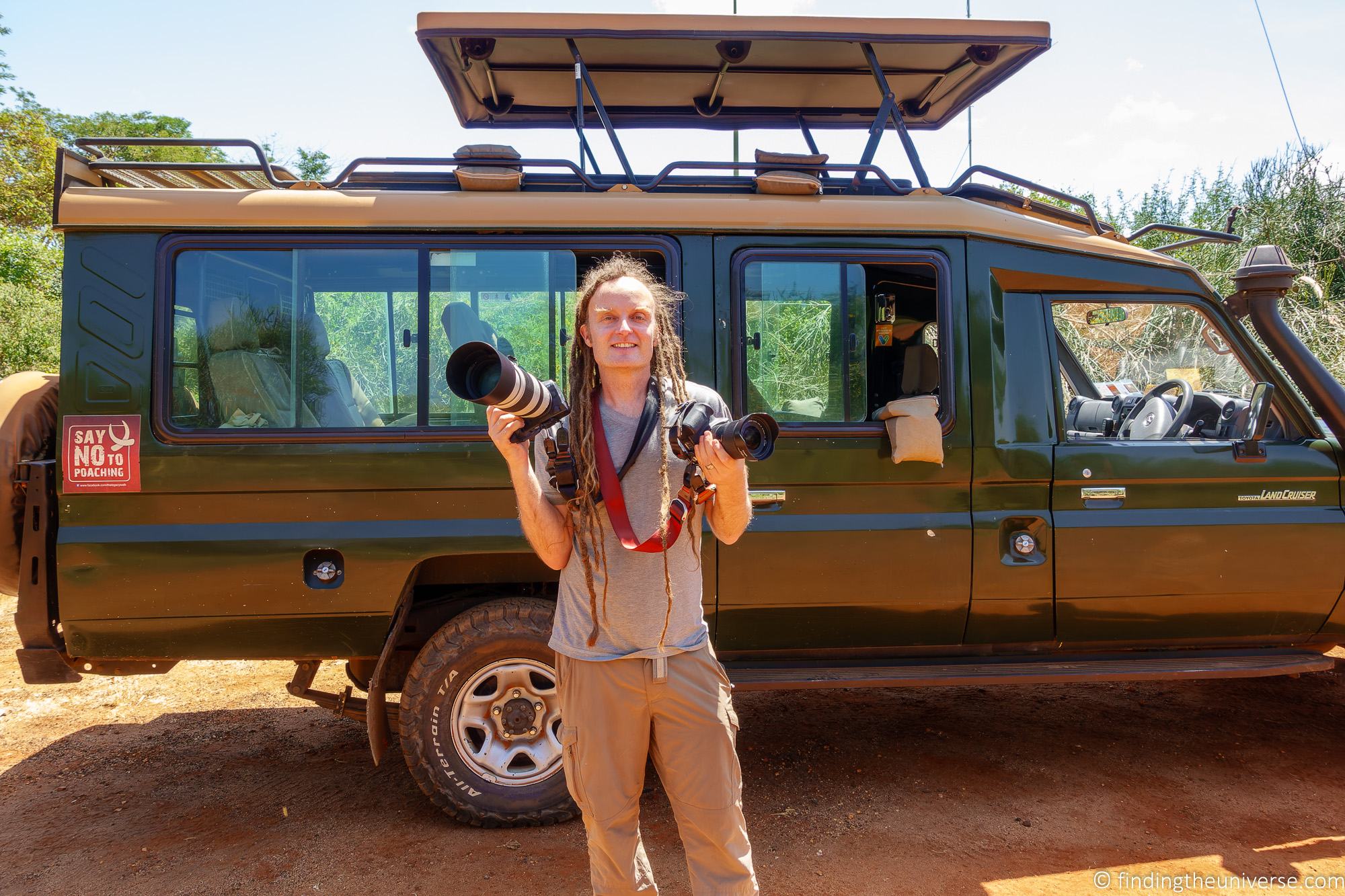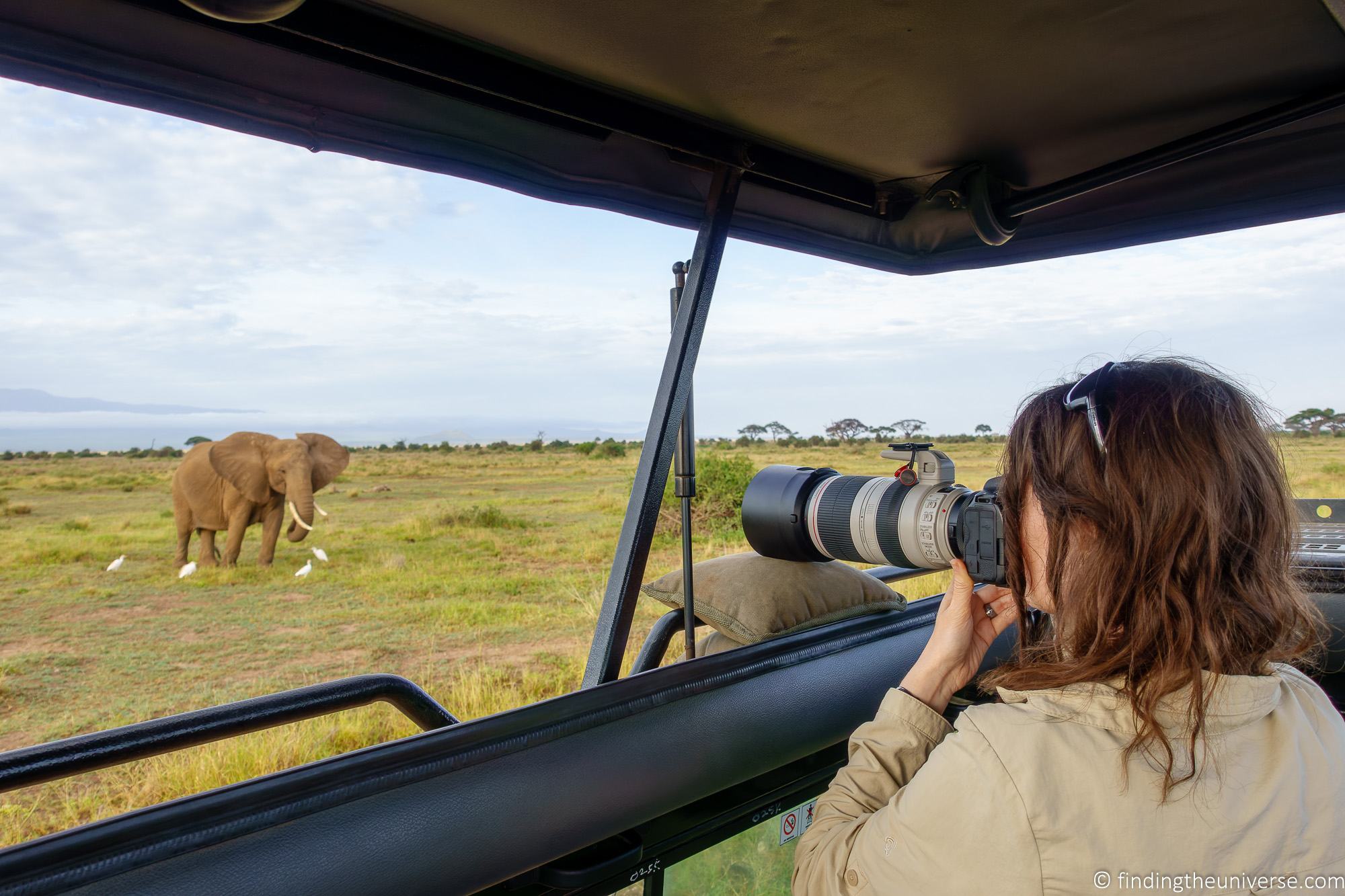 Consider Doing Boat and Walking Safaris
Whilst most safaris are done from a 4×4 vehicle, there are other options depending on where you are travelling.
For example, in some locations you might be able to do a walking safari or a boat-based safari. These will give you some variety as well as present the opportunity to see different wildlife.
For instance, if you are interested in birds and small creatures (e.g., dung beetles, lizards), then walking safaris are often going to be better for getting close to these animals. Boat safaris are going to obviously be the best way to get closer to aquatic wildlife.
Of course, this isn't always going to be possible depending on where you travel, but we definitely recommend signing up for at least a couple of these experiences if you have the option.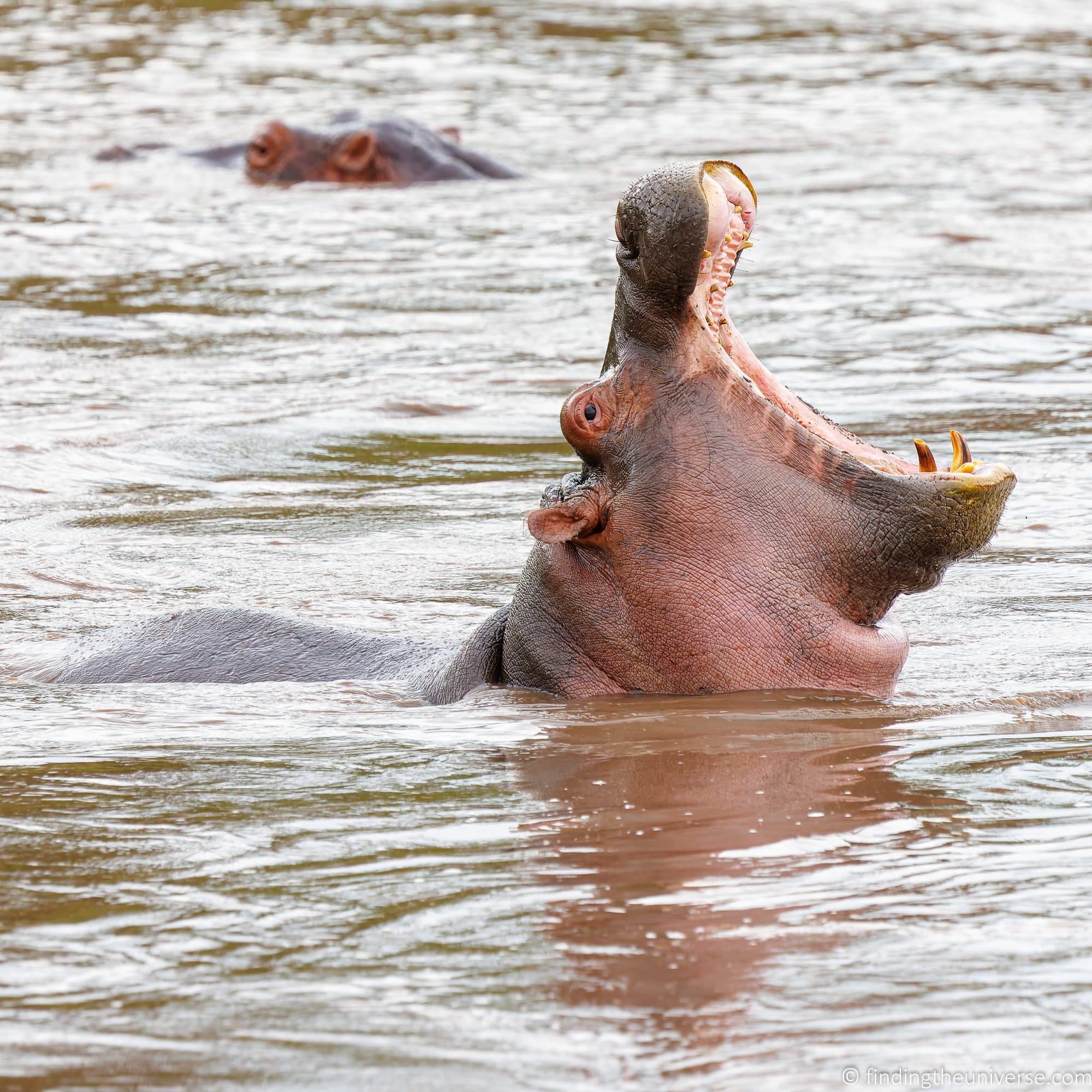 Shoot in RAW
If your camera supports it, and nearly all do these days, I highly recommend setting it up so it saves your image files in RAW format. Whilst this takes up more memory, and does require you to edit your photos, you will get a lot more latitude when it comes to editing your final image.
I go into a lot more detail in why to shoot in RAW in my guide to RAW in photography. For now, I recommend enabling it. Most cameras have the option to shoot in both RAW and JPG if you need a stepping stone, although this will take up more memory card space.
However, if you want to be able to share your photos instantly online during your trip, then you will probably want to also shoot in JPG/JPEG because you don't need to edit them prior to uploading them.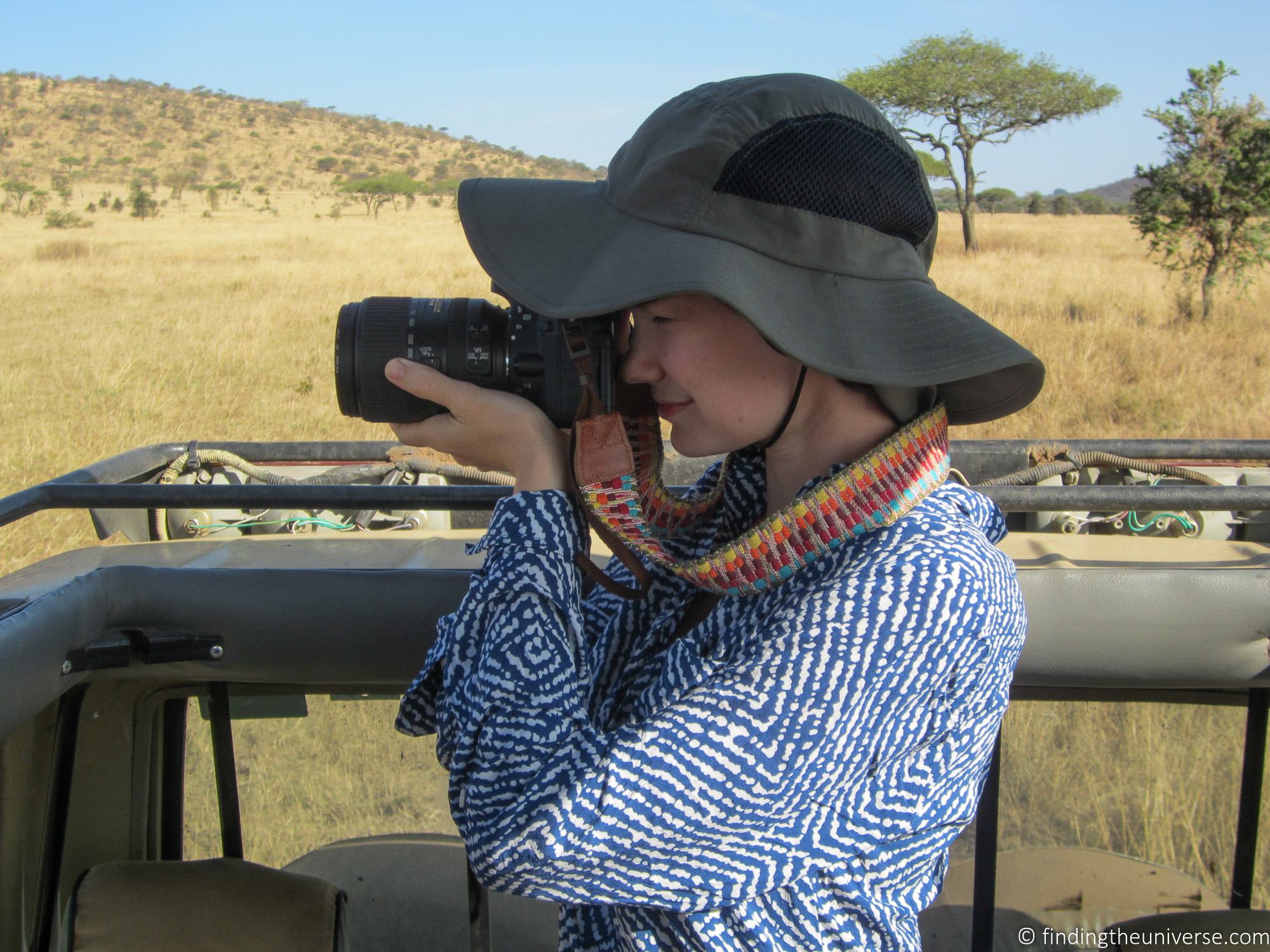 Learn to Edit Your Photos
Photography involves a number of skills. The first two are in the field when you're getting the shot, and require you to know how to compose a great photo and how to use your camera.
The third skill is photo editing. Photo editing is where you can get the most from the images you have captured. This doesn't have to take a long time, even minor edits can make a big difference to an image.
Judicious cropping, adjustment of shadows and highlights, tweaks to saturation—these can all add up to really improve an image.
Of course, you can go a lot further with photo editing software. But as a starting point, loading up one of our favourite photo editors and learning how to use it can really help you get the most from your shots.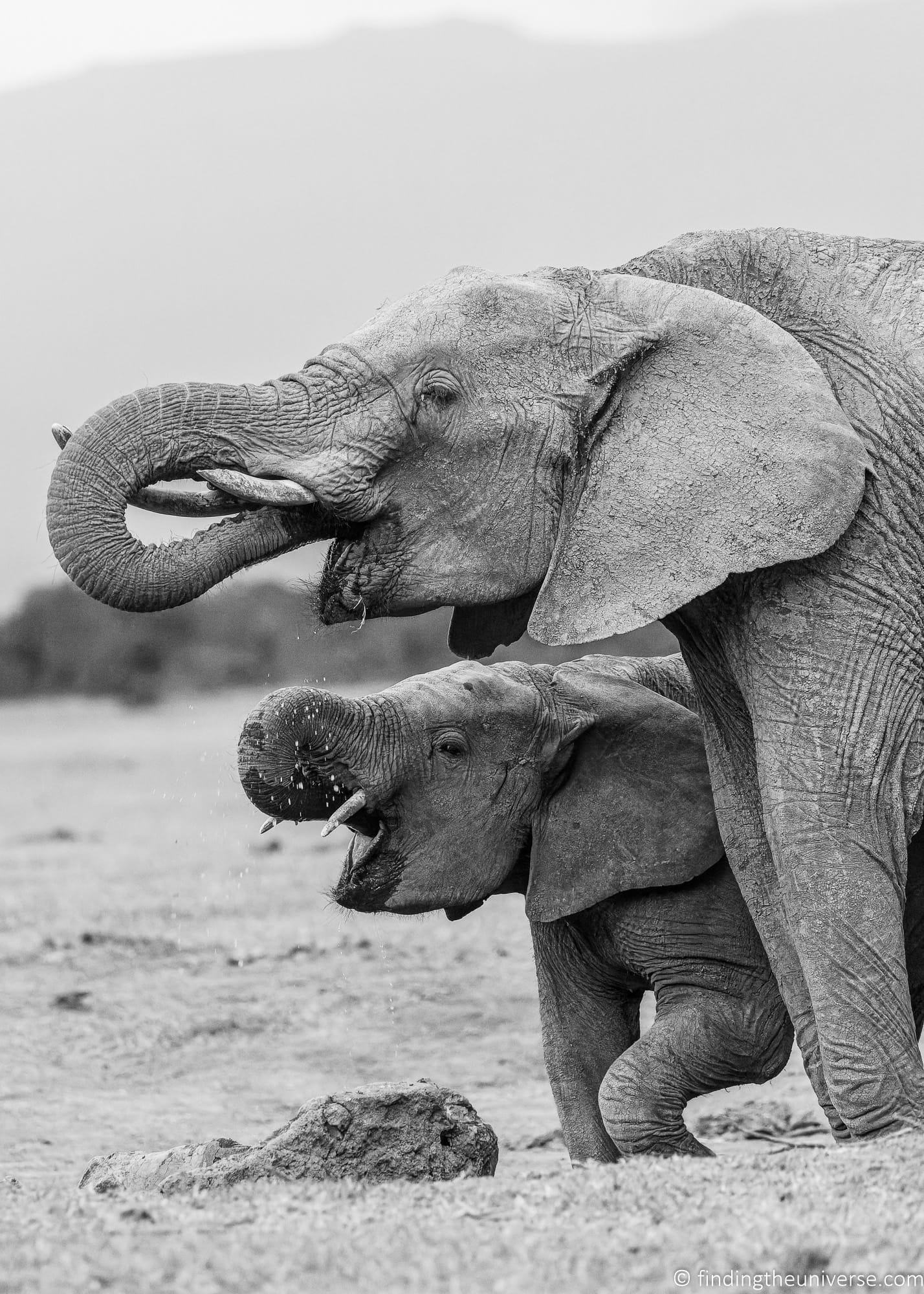 Keep Your Eyes Open
When you are on safari, the chances are that you will have a guide. Your guide will normally know what sort of wildlife you are likely to see in the areas you're visiting, and they will of course be looking out for it as you drive or walk around.
However, the thing about wildlife is that you never know what you are going to see. And the more eyes that are looking for wildlife, the higher your chance that you will spot something. Your guide can't look everywhere at once, and if they are driving, they are going to be at least a little distracted by operating the vehicle and keeping you safe.
In our most recent safari experience, we would often maximize what we could all see while on a game drive. So, generally our guide was seated in front in the driver's seat, Jess would sit on the opposite side of vehicle from the driver, and I would stand at the back and scan for a different viewpoint. This way we were looking in many directions and had a better chance of spotting things. Although our guide was by far much better at spotting wildlife than we were, we still occasionally made some great spots that our driver had missed.
In my opinion, a safari should definitely not be a passive experience where you sit back and wait for something interesting to be pointed out to you. However, I have been surprised by the number of Land Cruises and Land Rovers full of bored-looking people who seemed to be spending more time on their phones or talking to one another than looking outside. They seem to simply wait for their driver to stop and point something out, take a photo, and then go back to their phones.
If you actively participate and spend your time searching for wildlife as well, you're going to improve the chances of sightings and find more photo opportunities. You are also going to learn a lot more about the natural environment around you. And you are going to enjoy your trip a whole lot more!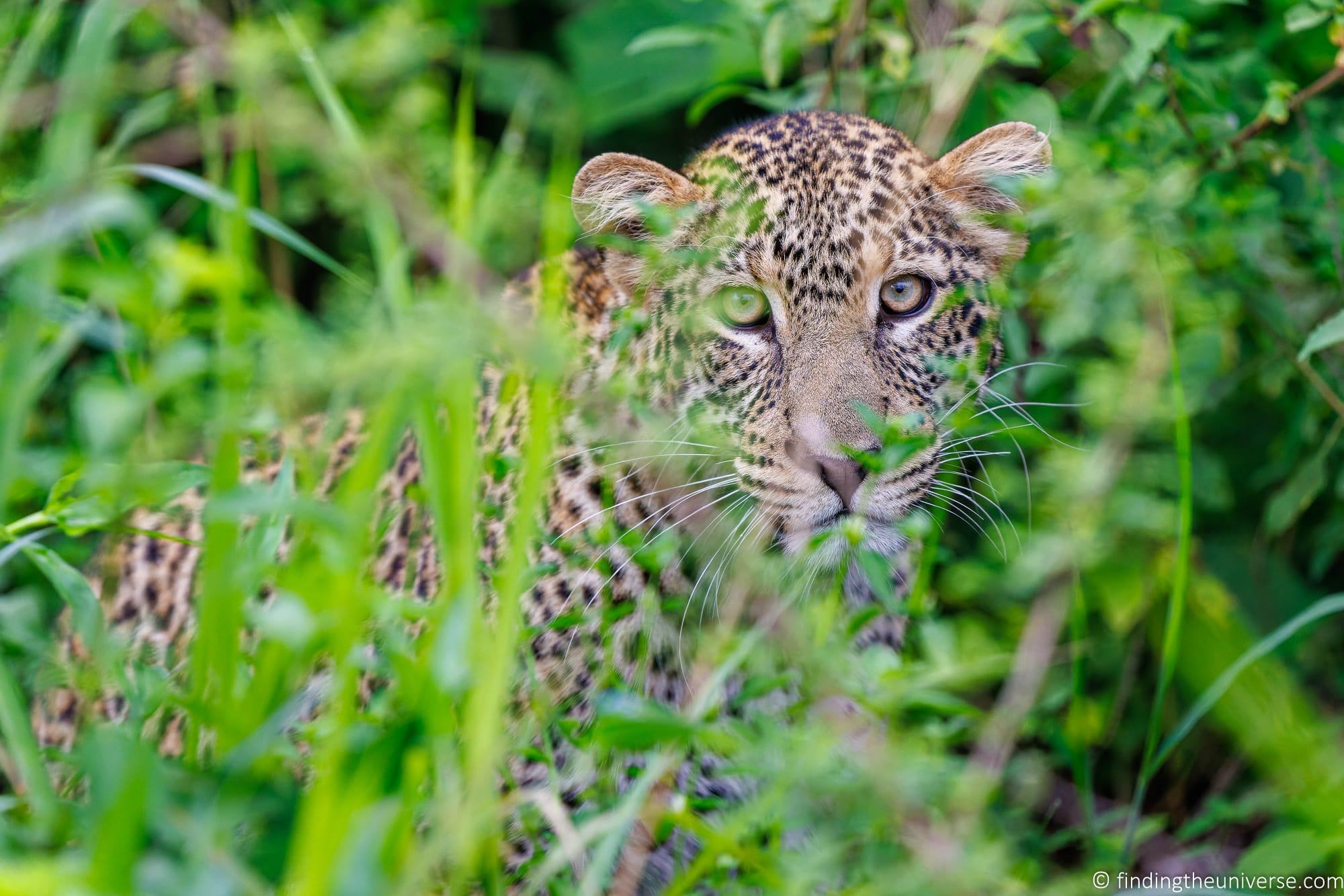 Enjoy Yourself!
This might seem a bit counter intuitive in a guide to getting great photos on safari, but it's important to remember. When on safari, it can be easy to become caught up in the need to capture every moment with our cameras, and not to miss a shot.
Whilst of course I want you to get those amazing shots, don't forget that you came on safari also to witness wildlife in its natural habitat. So don't forget to just step back from the camera every now and again and just take it all in. A safari is an incredible experience and you definitely want to try and enjoy it rather than being stressed over getting every shot on your memory card.
On our recent trip, Jess generally only took photos when animals came close, otherwise, she was content just watching them, either with a pair of binoculars (I definitely recommend packing a good pair of binoculars) or her naked eyes. She said she got much more enjoyment just watching them than when she was trying hard to get a good photo as she had in prior trips.
We highly recommend just sitting back and letting some moments go by unrecorded. I find you can often learn a lot more about animals if you just sit and watch them sometimes. Not every moment needs to be photographed!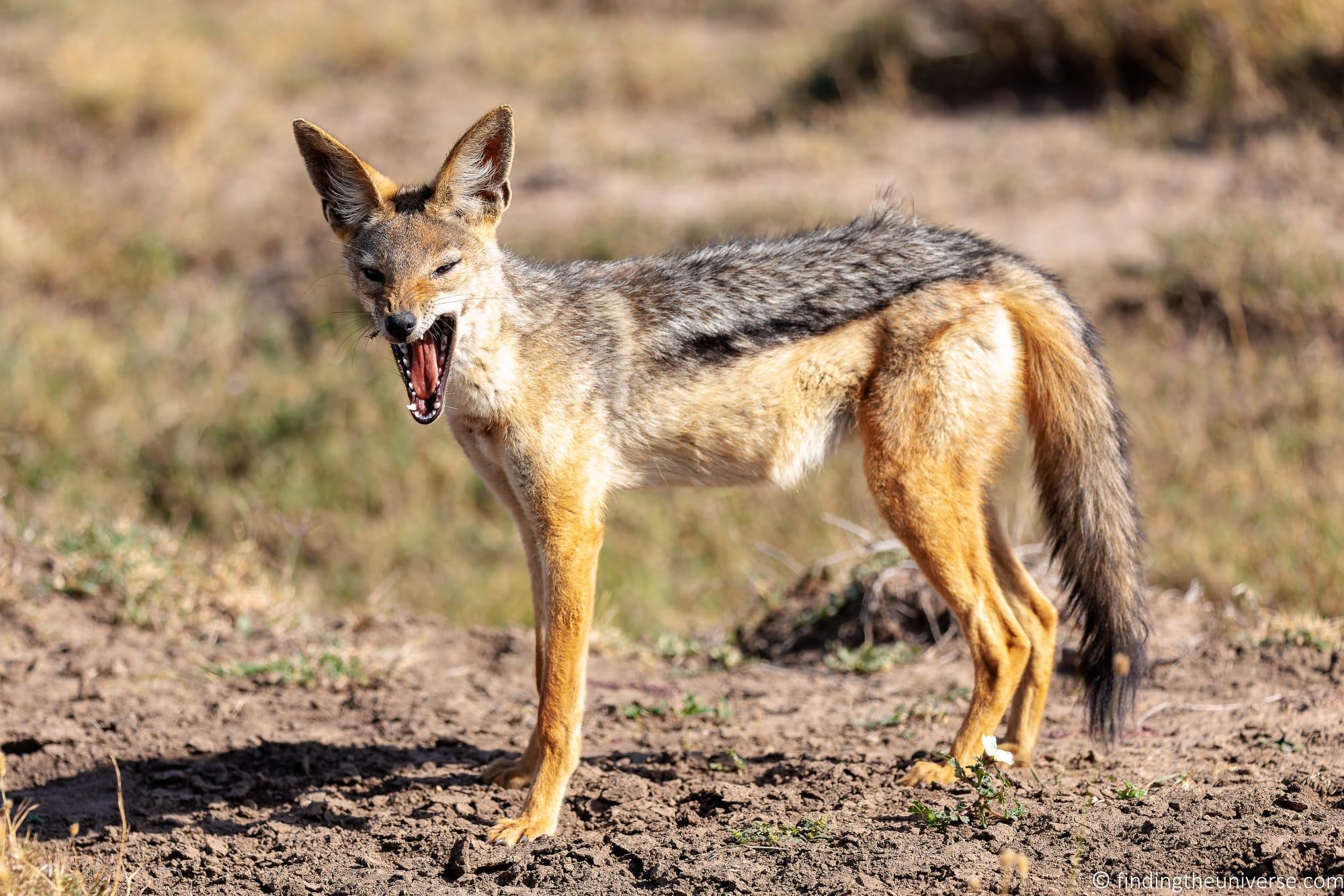 Further Reading
That's it for my guide to getting better photos on safari! If you found this useful, you might enjoy some of my other photography content. Here are some articles to get you started.
We have a guide to the best safari camera, to help you choose the right gear for you and your budget
We have a detailed overview of gorilla trekking in Uganda, which is an incredible experience
I have a guide to my favourite photo editing applications, as well as the best alternatives to Lightroom
Wildlife photography can often result in noisy images. See my guide to the best noise reduction software for some ideas on how to get the best out of your photos even when they might be a bit noisy
We have a guide to how to use a compact camera, how to use a DSLR camera, and how to use a mirrorless camera. We also have a guide to how a DSLR works
Knowing how to compose a great photo is a key photography skill. See our guide to composition in photography for lots of tips on this subject
We have a guide to what depth of field is and when you would want to use it.
We are big fans of getting the most out of your digital photo files, and do to that you will need to shoot in RAW. See our guide to RAW in photography to understand what RAW is, and why you should switch to RAW as soon as you can if your camera supports it.
You're going to need something to run your photo editing software on. See our guide to the best laptops for photo editing for some tips on what to look for.
If you're looking for more advice on specific tips for different scenarios, we also have you covered. See our guide to Northern Lights photography, long exposure photography, fireworks photography, tips for taking photos of stars, and cold weather photography.
Color accuracy is important for photography – see our guide to monitor calibration to ensure your screen is set up correctly.
If you're looking for a great gift for a photography loving friend or family member (or yourself!), take a look at our photography gift guide,
If you're in the market for a new camera, we have a detailed guide to the best travel cameras, as well as specific guides for the best cameras for hiking and backpacking, the best compact camera, best bridge camera, best mirrorless camera and best DSLR camera. We also have a guide to the best camera lenses.
If you want a camera or lens, but the prices are a bit high, see our guide to where to buy used cameras and camera gear for some budget savings options.
We have a guide to why you need a tripod, a guide to choosing a travel tripod, and a round-up of our favourite travel tripods
Looking to Improve Your Photography?
If you found this post helpful, and you want to improve your photography overall, you might want to check out my online travel photography course.
Since launching the course in 2016, I've already helped over 2,000 students learn how to take better photos. The course covers pretty much everything you need to know, from the basics of how a camera works, through to composition, light, and photo editing.
It also covers more advanced topics, including astrophotography, long exposure photography, flash photography, and HDR photography.
You get feedback from me as you progress, access to webinars, interviews and videos, as well as exclusive membership of a Facebook group where you can get feedback on your work and take part in regular challenges.
It's available for an amazing one-off price for lifetime access, and I think you should check it out. Which you can do by clicking here.
And that's it! I'd love to hear about your thoughts on wildlife photography on safari, and am happy to answer any questions you have. Just pop them in the comments below and I'll get back to you as soon as I can.