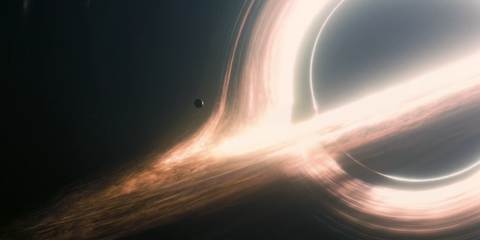 The Empire Strikes Back and 2001: A Space Odyssey have inarguable places in the science fiction canon as fantastic space films. But there are other movies that are divisive or derided or otherwise unseen that are in need of a reappraisal.
Advertisement – Continue Reading Below
Interstellar is a divisive movie. Some people love it, others say it's too high-concept or drags on too. But frankly, Christopher's Nolan's flick is one of the best space epics of this century. It draws you into a world of hope from hopelessness, creates a plausible (if far-fetched) scenario for interstellar travel thanks to input from Kip Thorne, and draws on climate anxieties of the near future. 
There's also a subtext to it (spoiler alert) in that the women in the movie are always right. Anne Hathaway's character has her ideas downplayed but ultimately vindicated, and Jessica Chastain is able to come through when she needs to in the midst of ego and hubris. 
If you watched Interstellar and hated it, rewatch it. It has a slow burn that ultimately adds up to a brilliant whole and also somehow visualizes a tesseract and gives you a slight idea of what it might maybe, possibly look like. If nothing else, it's gorgeous.
Star Trek III: The Search for Spock (1984)
You've probably heard the trope that the even-numbered Star Trek moviesmovies are good and the odd-numbered ones are bad. But that idea is wrong, because The Search for Spock is great; it just has the misfortune of being stuck between two of the best three films in the franchise.
Picking up nearly immediately after The Wrath of Khan, the plot of the film is given away in the title. The Enterprise crew realizes Spock is alive and in need of a rescue, as the genesis planet stands on the verge of collapse. Where Wrath of Khan was high-stakes, Search for Spock is fittingly resigned to the fate of the Enterprise crew as Starfleet seeks to put them out to pasture and foist Kirk into retirement. Where Wrath of Khan was about Kirk as the master tactician, Search for Spock is about the subterfuge expert rebel. 
The film's visuals are suitably dark, matching the light insurrection in the plot. And, (apologies here if you don't want a 33-year-old movie spoiled) there's something incredible about watching the destruction of the Enterprise, something that Generations tried and failed to capture.
Is it the best Star Trek movie? No. But Search for Spock succeeds as a Star Trek film in a way that's not worthy of calling it a bad movie. 
Predators never quite found the audience it wanted, which is a shame. It's got the best premise you could come up with for a Predator sequel: Go to the planet of the predator species and have them play The Most Dangerous Game with you.  That's it. That's all you need. 
The original Predator movie wasn't exactly a cerebral masterpiece so much as a relentless action film, and Predators succeeds as another action movie with a semi-mindless plot and great visuals. Other sequels (I'm including AvP films in there) are bad, even if the ending of Predator 2 is hilarious. 
There are certain quirks to the movie that are odd. For instance, Topher Grace and Adrien Brody aren't necessarily natural fits to the action genre, but the film doesn't really let you stop to think about that as the human prey are hunted down one by one. I'm not calling it Citizen Kane here, but it's worth a bowl of popcorn and a few beers on your Friday night. 
Solaris is critically beloved, but criminally under-watched. The Russian movie captures the spirit of the Stanislaw Lem novel, and capturing the spirit of a Stanislaw Lem novel is rather … difficult.
Lem himself wrote science fiction as a stand-in for philosophy, writing a few movies about why humans may fail to connect with other species: they'll be so alien as to be unrecognizable, and that includes one giant superorganism ocean with telepathic abilities that draws long-forgotten memories out as hallucinations. 
The film was created behind the Eastern Bloc wall by the USSR, which is perhaps why it wasn't a massive success with American audiences as it played the art house circuit. It's as dense and cerebral and weird as 2001, nearly measuring up to the former's greatness. If you're not a subtitles person, Steven Soderbergh's 2002 remake is a capable, if lesser, film. 
The 1970s and 1980s brought plenty of adult-oriented animated films to the screen, but few as interesting as the space-opera fantasy that is the French film Gandahar (known as Light Years on our shores.)
The plot is somewhat standard: a planet of beauty and light is assailed by the forces of darkness. But the film makes up for the pedestrian storyline in rich visuals. While the animation is a bit more standard than director René Laloux's groundbreaking work, Fantastic Planet, the visuals are no less rich, featuring character design that almost certainly wouldn't work in live action.
This content is created and maintained by a third party, and imported onto this page to help users provide their email addresses. You may be able to find more information about this and similar content at piano.io
Advertisement – Continue Reading Below