If you have more than a few days to spend in Sydney, Australia you can find plenty to do! In this post, we've put together your best 3-5 day Sydney itinerary!
Sydney is a city that many people dream about travelling here. They see images of the iconic Sydney Harbour Bridge and the Opera House in magazines or on television and put this destination on their bucket list.
If you want stunning white sanded beaches and beautiful nature where you can go on great walks, Sydney has it. And if you want great historical buildings, galleries and museums to learn about, Sydney has that too. Whatsmore, if you want to have a drink and dine with great views, again Sydney has it.
We've only just scratched the surface and it only gets better!!
You could easily spend up to 5 days exploring just the CBD to the outer suburbs of Sydney. There is so much to do in this city and we're going to take you there in this Sydney itinerary!
The Ultimate 3 – 5 Day Sydney Itinerary
Before we get started on the itinerary for Sydney, let's cover how to get around the city.
Spending only 3 days in Sydney will be tough. And even with 5 days in Sydney, you're going to need to understand the best transportation methods and routes so you can make the most of your time there!
Getting around Sydney
This is totally up to you. But our personal favourite option is using public transportation. You do NOT need to rent a car if you are exploring Sydney and the surround suburbs.
Getting around Sydney to your destinations by public transport is easy. Plan your trip on the Transport NSW website here. It is easy to use and the website will tell you what bus/train/ferry to get and how to to do so.
The best thing is to get yourself an Opal Card. This will make everything to do with public transport easier.
There is no charge for an Opal card. But when you first get your card, you will have to put some money on it. For the first top-up, you have to put a minimum value of $20 for an adult card and $10 for a child or concession card.
You can top it up at retailers who have the Opal Card logo on their shop doors/windows or when using top-up machines. You can find a retailer in on the Transport NSW website here.
If you forget your Opal Card, don't panic! You do not have to buy another one to get on the transport. You can also use your credit card like the opal card to get on the bus/train/ferry now.
You can also get a taxi around Sydney and it is easy to book. The local taxi companies have apps now or you can book a DiDi or Uber on their apps. If there are a few of you it may work out cheaper than public transport.
You can rent a car if you would like. But city parking is a nightmare and can be costly. If you going on a day trip from Sydney to the Blue Mountains or other nearby attractions, then renting a car might be a great option for you.
If you are choosing to do this check out the car rental deals here.
Day 1 – City and Surrounding
Welcome to Sydney! You may have flown in during the morning or afternoon so on day one of your five days in Sydney just take it easy and explore close.
This day is about exploring near to the hotel or Airbnb. So put on your walking shoes. If you get tired, your hotel is right there if you are staying downtown.
The Rocks
First up on Day 1 is the area called The Rocks. The Rocks is a hidden neighbourhood of Sydney that features historic laneways, street food markets and shopping. This is a great place to explore during the day and at night.
The Rocks is where European settlers stepped ashore in 1788, making it the birthplace of modern Sydney. Discover its colonial history that has transformed from a British colony into an entertainment precinct by spectacular Sydney Harbour.
To discover the magic of The Rocks, go on a self-guided tour or join one of their walking tours.
Explore by foot and visit markets, museums and galleries tucked into little laneways. Take a free walking tour that starts at 6 pm (Tuesdays, Thursdays & Saturdays) outside Cadmans Cottage.
By going on this walk you learn so much about the area from a local and you can get some tips on the best places to dine or go for a drink. Amble along cobbled laneways, enjoy a great coffee from the number of cafes or a cold drink at some of Australia's oldest pubs.
It's also home to the Museum of Contemporary Art for local artists as well as foreign exhibits. If you are into artwork definitely check this place out. They have different exhibitions monthly.
On the weekend is when The Rocks really come alive. There is The Rocks Markets on Saturdays and Sundays from 10 am – 5 pm with lots of stalls selling a variety of products, food trucks and cafes to enjoy.
You can even go on The Rocks Ghost Tour, which will bring you a whole other view and knowledge about this ancient suburb.
On the weekends, pubs and cafes in the area have live music while you dine and enjoy some food or drinks. If you want something a little fancier, check out the upscale restaurants with harbour views.
Cahill Walkway
The Cahill Walk is one of the best lookouts in Sydney, and it's a pity that so few people know about this incredible place.
The Cahill Walk offers some truly stunning views over iconic landmarks which makes it well worth checking out even with only a few days in Sydney!
It is a great viewpoint during the day and at night if you are into photography.
There are three ways to access it:
1. Royal Botanic Garden- located on the northern end of the Royal Botanic Garden along Macquarie Street.
2. Lift at Circular Quay –by a lift in the eastern section of Circular Quay. This is the best entry point for wheelchair access to the Cahill Expressway Lookout.
3. Bridge Stairs in The Rocks: this entrance is at the Bridge Stairs in The Rocks, which is also the starting point of the Sydney Harbour Bridge Walk heading in the opposite direction.
Sydney Opera House
The Sydney Opera House is a UNESCO World Heritage Site and famous icon of 20th Century architecture.
It's known for its beautiful location on the harbour, innovative design & construction, state-of-the-art engineering achievements as well as world-class performances in opera music and ballet to contemporary dance theatre.
Get an inside look into this iconic building with daily tours that are available in multiple languages!
If you are interested in booking any of the shows that are at the Sydney Opera House, you will need to book in advance.
Address – Bennelong Point, Sydney
Price – Free to walk around the outside. $42 for an adult and $22 for children.
Opening Hours – Monday to Saturday 9am – 8.30pm and Sunday 9am – 5pm 
Royal Botanic Gardens
The Royal Botanic Gardens is a favourite of ours and should be on any Sydney travel plan. It is located only 5 minutes from the CBD and you will walk into this lush oasis.
The beautiful 30 hectares of garden wraps around the Sydney Harbour and offers so many great viewpoints of the iconic Sydney Opera House, Bridge and the skyline.
The garden was established in 1816 and is home to an amazing collection of plants from Australia and overseas. These are located in the garden's glasshouses. This place has over 2.400 plants from various countries. It's definitely worth going in if you are a plant lover.
If you want to explore the whole garden, it will take you about 2.5 hours. There are cafes in the gardens where you can grab a bite and sit and enjoy your snack by the harbour water.
The garden offers a number of tours including the Aboriginal Heritage Tour, a free guided walk and bespoke heritage tours. If you are interested, see their website for details.
You can check out the map on the Royal Botanic Gardens website here. They update the website with events and exhibitions that are going in the garden so keep an eye out.
This garden is a beautiful way to have some nice peace and quiet and get away from the city's hustle-bustle.
Address – Mrs Macquaries Rd, Sydney
Price – Free / Glasshouse – $19.50 per adult
Opening Hours – 7 days a week from 7am to 5pm
READ MORE – Check out our article on Free Things to do in Sydney
Hyde Park
Australia's oldest park, Hyde Park is divided by Park Street. The southern section of the park contains the ANZAC Memorial building and the visitor centre if you have any questions or need a map.
The iconic Archibald Fountain in the northern end of the park has theme gardens of Nagoya Gardens replete with public artworks and water features.
Hyde Park is a historic place with around 580 mature exotic and native trees including Hill's Figs, which line the central pedestrian avenue from Macquarie Street to the ANZAC Memorial Building. It is really beautiful to see during the day or at night.
If you follow Hyde Park down the north end where the fountain is, you will see St Mary's Cathedral. It is hard to miss with its two large towers.
It took a total of 60 years to build this church, starting in 1865, as it was completed in three stages – the northern section in 1882, the central tower in 1900 and the Nave in 1928. It is free to go in if you like and is open from 10 am – 5 pm weekly and hours reduce on the weekends.
If you are interested, there is the Australian Museum located right near the park also. The Australian Museum is one of the oldest museums in the world.
It has a global reputation for its natural history and anthropology collections, with an international standing that surpasses many other institutions across Australia.
The museum is free to enter to visit the permanent exhaustion but if there are any special ones there may be a small fee. It is located on William St and is also open from 10 am to 5 pm.
Address – Elizabeth St, Sydney
Price – Free to enter the park, church and museum
Opening Hours – Park is open all hours. Church and Museum – 10am – 5pm
Queen Victoria Building
As you walk through the CBD, make your way down to the Queen Victoria Building. Also known as the QVB, the stunning piece of architecture was built in 1897 to show respect to Queen Victoria's Diamond Jubilee.
This beautiful historical building is lined with department stores and big-name brands. This pedestrian area is nice even just for window shopping if you don't have the money to spend.
Whether or not are looking to shop, turn into Strand Arcade, a historic arcade from the 19th century that's also listed as a heritage site. This building is definitely worth a pop in for a look.
Address – Pitt St, Sydney
Opening Hours – Mon-Wed, Fri-Sat: 9am-6pm, Thu: 9am-9pm, Sun:10am-5pm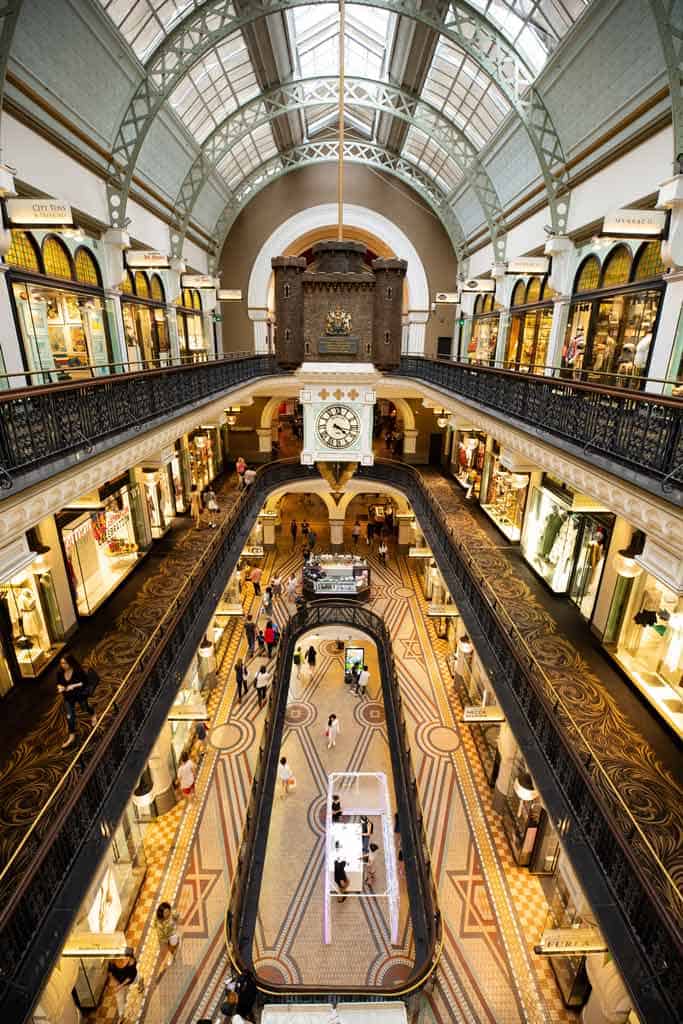 Sydney Tower Eye
At 309m tall with amazing 360 degrees views of the city and surroundings, the Sydney Eye Tower is the tallest building in Sydney and should be automatically added to your Sydney itinerary.
The Observation Deck lets you gaze 250 meters above ground level from a glass floor and an outdoor platform called Skywalk that makes it easy to get vertigo. You can head up here for sunset and get a beautiful view. Stay a bit longer and check the city out at night.
You can even check out the skywalk at about 268m and walk out into the open air and take in the breathtaking views for 60 minutes. The ticket for this also gives you access to the Observation deck before and after the skywalk.
Address – Level 5/108 Market St, Sydney
Price – General Admission to the Observation Deck – $24.80 per adult / Skywalk Admission – $59.80 per adult
Opening Hours – 10am – 8pm. Closed Tuesday and Wednesday
If you want to plan ahead and skip the line?
Day 2 – Sydney Harbour Bridge and Manly
Day 2 starts by getting up early and watching the sunrise over Sydney. Grab your flip flops and head to the beach and learn to surf or go snorkelling!
Climb or walk across the Sydney Harbour Bridge
Why not get up before sunrise and watch the city light up on top of the Sydney Harbour Bridge. You can do this tour or wait until later in the day if you want.
The bridge is one of several iconic symbols that represent Sydney. Climbing the Sydney Harbour Bridge is one attraction that many tourists add to their Sydney itinerary.
The Bridge is the largest steel arch bridge in the world and spans one of the finest natural harbours – it's also known as The Coathanger because of its unique design.
It is possible to explore the bridge in several ways. You can walk or cycle across it or you can climb up it, with a harness, of course, and get stunning views from above Sydney Harbour!
Get a ferry to Manly
A trip to Sydney is not complete without an excursion to the famous suburb of Manly in Northern Beaches.
Over 8 million visitors per year head to Manly, some on the iconic green and yellow ferries which travel from Circular Quay to Manly Harbour. The ferry service started in 1855 and now there are many iconic ferries that take you to different locations.
Two of the ferries go from both ways – the Manly Fast Ferries and the famous iconic ferry which takes a little longer. The famous icon ferry is a 30 minute trip across the harbour, past the opening for the harbour and onto Manly. And the Fast Ferry takes about 18-20 minutes.
Visitors come from all over Australia and around the world because Manly is a gateway for natural attractions like beaches, restaurants, shops and cultural events.
Price – Iconic Ferry: $7.76 per adult per way, Fast Ferry: $9.90 per adult per way
Opening Hours – Operates 7 days a week from 6:15am until 9:25pm on weekdays and from 9:45am until 9:00pm on weekends and public holidays.
Transport – Catch the F1 ferry to Manly from Circular Quay Wharf. The ferry goes every half an hour.
Walk along the North Styne and the Corso
One of the best things you can do visiting Sydney in 3 days is to spend a morning exploring the iconic beach of Manly. This place is a tourist attraction and there are so many reasons why.
If you are there on the weekend the Corso will be full over markets with people selling unique products. It is very lively with a relaxed beach feel.
You can grab a coffee and walk up and down the Noth Styne walkway people-watching or watch the volleyball players if a game is on. This pedestrian walkway gets busy with cyclists, skateboarders, friends walking, people running and families going for a stroll.
Grab breakfast or lunch at one of the many cafes with beachfront views or get a takeaway and sit by the water.
Go Snorkelling at Shelly Beach and at Cabbage Tree Bay
Next on your Sydney itinerary is some swimming and snorkelling. Head to Shelly Beach in Manly, a beautiful spot for snorkelling around Sydney!
In this perfect little bay, you may see an eastern blue grouper or a Port Jackson shark. They feel safe here and are seen regularly as the bay is protected and has been for more than 15 years.
Be sure to explore the whole bay, which is well protected on the north side by a barrier of rocks. Cabbage Tree Bay Aquatic Reserve is located between Manly Beach and Shelly Beach. So don't forget to stop off here on your way back.
There's an active fish life around the rocks, even a resident cattle fish at the right time of year. You can hire snorkelling gear across the road from Cabbage Tree Bay or downtown Manly starting from $25 for the day.
Cabbage Tree Bay is a No Take Aquatic Reserve. Please take nothing and only leave footprints. Thank you. This area has become famous among divers and snorkelers due to its high visibility allowing them to see marine life up close.
If snorkelling is not your thing or you have more time to explore, why don't you hire a kayak or a stand-up paddleboard for a couple of hours and explore the coastline?
Address – Bower Ln, Manly. The beach is located along Marine Parade Pedestrian Walkway
Price – $25 per rental set. Free to snorkel
Opening Hours – All day and ever day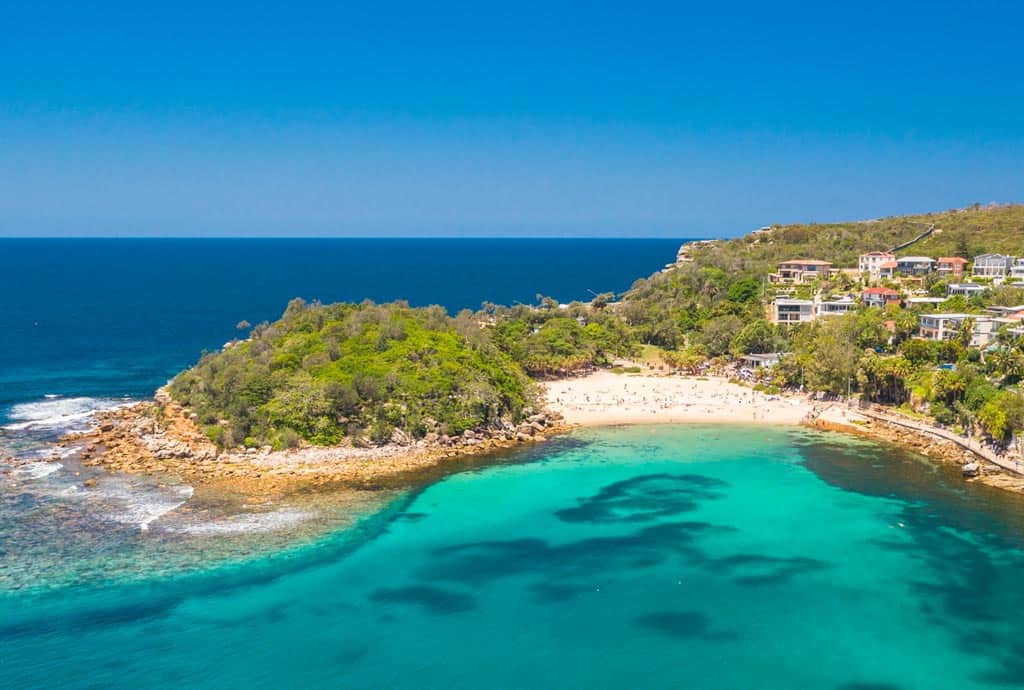 Observatory Hill for Sunset
After the day on the beach sunbathing, snorkelling or learning to surf grab some food and relax and watch the sunset over the city.
Observatory Hill is a great spot in the city CBD to watch the sunset. Bring along some cheese and crackers and watch the sun go down over Sydney.
The Observatory Hill grounds are open and free to walk around in. Pick a spot on the lawn and enjoy. This is a great way to end the day.
There is an observatory heritage-listed building on Observatory Hill with panoramic views over the harbour. It boasts beautiful gardens, which recreate historical 1880s garden designs.
This place has a central role in the history of timekeeping, meteorology and astronomy and is one of the most significant sites in Australia's scientific history.
Daytime tours explore the southern sky via telescope while at night you can learn about some celestial objects from the guide! If you are keen, definitely book beforehand.
Day 3 – Darling Harbour and Chinatown
Day 3 is another walking day on your Sydney itinerary so put on comfortable shoes. You will be going on a ferry and seeing the city from another point of view.
Walk from Circular Quay to Darling Harbour
Take an easy morning and head out on a walk to Darling Harbour. You can walk this trail by following the harbour. The path will curve around the foreshore towards the bridge.
After going under the bridge you will walk past a row of former warehouses which were built in 1839, called Campbell's Stores.
These buildings are now the home to a row of trendy waterfront restaurants and behind them, you can see the Metcalf Bond Stores (constructed much later between 1912-1916), which were converted into offices and shops in 1972.
You will hit Barangaroo Reserve, which is a beautiful spot. The reserve was named after a Cammeraygal woman called Barangaroo who was a powerful voice in the early days of colonial Sydney. The reserve is rich in Aboriginal and cultural history. This area is a favourite of ours.
Continuing the walk, this will take you to Darling Harbour.
Australia National Maritime Museum
Once you have walked over to the Darling Harbour, you will see the Australia National Maritime Museum across the harbour. You can't miss the boat.
While you're walking around to the museum, make sure to take in the views of the harbour. Darling Harbour is home to a number of attractions that will provide visitors with an immersive experience.
An attraction to check out is the Australia National Maritime Museum, which is located right on the harbour. The museum has over 2 million objects with everything relating to Britain's naval history.
The exhibits include artefacts, maps and maritime memorabilia that cover famous battles in the sea as well as shipbuilding and even Napoleon. Don't forget to check out the tall ship there also!
Each month the exhibitions change so check their website out for more information.
There is a number of dining options along King Street on the harbour. Each restaurant has beautiful views of the harbour. After dinner, you can go for a walk and take in all the light and the reflections on the water.
Address – 2 Murray St, Darling Harbour
Price – $25 per adult
Opening Hours – 9:30am to 5pm Daily
Want to plan ahead and skip the line?
Lunch on King Street right on Darling Harbour
There is a number of restaurants along King Street looking over Darling Harbour. King Street Wharf is a fantastic place for foodies to eat, drink and with great views.
The area offers international cuisine, cocktails with live music or DJs all in one strip!
Make sure to walk along the wharf first and check out each restaurant. They usually display specials for the day on a board. You can definitely pick up some great lunch (and dinner) deals here.
Address – King Street Wharf
Jump on a Harbour Cruise
After spending the morning walking around the markets and eating a delicious lunch, why not relax on the water?
Next on your Sydney itinerary is to hop on a Harbour Cruise from King Street Wharf where you can explore the area for 90 mins by water. The boats go every hour and a ticket can be booked online beforehand.
Sail through Sydney Harbour on a 90-minute cruise and see the iconic city skyline, enjoy tasty tapas and cocktails from the bar lounge while listening to live music. You can purchase beverages and food onboard if you like.
Enjoy 360° waterfront views sailing past popular sites such as The Opera House, Royal Botanical Garden & the bridge.
Start your journey by departing from the King Street Wharf with options to choose where you want to end up once completed – whether that be Circular Quay or right back where you started!
This is a great way to see the city from the water. You can get off the cruise at either King Street Wharf or at Circular Quay.
Address – King St Wharf 1, Darling Harbour, Sydney
Price – From $25 per adult
Check out the Chinese Garden of Friendship
The Chinese Garden of Friendship is a quiet escape nestled in the heart of Sydney. Take some time to read and relax here, as it offers an idyllic place for you to recharge your batteries after a day of exploring the Darling Harbour area and before you explore Chinatown at night nearby.
The garden features waterfalls, lakes with lotus plants and fish lagoons that make this spot truly unique! Entering the garden, you will be stepping back in the time with the quiet solitude that ancient architecture brings about with its relationship to nature.
There are a number of elements in the garden such as water, plants, stone and architecture for a tranquil atmosphere where you can sit back and relax.
The garden is under towering willow trees with lagoons filled with lotus flowers surrounded by colourful fish. With features including waterfalls, lakes, pavilions and sculptures, this spot really stands out amongst other parks around Sydney.
Address – Pier Street, Cnr Harbour St, Darling Harbour 
Price – $8 adult, $4 child (under 12)
Open Hours – Daily 9:30am-5pm. Closed Christmas and Good Friday
Visit Chinatown in the Evening to get some great food
A vibrant, culturally diverse area of Sydney, Chinatown is buzzing with delicious food and unique culture and is worth adding to your Sydney itinerary.
Named for its first settlers in the 1850s – Chinese gold miners looking to seek their fortune – it has expanded into a much larger space since then.
Visitors can explore both the historical and cultural side by trying many different dishes and stopping off at one of the many stalls selling all sorts of things.
Make sure to check out the 4A Centre for Contemporary Asian Art, which is a hidden gem in the middle of Chinatown. It offers rotating art exhibits that explore relationships between Australia and Asia, which provides an interesting perspective on the culture of both regions.
If you are here around late January and early February, check out the Sydney Lunar Festival, Sydney Lunar Festival Dragon Boat Races and the festivities of the Chinese New Year which all happen every year.
You can explore Chinatown on your own or on a 3-hour food tour, which is available on Tuesdays, Thursdays and Sundays from 6-9 pm. You will try a lot of dishes on the tour and learn about the area.
Day 4 – Taronga Zoo, Watson Bay, Hornby Lighthouse
This day of your itinerary in Sydney includes another day with those walking shoes! But on Day 4 you will go from seeing animals with a harbour view in the background to climbing up to a lighthouse and looking back on beautiful beach views.
Taronga Zoo
The Sydney Taronga Zoo is home to over 1,000 animals, including a wide range of exotic and native animals.
One of the best things you can do is to admire the zoo's various areas breaking the zoo up into areas like the Rainforest Trail, the African Savannah, the Free Flight Bird Area, Reptile and Nocturnal House. In these areas, you are able to come face-to-face with some fascinating animals.
The great thing about his zoo is that it does a lot of conservation work. Taronga zoo is committed to the conservation of native species and is actively involved in breed-and-release programs.
They have habitat recovery initiatives and wildlife rehabilitation for injured or orphaned animals before releasing them back into their natural habitats. And the zoo does a lot of good for the animals in general.
On the other end, they also have a lot of information to learn about the animals and bring up issues and threats these animals have to face in the wild. They have a section about ocean rubbish and climate change and what we can do to do our part.
Address – Bradleys Head Rd, Mosman
Price – $49 per adult. If it is your birthday and you have ID to prove it, it is free.
Opening Hours – 10am to 4 pm, Thursday to Monday. Closed Tuesday and Wednesday
Transport – From Circular Quay you can take a ferry across to the zoo. Take the F2 Taronga Zoo ferry. They start running from 9am and go every half an hour.
For other ways of transport, you can check out the Taronga Zoo Page here.
Watson Bay
After you have spent the morning at the zoo, take the ferry out to the Watson Bay area and walk up to Hornby Lighthouse. You will have to get the ferry back to Circular Quay and take another ferry to Watson Bay.
You can go for a dip in Watson Bay Beach or Camp Cove Beach. Camp Cove Beach, a beautiful little bay, is the better out of both options. The beach is nestled on the harbour side of South Head.
This delightful beach boasts millionaire views that are hard to miss. From swimming and snorkelling in calm waters, it is a beautiful bay to relax and break up the day.
Check out our post on Camp Cove Beach and other great beaches in Sydney.
If you are not up for a long walk but would like to see a nice lookout, you can make the 5-minute walk through Robertson Park and over to The Gap.
The Gap lookout is a rocky cliff in Watsons Bay where you can see the sandstone end abruptly and high, near-vertical cliffs that jumble of broken boulders along with pounding surf about 40 meters below. The lookout offers great views out along the rocky coastline and over the water.
Transport – Take the Ferry from Circular Quay to Watson Bay Wharf- F9 Watson Bay
South Head Heritage Trail
The South Head Heritage Trail leads visitors through historically significant and majestic sections of Sydney Harbour's tip, including The Gap and Hornby Lighthouse.
You can see where Europeans landed in Australia for the first time and explore military defense systems that were used by Australian soldiers during WWII to protect their country from invasion.
There are a few opportunities along this trail to grab something delicious to eat or sip on some coffee while taking it all in. This walk starts at Camp Cove in Watsons Bay, where you can walk along a cobblestone road that was built during the 1870s.
You can follow the map here if you are interested.
Hornby Lighthouse
The iconic red and white striped tower sits on the clifftops surrounded by amazing views of the Sydney Harbour, Middle Head, North Head and, of course, the Pacific Ocean.
It's a great spot for whale watching in winter if you are there at that time of the year. Or if you are an early riser, this is a great spot for sunrise and should easily make your Sydney itinerary.
The lighthouse was built in 1858 following the wrecking of The Dunbar at South Heads footings. It was designed by colonial architect Alexander Dawson Hornby and the Lighthouse was the third lit-up building on NSW soil.
Take some time exploring the gun emplacements before enjoying spectacular views of Sydney city. On your right, you will see be Middle Head while ahead lies beautiful Lady Bay Beach.
Once you get off the ferry, you will take Marina Parade along the Watson Bay Beach up to Camp Cove Beach and take the South Head Heritage Trail.
This trail leads up to the lighthouse. From the ferry station, it will take about 20 minutes to walk or you can take a taxi for about $9.
Transport – Take the Ferry from Circular Quay to Watson Bay Wharf- F9 Watson Bay
Day 5 – Bondi to Coogee Beach
On this day in your Sydney itinerary, you will be exploring the markets before heading out to the beach. Bring your walking shoes, swimsuit, hat and a towel!
Paddington Markets
If you plan Sydney trip details to arrive in the city on a Saturday, the Paddington Markets is the best place to look for a bargain! Every Saturday, more than 200 vendors set up stalls where you can buy all sorts of products, from homemade goods to authentic items.
Located on Oxford Street, the atmosphere in this market is vibrant. There is live acoustic music as well an international food court, which makes it a great place to spend the morning.
Grab some breakfast and a coffee and enjoy the area. Parking may be difficult so best to take public transport or taxis.
Address – Paddington Uniting Church, 395 Oxford Street, Paddington
Price – Free to enter
Opening House – Every Saturday from 10am – 4pm
Transport – Take the B333 from Circular Quay to the nearest stop near Paddington Uniting Church. Just ask the bus driver to let you know when to hop off.
Bondi Beach
You can not come to Sydney without seeing the city's most famous beach – Bondi Beach.
You will be surprised how many people are out swimming or surfing at this time of the morning. If you arrive early enough you can watch the lifesavers set up the flags and their gear for the day.
Relax on the beach and take it all in. Or book some surf lessons and get some tips from the pros.
By midday, the beach will be packed. So the earlier you come the better. If you do decide to go for a swim, do swim between the flags as this beach can be dangerous with strong currents and rip tides.
If your itinerary in Sydney permits you to be there on a Saturday or Sunday, the markets will be on. Head to Campbell Parade to check out the stalls.
On Saturday you will find the Bondi Farmers Markets which is on from 9 am – 1 pm selling fresh produce, gourmet food and some other stalls.
On Sunday from 10 am – 4 pm is another market called the Bondi Market which will also have lots of stalls with loads of goodies, food trucks and maybe even some live music. Both markets are in the same location.
Bondi Beach to Coogee Beach Coastal Walk
This iconic stretch is one of the most popular walks in Sydney. This 6 km (2-3 hr) walk along the beautiful cliffs has amazing views and is one thing you should not miss on your Sydney itinerary.
Highlights on this coastal walk are Bondi Beach, Bondi Icebergs, Tamarama Beach, Bronte Beach, Clovelly, Coogee Beach and a 2,000-year-old Aboriginal rock carving.
This walk passes through places with history, beautiful landscapes and dreamy beaches. It is a great way to get away from the city hustle and bustle. And in the winter, this is a great place to spot humpback whales also.
There are toilets, drinking fountains, restaurants, cafes and BBQs along the way. But this is a long walk, so be prepared with a backpack, snacks and a water bottle.
Here are some suggested stops for you along the way:
Stops – Bondi Beach, Monument to Black Sunday, Mackenzies Point, Aboriginal engraving site, Tamarama, Bronte SLSC, Bronte Beach, Waverley Cemetery, Clovelly, Gordons Bay Underwater Nature Trail, Gordons Bay, Dunningham Reserve Sandstone Cliffs, Bali Memorial, Shrine to Virgin Mary, Coogee Beach.
In spring for 3 weeks, there is an exhibition on every year called the Sculptures by the Sea which has over 100 sculptures displayed outside with beautiful backgrounds. It is located in the Bondi to Tamarama section of the Coastal Walk.
Mrs Macquarie's Chair for Sunset
Whether you come here on your last day in Sydney or on another evening on your trip, this is a great spot to get the iconic photo of the Sydney Harbour Bridge and the Opera House with the sun setting over the city.
Head to Mrs Macquarie's Chair. This is a beautiful location to look at the sun setting behind the Opera House and the Sydney Harbour Bridge.
Conclusion
As you can see there are so many things to do in Sydney. Every corner of Sydney offers something different.
We hope our Sydney itinerary helps you will plan your trip here!
READ MORE: Want to see more around Sydney? check out our article on Day Trips from Sydney you can do.
DISCLAIMER: Some of the links in this article are affiliate links, which means if you book accommodation, tours or buy a product, we will receive a small commission at no extra cost to you. These commissions help us keep creating more free travel content to help people plan their holidays and adventures. We only recommend the best accommodations, tours and products, and regularly review these. Thanks for your support, kind friend!